Christina McEvoy worked in partnership with Visit Idaho to create this Travel Tip.
If you live in Idaho or have visited the great Gem State in the fall, then chances are you know just how spectacular this season is here. The weather is cooler but not too cold, there are plenty of sunny days and then there's the foliage. Seeing the leaves change colors from green to brilliant shades of red, orange and yellow is a magical experience, and hitting the trails is one of the best ways to see the beautiful fall foliage in Idaho.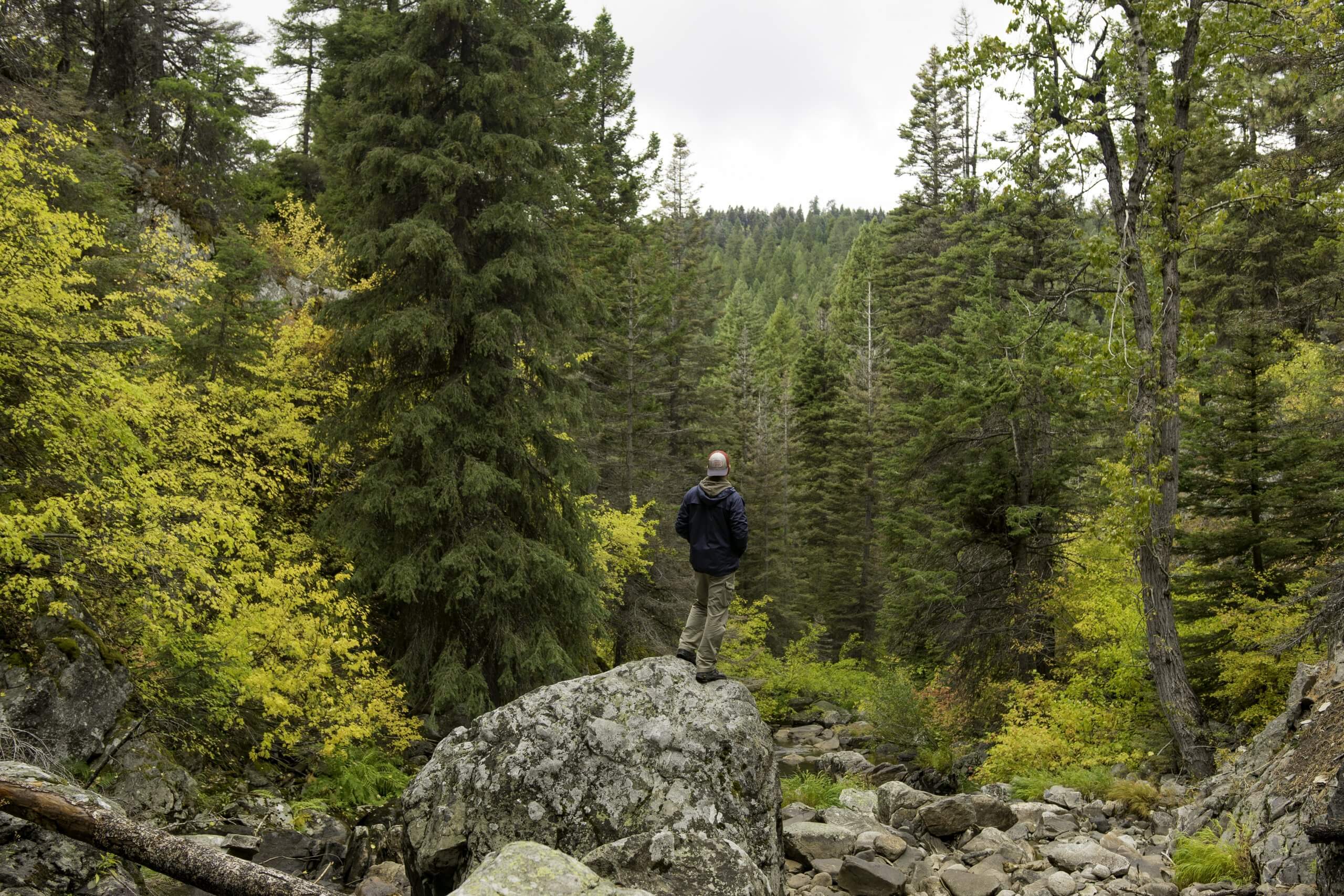 Hiking in the fall season has its major advantages. Besides the autumn colors and cooler weather making it ideal for hiking, the trails are a lot less busy. So those crowded trails you often hike in the summer? You'll likely be one of maybe a few enjoying the trail. Near Boise, there are a plethora of great trails in the foothills, but there are also some beautiful hikes in the mountains too. We've come up with five of the best short fall hikes in the Boise area to enjoy the stunning autumn colors, all within a two-hour or less drive from the city.
Dry Creek Trail (Boise Foothills)
The Dry Creek Trail in the foothills of Boise is a local favorite in any season, but especially in the fall. The trail along Dry and Shingle creeks is one of the most scenic because, unlike many other trails in the foothills that are dry and mostly barren, this fall hiking trail has an array of foliage—including elderberry, willows, cottonwood trees and other shrubs—due to a year-round flowing creek. There are also some interesting rock formations along the upper section of the trail before you enter a forest of evergreens.
Fall is a great time of year to hike Dry Creek because the entire canyon is myriad of gold, orange and red hues. This trail is excellent for spotting wildlife, too—deer and turkey, to name a couple—but be careful of rattlesnakes, as they tend to be active on the trail from March to November. If you choose to do the entire trail, it is around seven miles one way. However, most people stop at the confluence of Dry Creek and Shingle Creek, two miles from the trailhead, before turning around. Most of this fall hike near Boise is relatively flat, making it a good choice for families.
Directions
To find this unnamed trailhead, head north on Bogus Basin Road from Hill Road for about five miles (watch your odometer). At that point, you will see a couple of turnouts on the right side of the road. Park at one of the turnouts and then find the single-track trail near the first turnout. There isn't a sign right at the trailhead, but along the trail you will see signposts reassuring you that you are on Dry Creek Trail.
Tips
The fall colors change around the middle of October most years, so plan your hike accordingly to see the foliage at its peak.
Bring water and snacks/food.
Dogs are also allowed but must be kept on a leash.
Be mindful of mountain bikers, as this is also a popular biking trail.
Mores Mountain Trail (Bogus Basin)
The Mores Mountain Trail is located next to Bogus Basin Mountain Recreation Area and is part of the Shafer Butte trail system. It is a beautiful short loop that overlooks the entire Boise National Forest from all directions. On a clear day, you can even spot the Sawtooths from this trail. Mores Mountain offers three short loops: one mile, 1.3 miles and 2.1 miles with a total elevation gain of nearly 700 feet. It's a relatively easy fall hiking trail that is great for a quick escape from Boise.
If you come in the summer, particularly toward the end of June, this trail offers an explosion of wildflowers such as lupine and Indian paintbrush. But come autumn, you can see the shrubbery and deciduous trees change colors—mostly reds and golds. It's a beautiful contrast with the large coniferous trees that are also found here. This loop trail is particularly popular during the summer months, but a fall visit means you'll likely run into much less foot traffic. Picnic tables and bathrooms are available at the trailhead, so pack a picnic to enjoy after your hike!
This fall hike near Boise begins just left of the parking area. You can choose to go left or right at this junction, just know that they both end at the same spot. There are some mini loops off the main trail, too, that you can take if you want, and those also wind back up with the main trail. Along the trail, you will see rock beds, colorful shrubbery, large pine trees and some amazing views all the way around the mountain.
Directions
To get there, drive up Bogus Basin Road all the way to the ski resort and follow the road to the Nordic Lodge. Drive past the lodge on the dirt/gravel Forest Service road for a few miles. Eventually, you will see a sign on the right that says "Shafer Butte," where you will turn and follow the road for another mile or so to the parking lot and picnic area. There are also campsites a little farther past the picnic area. Parking and picnic fees are $5, and camping is $10.
Tips
To see the fall colors at their peak, we suggest visiting during the first two weeks of October (this could vary year to year).
Bring water and snacks/food if you plan to linger on the trail for more than a couple of hours or want to picnic after.
Dogs are also allowed but must be kept on a leash.
Charcoal Gulch (Idaho City)
Just an hour's drive from Boise, Idaho City is the perfect day trip. Idaho City is an old mining town that makes you feel like you're stepping back in time. There are some great hikes here too, but Charcoal Gulch is one of the shortest and best fall hikes near Boise (around four miles round trip). While it may not boast as much fall foliage compared to some of the other hikes listed here, it is still very pretty and a great option if you're looking to get out of town for a day and don't want to hike too far.
If you have time after your hike, stop for a soak at The Springs, a beautiful hot spring retreat tucked in the mountains and just off Highway 21 (you'll want to make reservations in advance). If you really want to splurge, book a massage here and enjoy some delicious food while you're relaxing by the pool.
Directions
To get there from Boise, take Hwy. 21 until you enter historic Idaho City, then take a left onto Main and another left onto Wall Street. Follow to the end of the road next to the Idaho City airport, where there is a trailhead parking lot and restroom. Head up Buena Vista Trail for about a quarter of a mile until you see an unmarked path on the right that leads through some trees. This path will intersect with the Charcoal Gulch Trail after about 100 feet. Take a left onto the Charcoal Gulch Trail and continue for about 300 feet until you see a small hill on the right with a dirt path leading up it. Take the path up the hill and continue on the trail for about 1.5 miles to the top of the ridge. After one last steep climb, the trail ends at the forest service road, where you will turn around and hike back to the trailhead.
Tips
The first week of October is probably the best time to see fall foliage here.
Bring water and snacks/food since you will be on the trail for a few hours.
Dogs are also allowed but must be kept on a leash.
Goose Creek Falls (McCall)
Goose Creek Falls is a favorite of many in the McCall area. It's also a popular trail in the summer, so fall is the perfect time to go if you want to enjoy this trail in solace. Located near Brundage Mountain Resort, this fall hiking trail takes you to Goose Creek Falls. There are two ways to access the trail, one near Brundage Mountain Resort and the other from Last Chance campground. We prefer the trail that begins at Brundage, even though this route is a bit harder. The hike is rated moderate and is between three and four miles round trip, gaining about 1,000 feet in elevation on the way back.
Impressive views expand across the ridge with plenty of shade through a dense forest of Douglas fir, pine and spruce. In the fall, this trail is complemented with lots of shrubs and ferns that flaunt their red, orange and yellow colors.
The trail crosses the creek and a wooden bridge and eventually takes you to the top of Goose Creek Falls, a stunning waterfall that plummets 60 feet over a granite rock bed into a large pool. For an even better view of the falls, use caution and scramble 50 feet down the outcropping of rocks to the pool below the falls.
When you finish the hike, make sure to stop in town for a classic comfort meal with a creative twist at Brunchette on the Lake. You can't go wrong!
Directions
To access the trail near Brundage, drive up Highway 55 to the Brundage Mountain Resort turnoff, which is about halfway between McCall and New Meadows. Make your way toward Brundage, and just before you reach the resort, there will be a dirt road off to your left. Look for a sign carved into a large rock labeled "Goose Creek Falls." You can park down the road next to the bathroom. The trail is just to the left of the logging road.
If you choose to access the trail from Last Chance Campground, continue up Hwy. 55 approximately two to three miles east of New Meadows, where you will come to Road Number 257. Turn up the road and drive two miles. The campground is on the right with parking on the left. Goose Creek Falls Trail is well-marked and is at the top of the campground.
Tips
We suggest hiking this trail around the first week of October to see the fall foliage at its prime (this could vary year to year, though). Some years there could be some snow, so check the forecast.
Bring water and snacks since it's a good two- to three-hour hike.
Dogs are also allowed but must be kept on a leash.
​​​​​​​
Louie Lake Trail (McCall)
Another favorite trail in the McCall area, the Louie Lake Trail is one of the best fall hikes near Boise for seeing foliage. It also helps that this jewel-colored lake's backdrop is the magnificent cliffs of Jughandle Mountain. There are two options to do this hike: you can hike the Louie Lake Trail on its own or combine it with the Boulder Lake trail. The first option is a little less than three miles round trip, while the second is about seven miles round trip. Louie Lake Trail is a steady uphill hike but not overly difficult.
Along this trail, you will see a spectacular display of fall colors (mostly reds and yellows) in the low shrubbery interspersed between the green pines and spruces. It is really quite remarkable. Once you reach the lake you will be rewarded with breathtaking views, and in the fall, you will spot a few deciduous trees and bushes along the perimeter of the lake (in front of the pines) that turn yellow. Fishing is great at this lake if you want to bring your fishing gear. If you choose to combine this trail with Boulder Lake, continue on the trail as it heads up the south side of Twin Peaks. Eventually, you will reach the summit, where you will then enjoy some flat terrain. From there, take the trail down a ridge past an old mine to meet up with the Boulder Lake Trail. This loop will take you back to the trailhead.
Directions
From Highway 55, just before you reach McCall, make a right on Elo Road, which then becomes Boulder Lake Road. Eventually, this road turns into a dirt road that you will follow for approximately four miles to the campground. At the campground, make a hard right, and the trail is on the left, marked "Louie Lake Trail." You can park along the side of the road here.
Tips
Generally, the first two weeks of October are the ideal time to see fall foliage on this trail. However, some years the colors can peak around the end of September. Call the McCall Chamber of Commerce ahead of time to find out when the fall leaves are changing.
Bring water and snacks.
If you choose to fish at Louie Lake, you must use only barbless hooks. No bait is allowed, and you can only catch fish larger than 20 inches. Be sure you have a fishing license.
Dogs are also allowed but must be kept on a leash.
Feature image is credited to Christina McEvoy.
Christina McEvoy is an outdoor travel blogger, photographer and content creator at Adventure Together and can also be found on Instagram, where she documents her family's outdoor adventures and travels. She and her family live in Boise, Idaho.
Updated on August 08, 2022
Published on November 7, 2017