What is it that creates an amazing family photo? Setting? Creativity? Attire? Lighting?
All of these aspects play a part, but the most important is family!
Getting out and exploring new places and unfamiliar terrain with your loved ones is what creates cherished memories. Many studies now show that traveling is an investment that has the capabilities of yielding immediate and long-term positive results with relationships and family cohesion. Taking a picture with your family in an extraordinary setting will surely pay dividends in both conversation and connection well into the future.
Here are five Idaho gems that offer the perfect venue for your next legendary family photograph.
Sawtooth Wilderness Area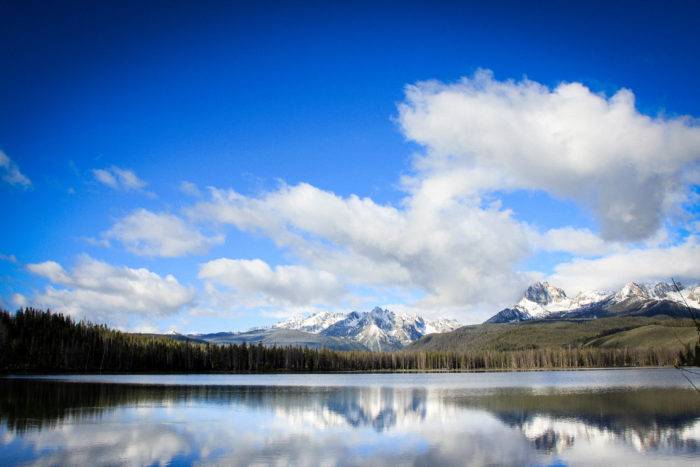 The Sawtooth Mountains, located in central Idaho, rise up to a towering 10,000 feet in elevation hiding hundreds of lakes and trails just waiting to be explored. This area is managed by the U.S. Forest Service and is home to breathtaking views and interconnecting high-mountain lakes. There are plenty of lodging options close by in Stanley as well as guided pack trips and trail rides. If you end up taking an overnight backpacking trip up into some rocky terrain, don't be surprised if you wake up to see a mountain goat outside your tent, as mountain goats, elk, mule deer and bobcats are abundant in the area. Taking one memorable family photo in the Sawtooths may prove challenging given all of the options to choose from, so take hundreds!
Coeur d'Alene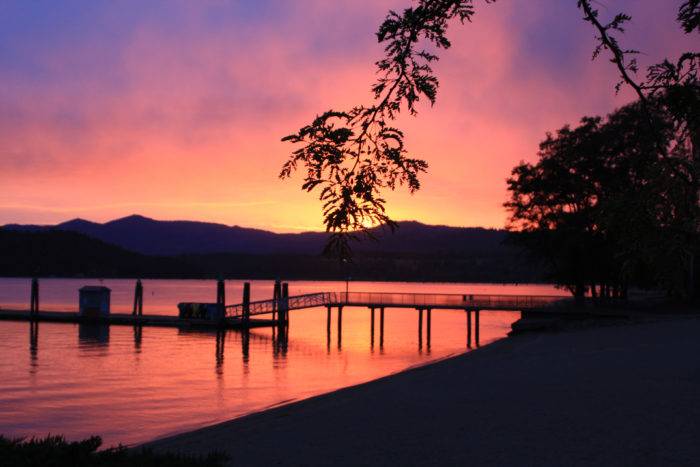 When you're ready for an adventure, head to Coeur d'Alene. This hidden gem at the top of Idaho's panhandle is home to exclusive bistros, shopping malls, chic restaurants, jaw-dropping views and unrivaled recreational activities. Just a short 30 minutes away from the Spokane International Airport, this resort town has a wide variety of activities to offer. Stay in one of the many resorts nuzzled up against the glacier-formed Lake Coeur d'Alene or choose from one of the campgrounds just outside the city. You may want to try skiing the Silver Mountain Resort in the winter, playing 18 holes at the Coeur d'Alene Resort or visiting the Coeur d'Alene Summer Theatre. If you're looking to let the kiddos burn some energy, take them to Silverwood Theme Park & Boulder Beach Water Park. This scream-inducing theme park is the Northwest's largest, being home to more than 65 rides, shows, and attractions. Take a picture of the kids as they ride the Aftershock Roller Coaster, it will be a picture your family laughs about for years.
Mesa Falls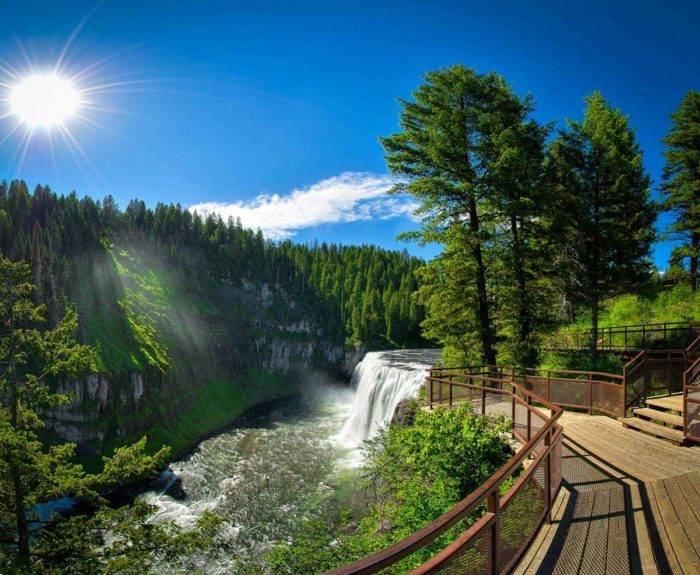 Right off Highway 20 in southeastern Idaho sits Ashton, a small and otherwise quaint little town. However, rather than just passing through, take the Highway 47 Mesa Falls Scenic Byway. This road will take you to the Upper and Lower Mesa Falls, two majestic waterfalls that make their presence known on the Henrys Fork of the Snake River. The thundering, awe-inspiring Upper Mesa Falls is viewable from boardwalks and viewing platforms while the Lower Mesa Falls is accessible from Grandview Campground and Overlook. Taking a picture with your family in front of these 110-foot and 85-foot waterfalls will surely make the family next door jealous.
Redfish Lake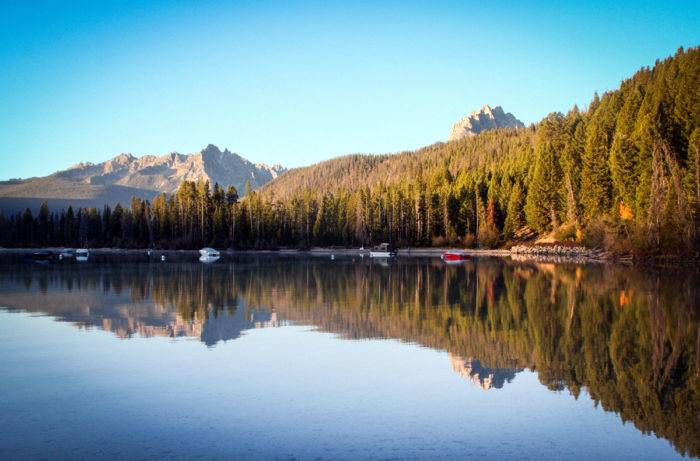 Thick green forests, crystal clear lake water, and snow-capped mountains are just a few photo worthy features of Idaho's legendary Redfish Lake. A short one-hour drive north of Sun Valley will take you to some of the most beautiful country you have ever laid eyes on. Redfish Lake, once known as the home for Sockeye Salmon during spawning season, contained so many fish at one point in time that the water appeared red. This area is easily accessible and is host to Forest Service campgrounds, a visitor center, boat launch, and, of course, Redfish Lake Lodge. Rent a boat or cabin and make some memories. Be sure to take a family photo with your backs to the lake, your Facebook friends will think you Photoshopped the image.
Bruneau Sand Dunes
Known for having the tallest single-structure sand dune in North America, the Bruneau Sand Dunes remains one of Idaho's most favored tourist attractions. A short 30 minute drive from Boise will take you to a state park that boasts a 470 foot tall sand dune along with a prairie, lake, marsh, dune and desert habitat where visitors have the chance to observe nocturnal species. Be sure to check out the visitor center where you and the kids can get all details on the birds of prey, fossils, wildlife and insects in the area. And, no matter what, no trip to the sand dunes is complete without renting a sand board. Take the kids out for an adventure they will never forget. A quick snapshot of you and your loved ones surfing the dunes is sure to spark conversation at your next family get-together.
This author is a paid content writer for Idaho Tourism.

Published on October 28, 2015