Y Travel Blog worked in partnership with Visit Idaho to create this Travel Tip.
Planning to visit Idaho with kids? Our recent Idaho vacation turned out to be one of our most favorite family experiences from our one-year road trip in the U.S. We only had two weeks to explore as many Idaho attractions as possible that offer for families a chance to spend quality time together in a stunning natural environment. But what a two weeks we had!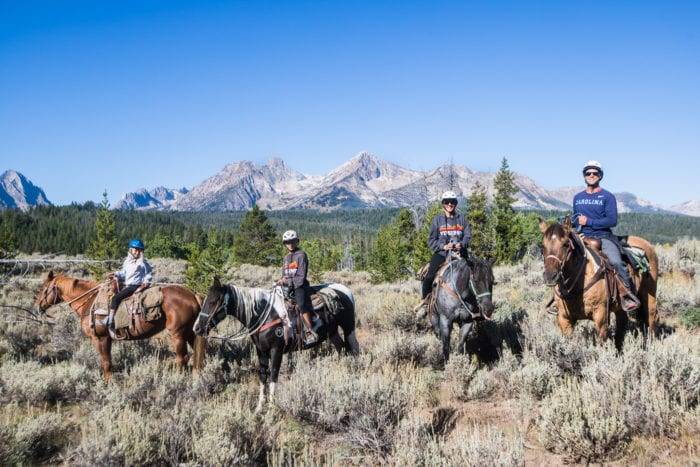 Idaho is such a special place that my pen hesitates to share, fearful that the secret of this pristine wilderness loaded with adventure will be discovered. But you know, you can't withhold something so wonderful. I know for sure our family will be back to visit Idaho and explore the state more in-depth.
Before visiting Idaho, it was quite the enigma to me. I didn't know much beyond potatoes, and what I thought was going to be towering alpine covered peaks similar to Colorado. It had that, but also the barren and rugged earthy tones of Utah, and pristine lakes you'd find in Montana and North Carolina and hot springs like Oregon. I loved how Idaho introduced me to something so different. As Albert Einstein says, "He who can no longer pause to wonder and stand wrapped in awe, is as good as dead; his eyes are closed." Thank you, Idaho for keeping my eyes opened and my spirit wrapped in awe.
Here are seven adventures that kept our family connected, not just to awe, but to each other.
Bike the Route of the Hiawatha
Ring that bell, flip on your headlamp, and pedal along one of the best rail-to-trail adventures in the USA. There will not be a road or motorized vehicle on this adventure in the Bitterroot Mountains. Only you, the trees, a few deer, and fellow cyclists.
You will likely hear little complaining on this 15-mile bike ride with the kids, mostly because the Route of the Hiawatha is downhill on a well-maintained path. You'll also ride through 10 tunnels of various lengths and darkness, and 7 trestle bridges that stand 230-feet above the valley floor. All I heard from my girls were squeals through the tunnels, singing, lots of laughter, and oohs and aah's at the Idaho scenery and beautiful deer munching on the grass beside the trail. I loved the ability to support our children on this ride for their vastly different styles.
Craig zipped through the 1.7 miles long St. Paul Pass Tunnel with our youngest, Savannah, both not caring that they were covered head to toe in muddy splashes. Savannah giggled and showed off her new style. While I could ride with my less wild child slowly through the tunnel to avoid the splashing mud.
Want more of an adventure? Bike the entire way back uphill!! Fear not if you are exhausted, you can jump on the shuttle bus (for a fee) which will take you back to the first tunnel. You can then complete your Route of the Hiawatha adventure biking back through the tunnel.
A Horseback Ride in the Sawtooth Wilderness
A horseback ride through the spectacular Sawtooth Mountains with Mystic Saddle Ranch, a family-owned and operated company, is one of the most memorable things to do in Idaho with kids. You'll trot through Ponderosa pine forests, past sparkling lakes and have stunning views of the craggy Sawtooth peaks dusted with snow. It is the most beautiful horse riding trail we've ever done.
The horses at Mystic Saddle were some of the most gentle and steady horses we've ever ridden. Not once did they take a cheeky nibble on the grass like most horses tend to do. They had beautiful personalities and made me feel safe to have my girls (12 and 8 years) ride them. Our passionate and friendly guide, Shelby, shared with us information on the local area but was also very good at including my shy daughters in conversation.
My top tip after your morning horse ride is to head to Redfish Lake for a little sunbathing, stand up paddleboarding, swimming and boat cruising.
Stand Up Paddle Boarding on Lake Coeur d'Alene
It is necessary to incorporate slow outdoor adventures during your Idaho vacations with kids. The thrill of watching your 8-year-old daughter finally gather the courage to stand up on the SUP board with one shaky leg and paddle her way back across the marina and expertly park on the shoreline will never leave your memory, nor hers. Stand up paddleboarding (supping) was one of her favorite things to do in Idaho. And since she's learned another strength and talent she didn't know she was capable of, she now wants to do it all the time! Savannah will always remember Coeur d'Alene as the place that showed her the way.
This is only one of many things to do in Coeur d'Alene (one of the top Idaho vacation spots). Whilst there, take a short walk around the perimeter of Tubbs Hill and find yourself a small secluded cove to take a dip and be sure to enjoy a sunset cruise on the lake that spans 26 miles and has more than 135 miles of shoreline.
Boat Cruise on Redfish Lake
Captain Mikhail took us on a tour of Redfish Lake sharing commentary on the lake's history but allowing space for us to connect with the girls through conversation and laughter. It was a great time to snuggle up and reflect. We loved learning about this 380-foot deep alpine lake and how, thanks to a series of fish ladders created along the Columbia River and a local fish hatchery, the salmon have returned to the lake – finally. And the scenery was simply spectacular.
We are excited to return to this iconic Idaho destination and do the five-mile hike to the other end of the lake and perhaps jump off the rock into the icy waters, and then catch the ferry shuttle back.
Relax in One of Many Idaho Hot Springs
Is there anything a family needs more than to enjoy a warm soak at the end of a long day exploring? Welcome to Idaho and its hundreds of natural hot springs. This is why I travel. Not just for hot springs, but to be surprised by things I never knew. I never knew about Idaho's hot springs and geothermal activity – it turns out, hot springs are some of Idaho's most-sought-after attractions!
Sitting in a warm pool fenced by river stones with tremendous views of the Sawtooth mountain range wowed me. Idaho, you are something special. If this were any other state, I'd be sharing the spring with hundreds of other people, some probably naked. But here in Stanley, our family had it all to ourselves! And the ones we shared, were with just a handful of friendly people.
Learning about Volcanoes at Craters of the Moon
Family travel experiences don't always have to be about adventure, learning together also can create ultimate experiences, especially when it comes to volcanoes!
The weird and wonderful Craters of the Moon National Monument and Preserve is one of Idaho's top attractions and includes 618 square miles of cinder cones, lava tubes, tree molds, lava rivers, spatter cones, and lava beds. The drive into Craters of the Moon is stunning on its own with the colors of the desert landscape slowly changing into the black hardened rock.
The visitor center is a perfect first stop. Thanks to a few highly informative displays we learned more about how this region was formed and how the 1969 Apollo 14 astronauts prepared for their trip to the moon with a visit to Craters of the Moon. A bonus for the kids – they can collect a cool silver lunar-like Junior Ranger badge.
There is an easy 7-mile scenic loop drive through the park, with plenty of trails for those who have the time to explore. Don't miss the stunning 0.2-mile steep walk up Inferno Cone, a cinder cone that offers spectacular views of the Great Rift, Snake River Plain and the Pioneer Mountains and the various cinder cones that lay scattered around. You can explore four lava tubes along the Caves Trail. What better way to learn about volcanoes than to explore the belly of the caves and tunnels the lava flow created.
What I loved most is that the trails are short and flat. You could easily explore Craters of the Moon in just a couple of hours, although camping under the stars at an International Dark Sky Park would greatly enhance the joy of a visit to Craters of the Moon.
I knew about your potatoes, Idaho (and we thoroughly enjoyed our Idaho nachos) but I never knew you had an important volcanic tale to tell.
Marvel at Mesa Falls
We almost skipped this stop on our trip, and what a mistake that would have been. It's truly spectacular and now my favorite waterfall in the U.S. You can easily fit it in on your "places to go in Idaho" list. It's an especially easy stop if you're headed into Yellowstone National Park.
Lower Mesa Falls and Upper Mesa Falls are spectacular waterfalls along the Henrys Fork of the Snake River, deep in the Caribou-Targhee National Forest. The water tumbles spectacularly over million-year-old volcanic rock, down into a narrow valley surrounded by lush foliage, and steep forested cliffs. It's the first time my girls have been that close to such a powerful waterfall and they were more than WOWED.
Upper Mesa Falls has a short boardwalk that offers multiple viewpoints. Lower Mesa Falls offers a long-distance view of the falls from Grandview Overlook. There is a mile hike between the two waterfalls if you want more adventure.
Put it on your list of things to see in Idaho. But be bear aware, grizzly bears are in this area so carry your bear spray and make lots of noise.
There are so many ways to enjoy all that Idaho has to offer. If you're looking for more adventure options, check out our list of 20 Amazing Things to Do in Idaho for First Time Visitors.
Feature image credited to Y Travel Blog.
Caroline and Craig Makepeace are the founders of the family travel blog, Y Travel Blog. They love helping people unplug from the chaos, follow their bliss, travel more and create better memories and have a free travel planning toolkit to help you.

Published on March 5, 2020