Y Travel Blog worked in partnership with Visit Idaho to create this Travel Tip.
Road tripping with kids – does it fill you with excitement, dread, or perhaps a little bit of both?
Being together in a cramped space for hours on end can be unnerving. There are only so many games of I Spy you can play and times you can answer "are we there yet" and ways you can turn around to console whatever child is crying.
I know this is not the most encouraging thought to begin this post on sharing tips for road tripping with kids, but I like to first prepare you with the hardest parts because it makes the best parts so much better.
Waiting on the other side of those short and sparingly difficult times, is an experience full of adventure, joy, and connectedness.
It's a place where you'll find the journey becomes just as much of the experience as the destination.
Despite its challenges, road tripping is probably the most practical, flexible, comfortable, and cost-effective way to travel with your kids. It lends itself to memorable adventures – many off the beaten path – with the people you love most.
In our challenging Covid-19 times it's also the safest way to travel with your family group. Family road rips have been our preferred style of travel since our now 13 and 9-year-old were babies. Our road trip adventures have included 12 months across the USA in an RV (including 2 weeks in Idaho), an and 18-month trip around Australia.
Below are our best tips for memorable family road trips.
Aim for Memories that Last
I have long suffered from trying to do EVERYTHING because "we may not ever be back here again."
My experiences have always taught me the same lesson – it is never worth it.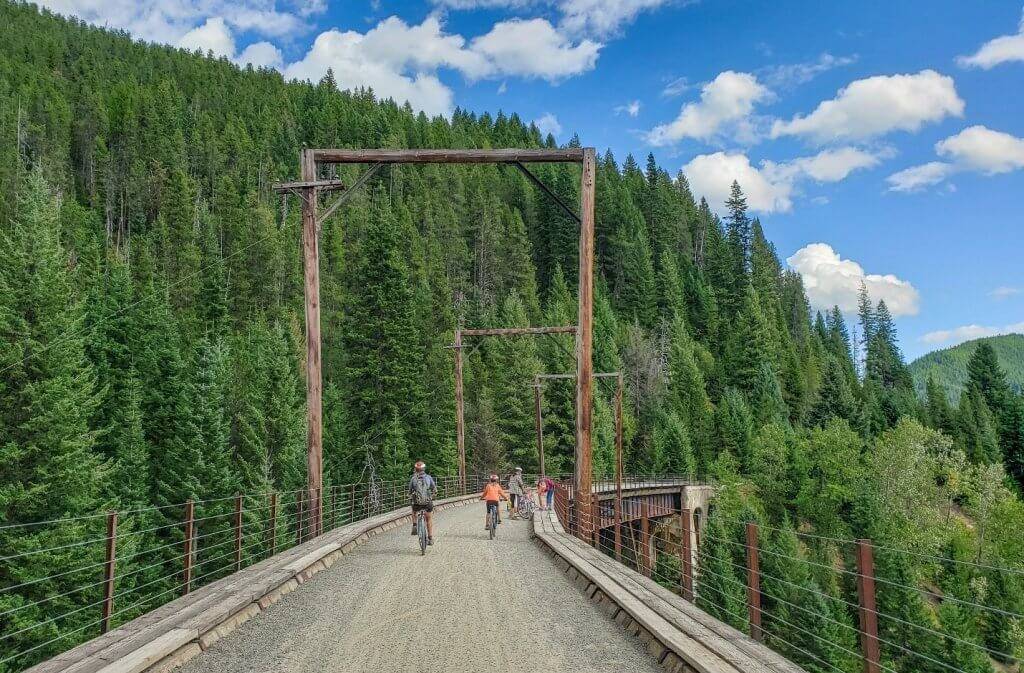 Choose two or three main experiences/events that will cater to WHY you are traveling in the first place (that feeling you want to experience).
You want stories to share with your kids forever.
Will they remember that third museum you went to, or that famous 15-mile bike ride through the Bitterroot Mountains where you got splashed by mud, sang, picnicked together, and cycled past deer munching in the forest?
(In case you are wondering, that famous bike ride is the Route of the Hiawatha rail-trail experience in Northern Idaho.)
Adventure Outdoors
Idaho makes this easy. It's a state that feels focused almost entirely on adventuring outside. Take your pick of preferred scenery and outdoor activities.
Whether its skiing down powdery slopes, paddle boarding on glacial lakes, soaking in steaming natural springs, horse riding through mountainous scenery, or hiking forested trails, Idaho has your perfect outdoor family adventure.
When you head outdoors, you don't have to worry about entertaining the kids, nature takes care of that for you.
My advice:
The kids will most likely grumble for the first 10 minutes of your activity. Stay the course. Watch how after about 15 minutes they start talking and laughing, maybe even skipping, and at the end say, "You know that was lots of fun. I didn't think it was going to be."
It's what I call the Nature Effect. And it's why we always seek outdoor adventures with our kids.
My 9-year-old still talks about how a 15-mile hike she did with 4,000 feet of elevation gain was the BEST thing she's ever done. Meanwhile, I'm still recovering!
Incorporate Learning
Covid-19 times have put many parents in the difficult position of homeschooling.
Dare I say, ditch the textbooks and go learn from life instead.
Want to learn about volcanoes and geothermal activity? Head to Craters of the Moon National Monument.
There is no better way to learn than real-life experiences. When they see it and feel it, they know it.
The beauty of travel is that it offers many lessons unto itself. Make the travel experience teachable.
Have your children help research the places you are visiting. Get them to create a budget with you. Math and English skills checked off right there.
Have them pack their own bags. Encourage them to be part of the check-in process, hand over their own tickets, and order their own food.
Work out how long it takes to drive 100 miles or walk a mile. My girls know that math instantly now from months of hiking almost every day.
All these things build strong, confident, independent people.
Plan In Advance
While we recommend leaving room on your family road trip for spontaneity and surprises, the more prepared you are the better your experience.
Always have strategies in place to take care of the five biggest meltdown causes when traveling with kids: Hunger, tiredness, boredom, heat, and bugs.
Always pack enough water and snacks. If you're planning on eating out, research restaurants in advance, and be sure to check the kid's menu first.
Eat out for breakfast and lunch. Someone usually always falls apart at the end of the day during dinner making it rarely worth the time or expense.
Early mornings for activities and afternoon for rest will help children cope with tiredness.
From the beginning, we have encouraged our girls to pack their own entertainment bags for the car. This has taught them they are responsible for their own happiness and entertainment. It has also meant enduring wails of boredom sometimes when they forget or do a lazy job of it.
My response is always, "I'm not sure what you mean. I don't experience boredom as there is always something I can choose to do."
You may want to have a backup entertainment plan, as it will take them some time to fully grasp this message.
One of our favorite games that came out of the incessant, "Moommm, I'm bored" whine was me saying, "I have changed my name. I no longer respond to Mom and will not until you guess my new name."
Two hours later we were still playing the game, with much laughter, taking it in turns to guess each person's new name, #memorymade.
See how the upset can lead to joy?
Over our 7 years of full-time travel with our kids, we have learned there is no greater catalyst for a meltdown than the combination of heat and bugs.
Travel outside of intense summer heat or leave your explorations for early morning to avoid the worst of it in the summer.
Visit beautiful lake destinations like Redfish Lake and Payette Lake where the refreshing water can cool kids down.
Also know that no matter how prepared you are things will go wrong. That's life whether you're on the road or at home. If you can manage it when you are at home, you can manage it when you're on the road.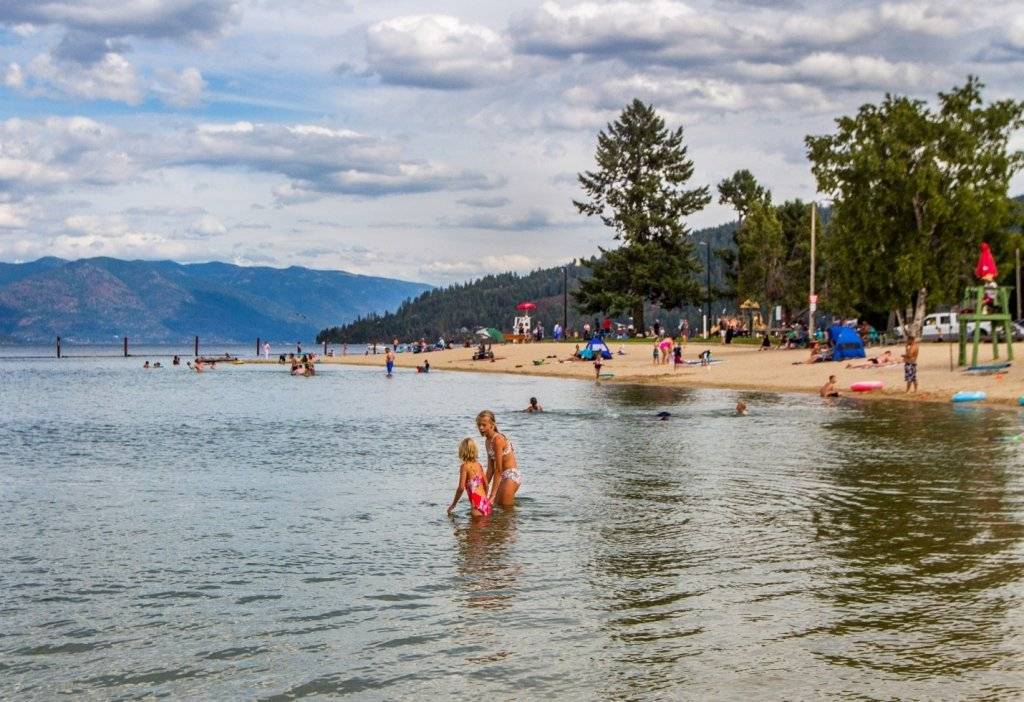 My advice:
Don't fear the mistakes and meltdowns. The stories we share the most after 23 years of global travel are usually less than perfect experiences. These are the opportunities to let go, laugh, and discover how strong, resourceful, and capable you really are. It's the stretching out of your comfort zones.
Explore from a Base Location
Reduce how often you move from one accommodation to another. Choose one central location and explore in and out from there.
We tend to choose a place where places of interest are less than two hours' drive away.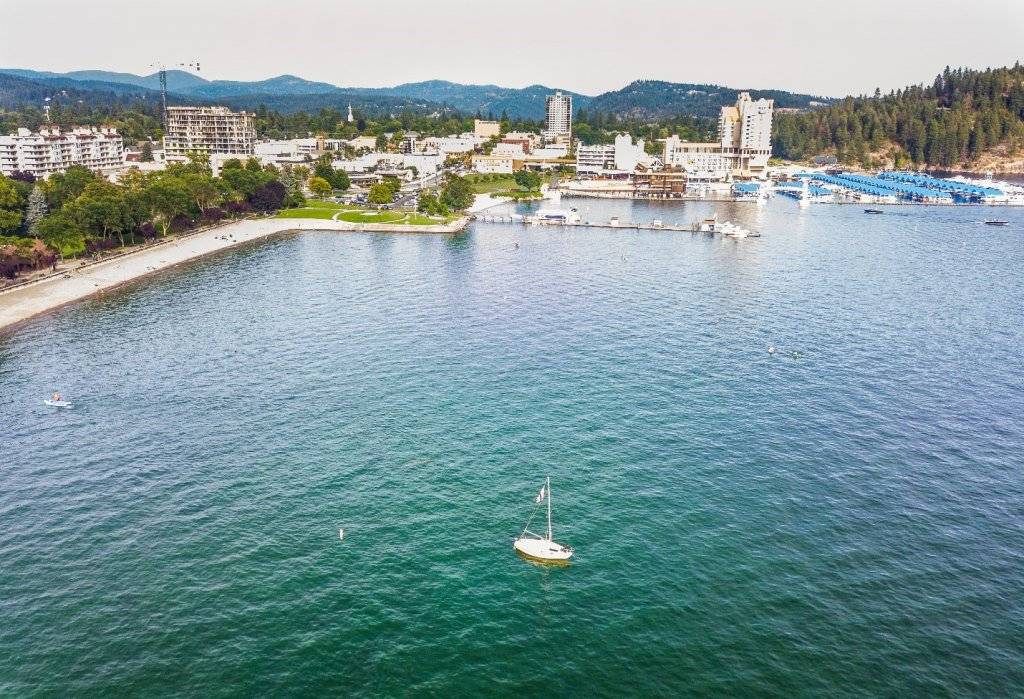 When exploring the Northern Idaho Panhandle, we based ourselves in Coeur d'Alene and from there we visited Farragut State Park, Schweitzer Mountain Resort, and Sandpoint City Beach.
Travel Slow
Don't plan to explore the entire state of Idaho in two weeks.
All the kids will remember is the frustration of constantly moving, quick glances and speedy meals, and exhaustion.
Choose one region to explore at a time. Go in depth rather than out wide.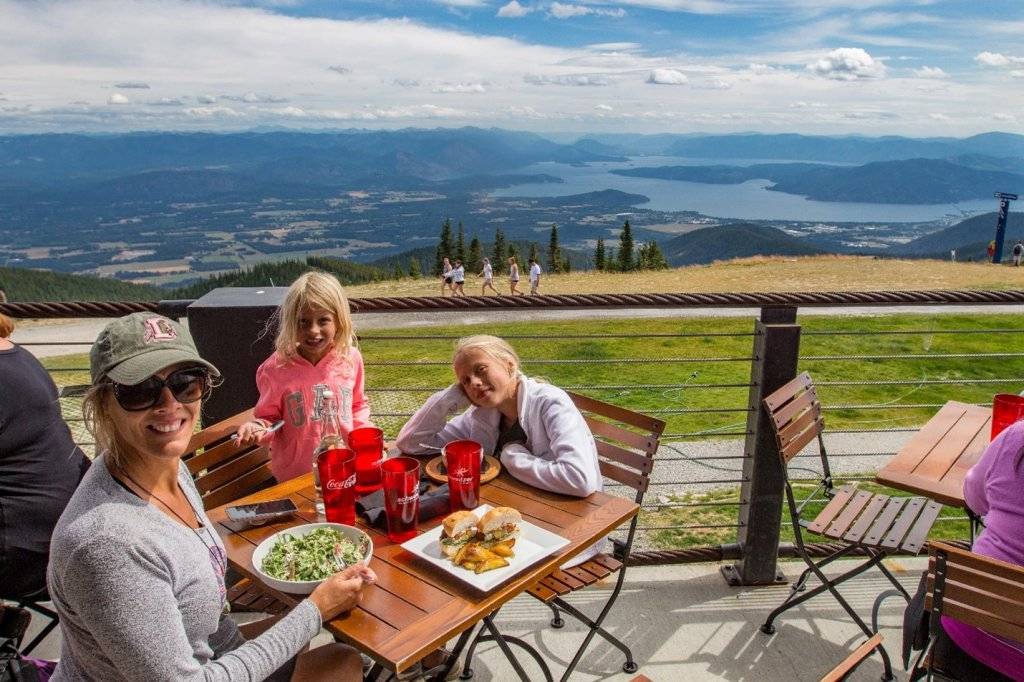 Kids relate more to the tortoise than the hare. Slow and steady. Plan for plenty of rest. You can make those rests swimming in a lake, picnicking at the end of a forest trail, or devouring ice cream.
Know Your Kids' Limits (but keep encouraging them)
If you're not used to traveling or hiking, start small with your kids. When we first started road tripping with our kids, we couldn't drive more than two hours before our two-year-old started losing it.
We knew once we had reached a certain point we had to pause or retreat, otherwise, it wasn't likely to turn out well.
By the end of our 18-month road trip around Australia, she could travel 6-8 hours quite comfortably.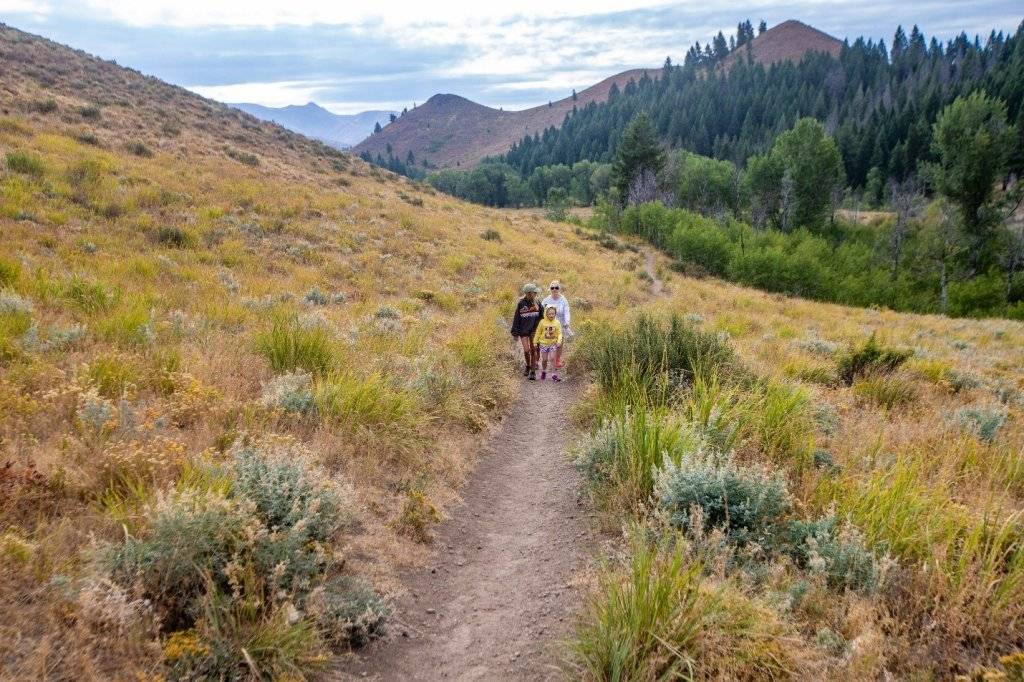 We started off with short hikes, slowly pushing out the mileage with each new trail until we could figure out what they could manage.
On our RV trip across the U.S., our 4-mile limit slowly went up to 6 and then 8, and then before we knew it my daughter was begging me to complete that 15-mile one.
Go slow with them but allow them to surprise you with what they are capable of.
You won't know until you have a go!
Top Tip:
Practice this with short walks and activities at home before you leave. It's a great way to prepare for the best road trip ever.
Travel Mid-Week
Crowds will drive kids insane. They don't have the patience to wait in line for longer than 10 minutes and they love their space to run around.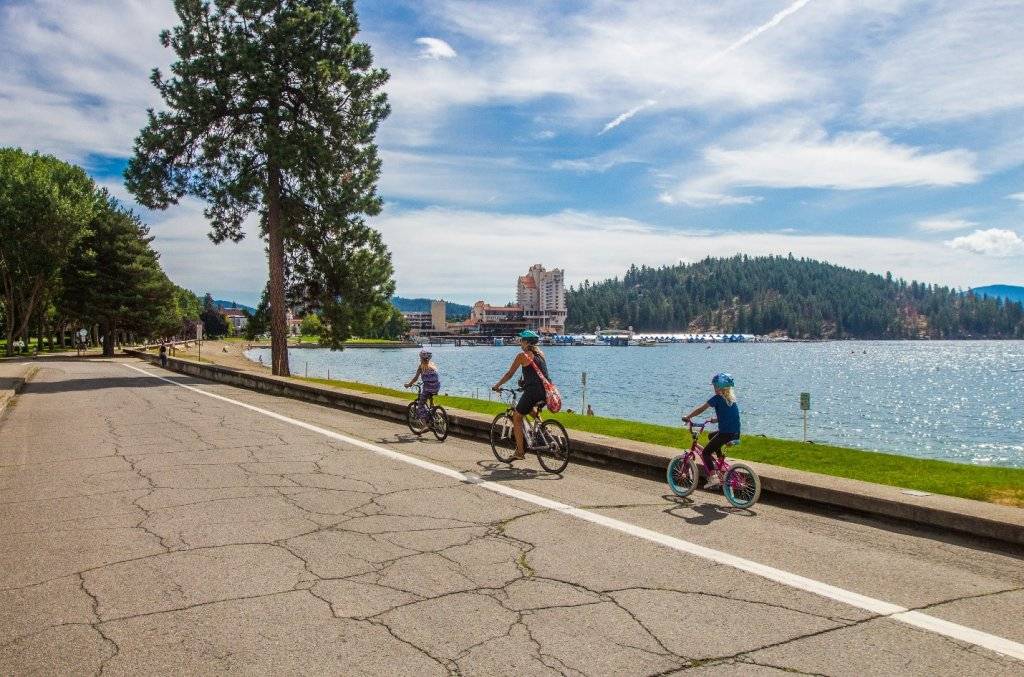 Easy solution: travel mid-week. It's the family travel serenity you need.
We arrived at the May Family Ranch along the Salmon River Scenic Byway when the busy weekend crowd was just leaving. It meant we had the farm to ourselves, including the giant waterslide, the spectacular mountain views, and the gracious warmth and hospitality of Grandpa May.
Go to Lesser Known Areas
The big WOW moments are popular for a reason, but you don't always have to stand in line for an hour to get your perfect Instagram photo. (Remember kids will NOT have the patience for this. I don't either)
Seek the wow moments in the lesser-known places. This may mean leaving room in your planned road trip for surprises and spontaneity.
The WOW will come because it was something you never expected.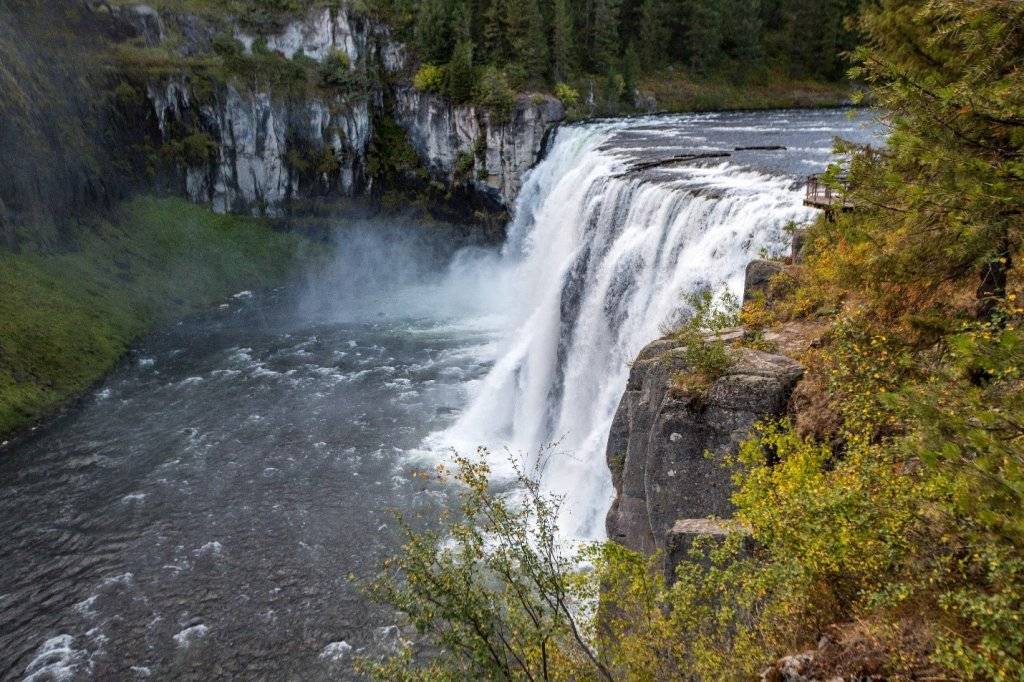 I will never forget walking up to Mesa Falls, a waterfall we had never heard of before, and whose views we shared with just five other people.
It is the most beautiful waterfall I have seen so far in the USA. I was mesmerized, as were my girls.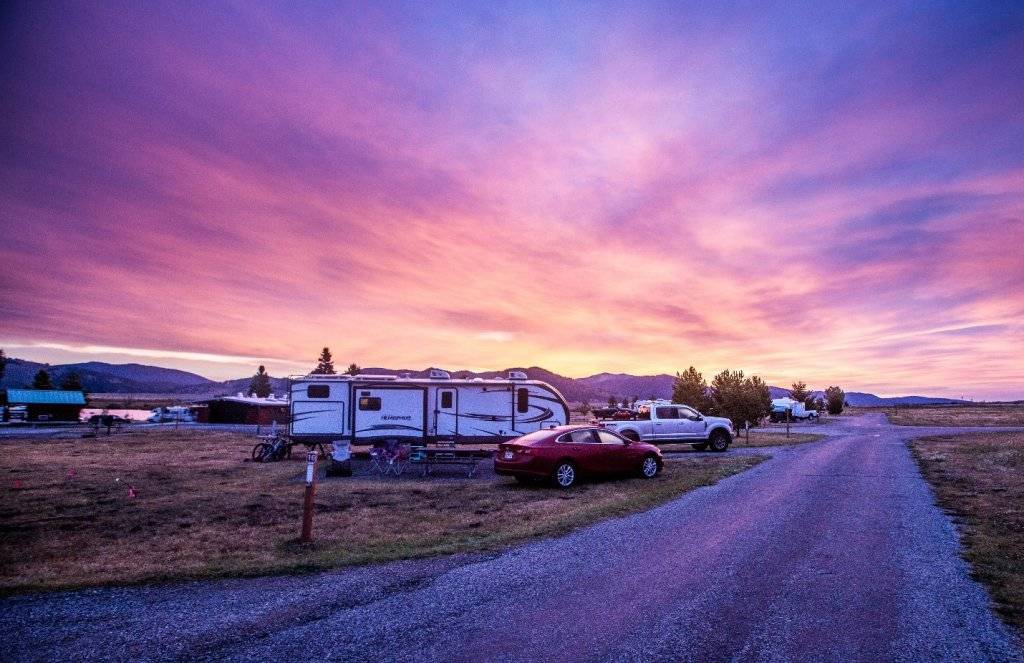 We had the same experience only an hour or two later, when we found ourselves pulling our travel trailer up to Henrys Lake State Park in Eastern Idaho. It was so serene and quiet with spectacular views of the surrounding mountains. The sunrise the next morning was something to remember and I had it all to myself.
These were the kind of Idaho moments that have us dreaming of a return road trip with our kids. Idaho is something special.
Feature image credited to Y Travel Blog.
Caroline Makepeace has been living and traveling around the world since 1997. She co-founded the award-winning family travel blog, ytravelblog.com with her husband in 2010 to help people travel more and create better memories. For the past 7 years, they have been traveling full time with their two daughters. They were recently granted a Green Card for their extraordinary ability in the art of travel blogging. Their current adventures are focused on U.S. travel, with Europe next on the horizon. You can follow them on Instagram and YouTube.

Published on February 18, 2021