Sara Sheehy worked in partnership with Visit Idaho to create this Travel Tip.
A night camped under Idaho's starry skies is an experience that you won't soon forget. From the north's dense forests to the south's open plains, camping in Idaho is a wonder, full of dramatic landscapes and expansive beauty.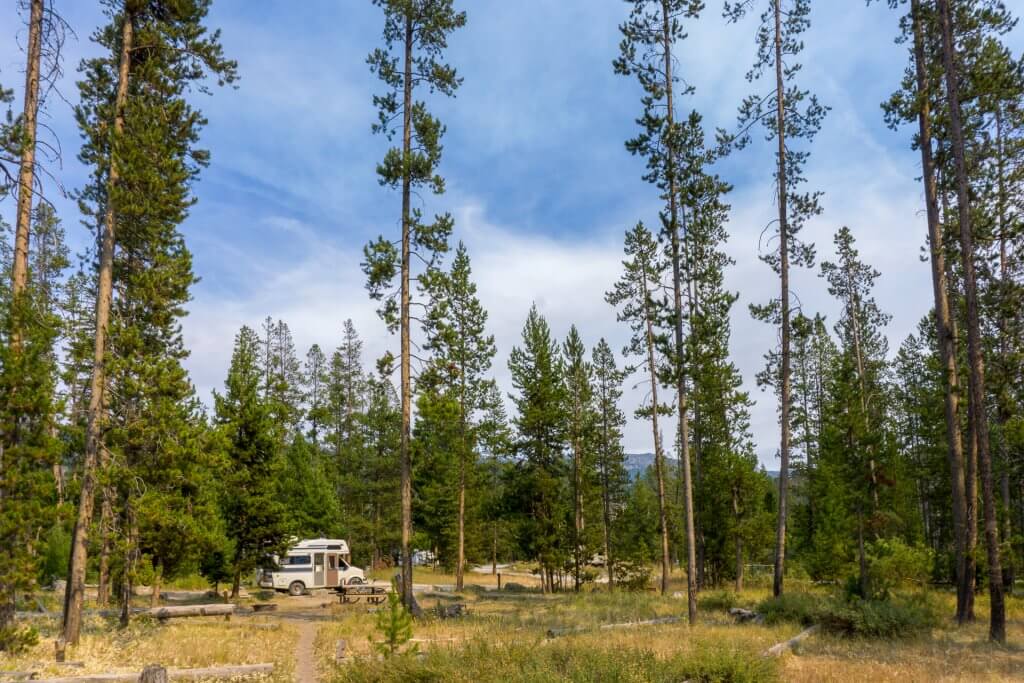 In the past year, more and more people are embracing camping as a way to spend time with their families, enjoy the outdoors, and explore somewhere new. Idaho is a camper's dream, offering everything from amenity-rich RV parks to backpacking routes that take you to the wildest corners of the state.
New to camping in Idaho? Here's everything you need to know to get your journey started.
Camping in RV Parks
One of the best ways to dip your toe into the adventure of camping is by staying at an RV park. RV parks are privately owned properties that cater to campers who like to enjoy the outdoors with a full suite of amenities, usually including water, electric, and sewer hookups for recreational vehicles.
Many family-friendly RV parks also offer additional perks like playgrounds, swimming pools, game rooms, and hosted activities like hayrides, arts and crafts, and scavenger hunts.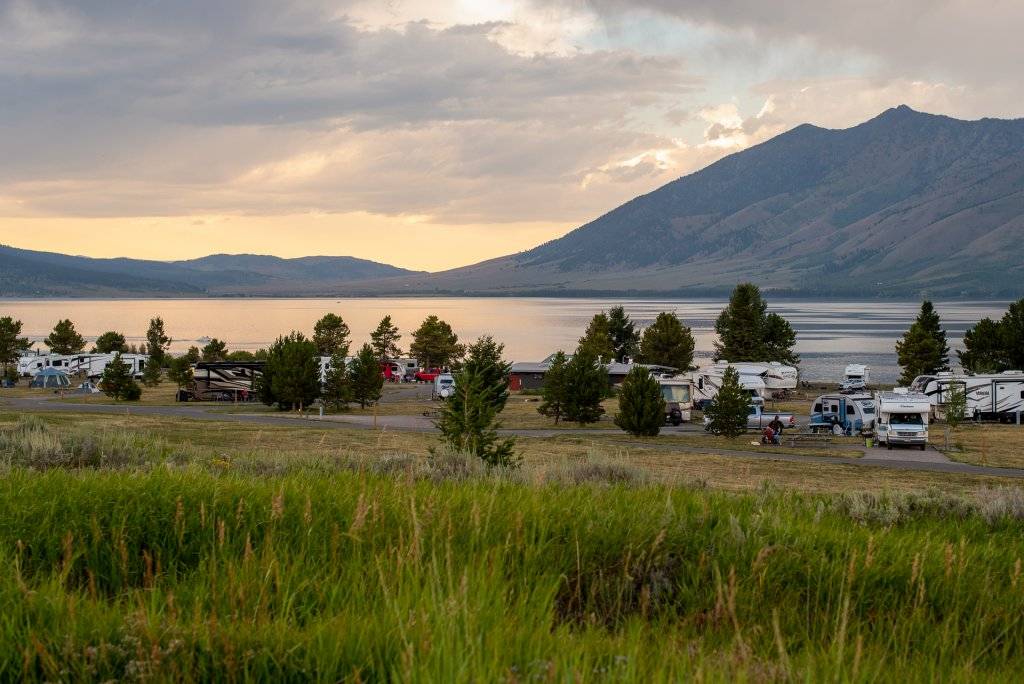 Though most RV parks are designed for and frequented by those who have a recreational vehicle like a motorhome, travel trailer, or popup camper, many also welcome tent campers (though it pays to call ahead to make sure!). It's also becoming more common to find RV parks that rent out on-site lodging in the form of cabins, recreational vehicles, and yurts.
Another benefit of staying in an RV park, especially for first-time campers and families, is that almost all of them take reservations. If traveling by-the-seat-of-your-pants without a campground booked makes your heart race with anxiety, a reservable RV park may be the right choice for you.
You'll find RV parks throughout Idaho, but especially near popular destinations like Lava Hot Springs, Island Park, and Lake Pend Oreille.
Camping in Public Land Campgrounds
Public land campgrounds are developed camping areas in Idaho's state parks, national forests, and federal parklands. They are often in natural settings noted for their scenic beauty and recreational opportunities. If you're looking to get closer to nature without giving up all of a campground's amenities, camping in a public land campground might be your sweet spot.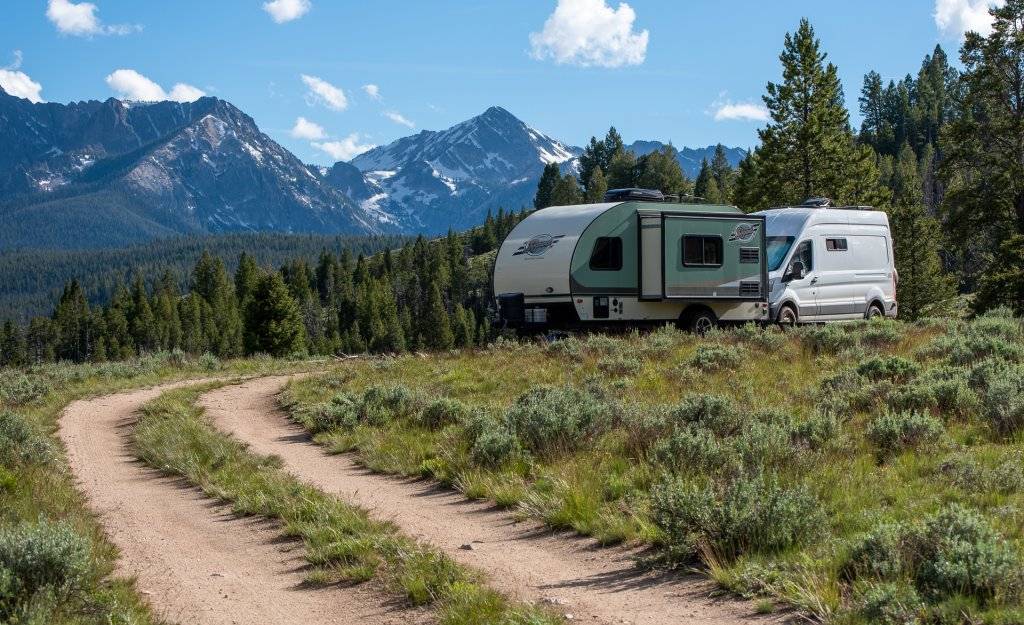 There is a wide variety of camping options available in public land campgrounds, ranging from parks that offer full services to those that provide tent pads with a simple outhouse (or, as we call them in Idaho, a "long drop"). As a baseline, almost all public campsites will have a driveway for a camper or vehicle, a tent pad, a picnic table, and a fire ring.
Eighteen of Idaho's state parks have developed campgrounds, and camping is available at the National Park Service's City of Rocks National Reserve and Craters of the Moon National Monument & Preserve. There are also hundreds of US Forest Service campgrounds throughout the state. Some public land campgrounds can be reserved, but many cannot. Luckily, except for a few notably popular destinations, it's usually pretty easy to snag a campsite in the Gem State.
The best way to narrow down your camping options is to use an online campground directory like Campendium, which allows you to filter campgrounds by amenities, location, price, reviews, and whether sites are reservable, along with a host of other options to help you hone in on your perfect destination.
Camping on Private Land
A new camping option has emerged on the scene in the last few years—campsites on private land. Think of it as the Airbnb of camping: private landowners with room to spare list their properties online and welcome campers for a night, a week, or more. There are hundreds of private campsites throughout Idaho.
There are a few benefits to camping on private land. First, the sites can be reserved, so you'll know exactly where you're staying for each night of your trip. Second, many landowners only offer one or two sites, so you won't run the risk of spending the night next to an unruly neighbor or a chatty family reunion. Third, like Airbnb, past guests can leave reviews, so you can read how the experience was for those who went before you.
On the downside, you never know exactly what you're going to get with a private campsite. You might be camping right next to someone's house, or the land may not be level enough to park your camping trailer comfortably. But if you're feeling adventurous and don't mind what little surprises may await, private land camping is a great option—especially in areas where campgrounds are limited.
Private campsite listings can be found on Hipcamp and Tentrr.
Dispersed Camping on Public Land
Dispersed camping, also sometimes called boondocking, is car-accessible camping on public land outside of a campground. This type of camping is most commonly found on Forest Service and Bureau of Land Management lands; Idaho has both in spades. It's a no-frills camping experience—all you have is what you bring with you. There are no camp hosts, no place to fill up your water jugs, and rarely an outhouse or fire ring. It's just you and your recreational vehicle or tent, nestled into a spot surrounded by nature.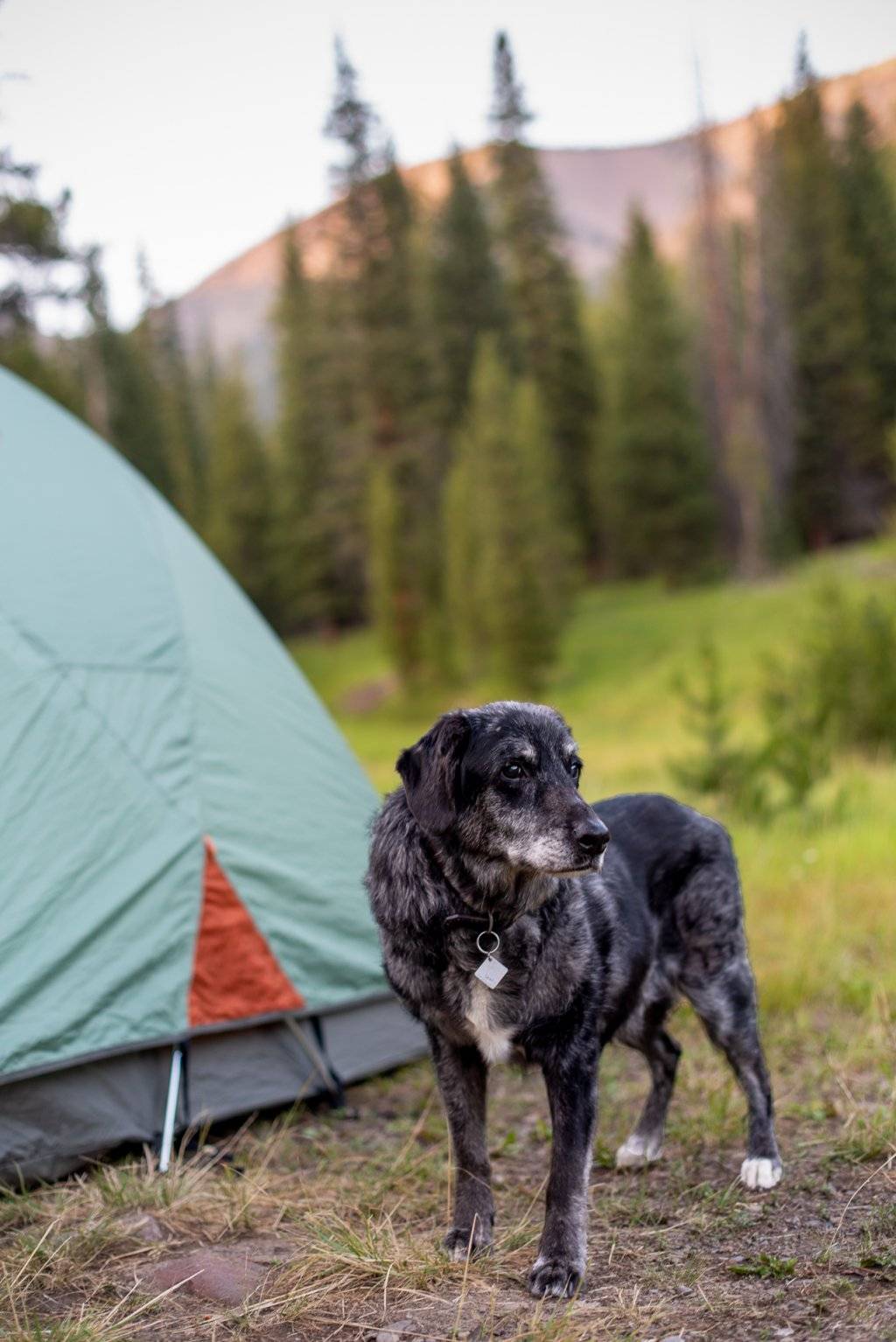 Dispersed campsites are free to use, but they do come with some rules and best practices to follow. To reduce impact and ensure that these free camping areas stay open, be sure to follow Leave No Trace principles, camp only in existing campsites, dispose of all waste (including human waste) properly, and leave the site better than you found it. Many areas have a stay limit (often 14 days, shorter if the area is close to a popular destination) enforced by the local ranger district. It's also important to note that not all public lands are open for camping.
There are dispersed camping areas throughout Idaho, managed by the area's Forest Service or Bureau of Land Management ranger district. Each district publishes maps, rules and regulations, seasonal openings and closures, fire bans, and other important information on their website (see this example from the Sawtooth National Forest near Sun Valley). Campground directories like Campendium also list dispersed camping options, along with user-submitted reviews.
Backcountry Camping
Last, but certainly not least, is backcountry camping. Backcountry camping is when you hike, horseback ride, or fly deep into the wilderness and set up camp far from civilization. When backcountry camping, you carry everything you need with you, from your tent to the stove you'll use to cook dinner.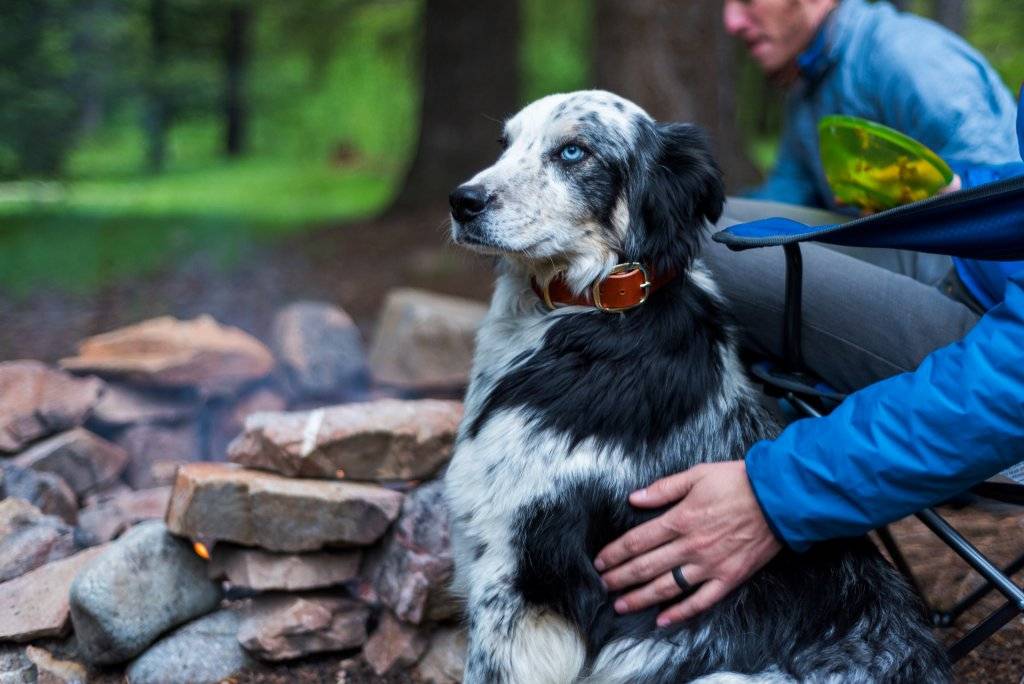 Idaho is one of the wildest states in the lower 48, and many travel here specifically to experience our untouched mountains and free-flowing rivers. Most choose to explore on their own two feet with a backpacking trip, but Idaho also has strong roots in backcountry aviation and recreational horse packing. While both require extensive experience to do solo, they are available as guided services throughout the state.
If you're interested in backpacking and you're just starting with camping, be sure to stick to the more well-traveled routes. A few favorites for first-time backpackers include Fishhook Creek Trail and Alice Lake near Stanley, and the Harrison Lake Trail near Sandpoint.
Tips & Tricks for Camping in Idaho
Are you ready to try out camping in Idaho? Here are a few insider tips and tricks to get you started on your journey.
Bring an (Experienced) Friend or Family Member: There is no better way to try out camping than by bringing someone along who has done it before. Plus, camping is more fun with company!
Get the Right Gear: Camping can be as fancy or as budget-friendly as you'd like it to be, but it's important that your gear matches your adventure. You don't need an expedition tent to camp along the Salmon River in summer, but you will want a sturdy tent that can keep the rain outside where it belongs. If tent camping doesn't sound like your cup of tea, consider renting an RV from a peer rental company like Outdoorsy.
Be Prepared for Being off the Grid: If you're used to traveling to more populated destinations, it may come as a surprise that not all of Idaho has cell service. In fact, once you leave the main roads, the cell service often peters out until your bars disappear altogether. If this makes you uncomfortable, consider investing in a portable satellite communicator, like a Garmin inReach. Satellite communicators allow you to send and receive messages and call for help, even when you're far from cell service.
Camp Responsibly: Camping is one of those great American experiences that I hope will be around for a long time. Families gathering around the campfire, cooking s'mores, and resting their heads under a blanket of stars while camped on the shores of an alpine lake—it's a privilege to have nights like this. More and more camping areas are being closed across the country because campers push the rules and the land managers decide that enforcement is too expensive or cumbersome. Let's all do our part to keep camping open for the next generations by leaving behind clean campsites, respecting posted rules and regulations, and being considerate neighbors.
Feature image credited to Sara Sheehy.
Sara Sheehy is a writer and photographer who travels the world seeking wild places and great stories. When she's not on the road, Sara spends her time exploring the mountains around her home base of Sun Valley, Idaho.

Published on March 25, 2021