This is a sponsored post.
What makes a great vacation? For us, it comes down to one word: detachment. The ability to let go of daily life and embrace your time off. The goal: to come home rejuvenated. Sure, you can sit on a beach somewhere sipping Mai Tais and getting a tan, but that's so… boring. Why not do something a bit out-of-the-box and extraordinary? A snowmobile adventure to Burgdorf Hot Springs in Idaho's backcountry is the perfect solution.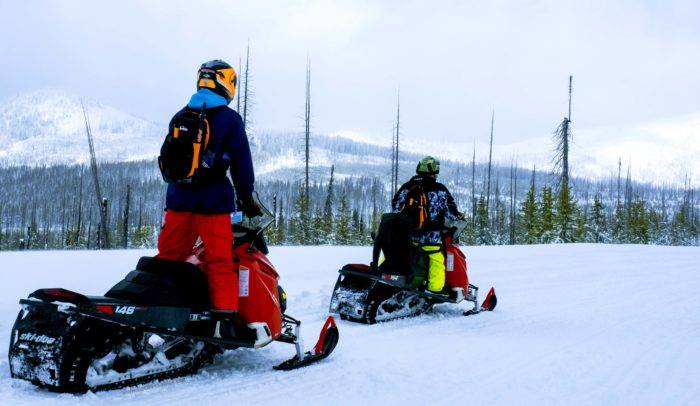 Idaho is home to many one-of-a-kind natural attractions, so how do you decide which one to do? For us, it was easy. We wanted to find something that we'd never experienced before. A rustic retreat deep in the Payette National Forest, Burgdorf Hot Springs near McCall fit the bill. It was like no other hot springs we'd heard of. In the winter, the only way to access these relaxing waters is by hopping on a snowmobile.
To reach Burgdorf Hot Springs, you'll need to venture about 25 miles into the Payette National Forest. You can rent snowmobiles for the journey or take one of the guided tours offered by several outfitters in the area. We decided to suit up with the crew from Brundage Mountain Resort. You'll have to arrive before the chairlifts start running and check in at the front desk. Our guide for the day, Cody, geared us up and ran through a checklist to make sure we were safe on the trails.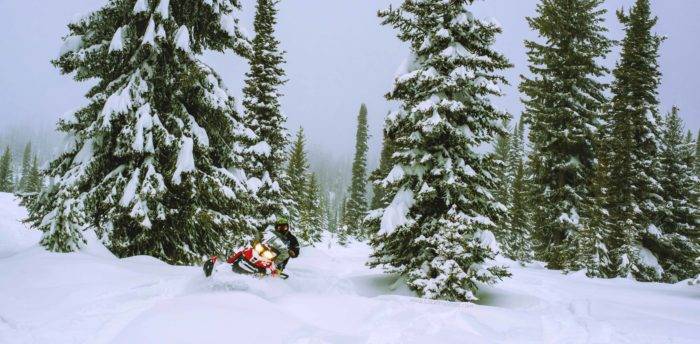 We quickly ascended the mountain pass and immediately realized just how expansive the wilderness was around McCall. There are over 500 miles of groomed trails in the area. That number doesn't even consider the numerous mountain bowls and backcountry stashes. Wow! Talk about a lifetime of adventure! The mix of terrain to discover was invigorating. From powder-filled meadows to river valleys and switchbacks down mountainsides, not a single leg of the trip could be called boring. Depending on how many photos and powder stashes you hit along the way, expect your adventure to take anywhere from three to six hours for the full roundtrip.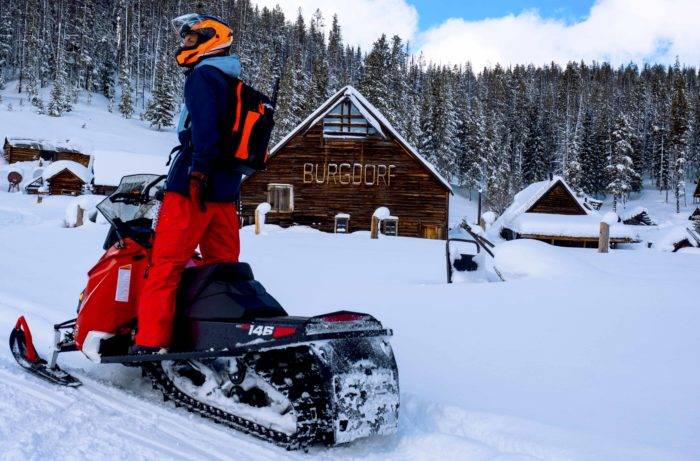 As the forest transitioned to a large valley, a group of wooden structures with the likeness an Old West town appeared on the horizon. In the main building, we grabbed a towel, paid the entrance fee and headed to the changing rooms -in full snow gear and boots, it was a short shuffle. A large wood stove heated the separate men's and women's dressing rooms to a comfortable 70+ degrees. With swimsuits on, it was time to hit the water.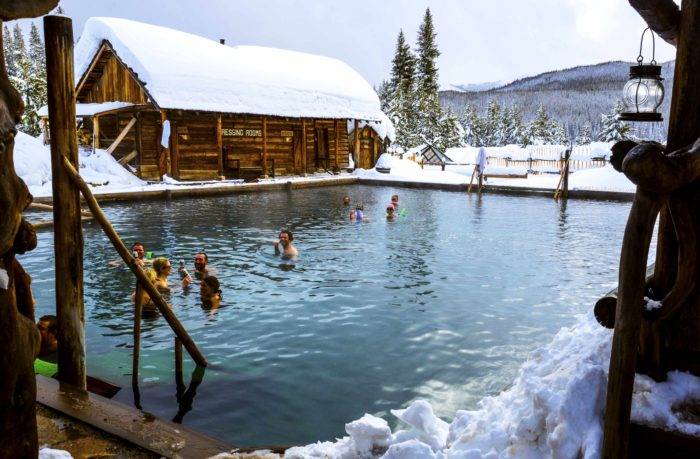 All the aches and stresses of the day melted away as we eased ourselves down into the large pool. With steam rising from the water and snow falling from the sky, it was hard to not fall in love with the beauty of this hidden gem. As John Muir once said, "The mountains are calling… and I must go."
What To Expect
Burgdorf Hot Springs features two small box pools (113°) and a large pool (100°-104°) fed by 150 gallon/minute natural hot springs water, both with sandy bottoms. Electricity-free rental cabins are available and come equipped with a wood stove and oil lamps. Bring your cooking equipment, food and any other supplies such as winter bedding and you'll be set for a one-of-a-kind overnight experience.
Rates:
Adults: $8
Children: $5 (under 17)
Soaking Pool is open 10 am to 8 pm for day guests. Cabin guests have unlimited access to the pools!
Local Freshies is about sharing the passion for skiing, snowboarding and mountain town culture. We specialize in providing news, stories, and event coverage while supporting local businesses in ski towns throughout North America. Our goal is to give everyone an opportunity to experience what locals get to cherish every day. To be a Local where ever you go!

Published on December 28, 2017