Melynda Harrison worked in partnership with Visit Idaho to create this Travel Tip.
One of the best parts of a road trip is stopping at roadside attractions. Statues, museums, and interesting bits of memorabilia that grab your attention, even if just for a moment, make travel more enriching and a whole lot more fun. Eastern Idaho is filled with natural wonders and quirky attractions that tell the story of this place. On a recent road trip, my family stopped at several of them we think you won't want to miss.
Big Springs, Island Park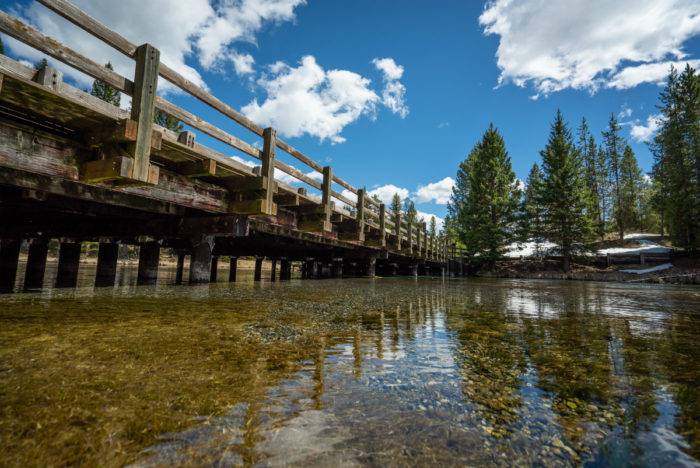 Big Springs gushes forth 120 million gallons of water per day and forms the headwaters of Henry's Fork of the Snake River. The water is crystal clear and home to big brook and rainbow trout (no fishing allowed here). You can buy fish food from a little vending machine on the bridge or toss breadcrumbs from your lunch to feed the trout. In addition to the springs and the fish, the adjacent Johnny Sack Cabin and waterwheel are open to visitors in the summer and provide a glimpse into the unique craftsmanship of one of Island Park's early settlers.
Frostop Drive-In, Ashton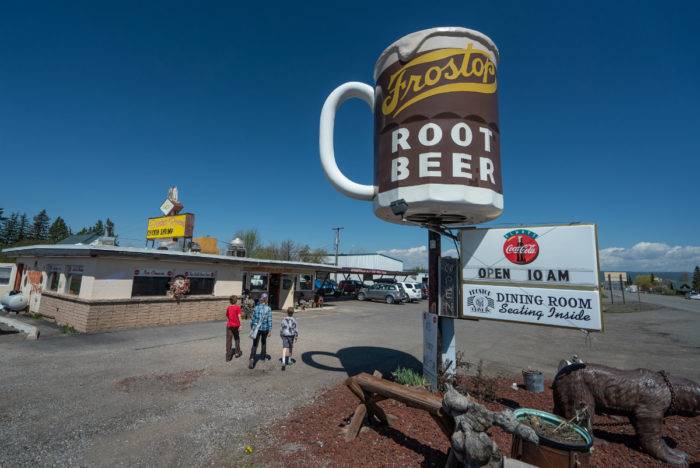 You can't miss the giant, rotating root beer mug as you drive through Ashton. Nor the animal statues that surround it. This old-fashioned drive-in diner serves all manner of fried foods and ice cream desserts. Park outside and a server will come out to your vehicle to take your order and then bring the food to you or mosey inside for a true diner experience. We recommend the Combo Basket—deep-fried zucchini, mushrooms, spice potato, cheese stick, and onion rings—and a huckleberry shake.
Farnsworth TV and Pioneer Museum, Rigby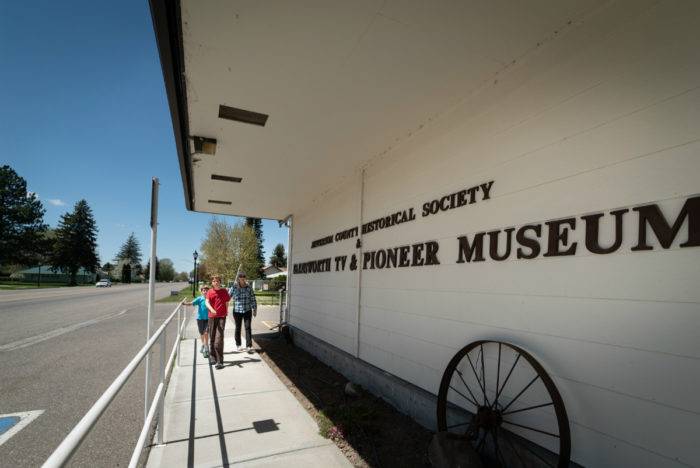 Philo T. Farnsworth invented the first fully functional and complete all-electronic television system and you can learn all about it at this museum. Gaze upon the collection of old TV tubes, some of Farnsworth's personal items, and a bust of the inventor. Call ahead; hours are limited (208) 745-8423.
The Protector, Idaho Falls
The world's largest eagle monument is located in a roundabout tucked away behind a Walmart and among an office development. The statue features a pair of eagles – one soaring and another landing with salmon in her talons for the two eaglets in the nest. Water streams down the local rocks that make up the statue and into a fountain. There wasn't much traffic the day we visited and we were able to walk out to the statue and around it. It really is quite magnificent and worth a stop. If you're interested in making the stop, you can find the statue near 1075 South Utah Avenue in Idaho Falls.
Devil Boat Submarine, Arco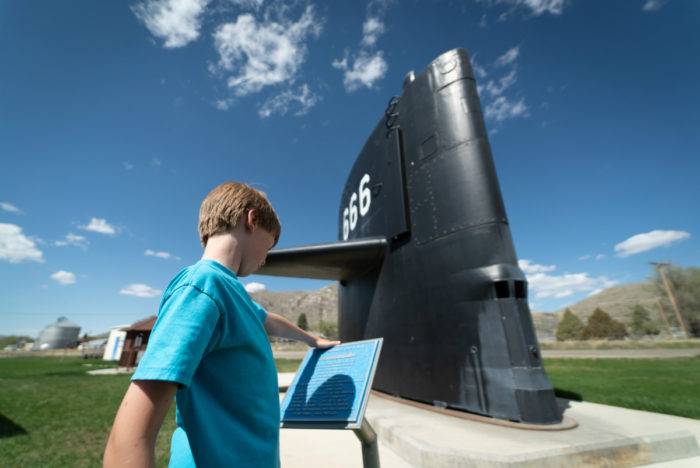 Also known as the "Submarine in the Desert," the Devil Boat seems to rise from the lawn in a small park in Arco. It's actually the sail of the USS Hawksbill with the number 666 painted on the side. Apparently, any connection with the occult is coincidental. We wondered why there would be a submarine sail in Idaho, far from any ocean. The interpretive signs explain that it was put there to honor the city's long association with the Navy nuclear fleet. Arco is the first city to be run on atomic power and a nearby sign displaying that fact makes Arco itself a roadside attraction. Cross the street to eat a fried pickle at Pickle's Place.
Hell's Half Acre, Blackfoot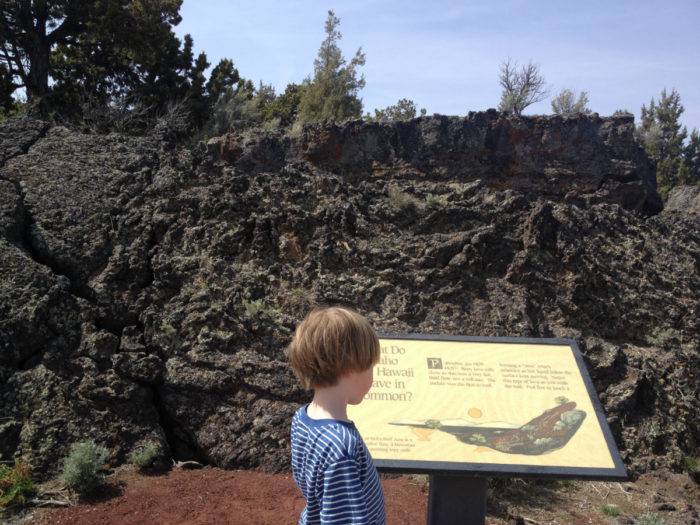 One of our favorite places for a quick break on Interstate 15 is Hell's Half Acre at the southbound Blackfoot Rest Area. Two interpretive trails (1/4 mile and ½ mile) lead through a lava flow where you can learn about the hot spot that created it. This area of Idaho used to be over the magma plume that now heats Yellowstone National Park's hot springs, geysers, mud pots, and fumaroles. In this spot, you can see where magma was pushed to the Earth's surface through cracks and fissures before cooling into the basalt lava you can see today. Plus, the bathrooms are clean and the drinking fountain water is cold. You'll find the trails near mile marker 101 on I-15 between Idaho Falls and Pocatello. There is a rest area and trails on both sides of the highway.
Idaho Spud Bar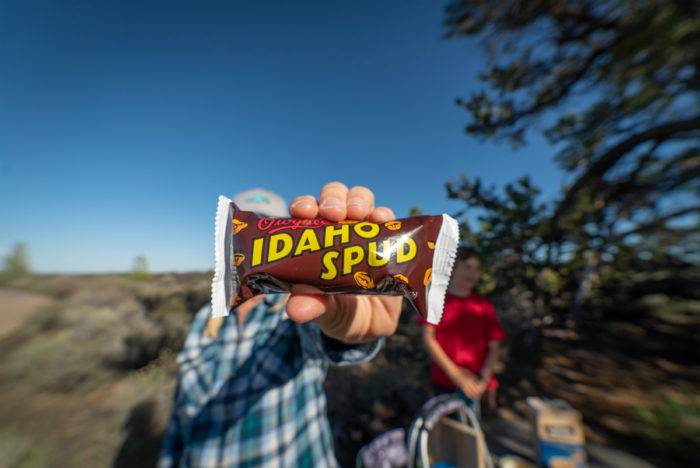 This isn't a location, but the perfect snack accompaniment to any Idaho roadside attraction. The Idaho Spud Bar is made by the Idaho Candy Company in Boise and can be found at markets around the state. It was first described to me as an "Easter Peeps covered in chocolate and coconut." That doesn't quite do it justice, but it is a mound of marshmallow dipped in chocolate and rolled in coconut. It's meant to be shaped like a potato.
Melynda Harrison writes about travel and outdoor family adventure at TravelingMel.com, YellowstoneTrips.com, and for many local and regional publications. When she's not behind a laptop, you can find her cross-country skiing, hiking, or floating a river.

Published on July 3, 2018