Rolling Van Creative worked in partnership with Visit Idaho to create this Travel Tip.
During our 1.5 + years of living on the road, we've consumed a decent amount of fine quality beer in bustling cities scattered across the USA and Canada. We wouldn't openly broadcast ourselves as beer snobs. But, on a beer snobbery scale ranging from mild to infuriating, we're definitely situated somewhere in the middle. Hopefully, this scale provides grounds to legitimize our reputation as a fine source for beer touring advice in Boise, Idaho.
We arrived in America's fastest-growing city and quickly discovered that breweries and taprooms have become just as ubiquitous as coffee shops. Naturally, we decided to enroll ourselves in a couple of days of beer drinking. We began our grand tour and started jotting down notes for our mighty essential list of Boise's not-to-be-missed breweries.
1. Barbarian Brewing
"Old World Style With New World Flavor" is their motto and their focus is on traditional and experimental barrel-aged and sour beer. We popped into both the brewery and downtown taproom (it's beautiful, we tell ya!) to indulge in some end-of-day pints. Typically, our favorite style of beer is a NEIPA (New England India Pale Ale), which is mainly found on the east coast. This Vermont born beer has recently been making splashes in breweries all over North America and with good reason. Now to the point: we were hunting around town for a good ol' NEIPA, and thankfully, our friends at Barbarian Brewery blessed us with a fresh, juicy and hazy pint of their Movin' To The Country. Wow, we were impressed! If you can get your hands on this delicious beer, don't think twice. We satisfied our craving and moved onto their award-winning Juniper Gose (hints of lime, lavender, coriander, and juniper berries). We were equally as impressed. The crew at Barbarian Brewing are true masters of their craft and the thirst quenching beer is a testament to their expertise. Suggestion: make the right choice and take both these beers to go for a nightcap.
2. Payette Brewing Company
Do yourself a favor and spend the day enjoying the greatness that is Payette Brewing Company. We popped into the taproom + beer garden Saturday afternoon and we didn't want to leave! The bartenders were amazing, the beer garden lawn games were a solid time, and Payette Brewing Company's partnership with the local food truck scene lends itself perfectly for the hungry folk. We got our hands on their Blood Orange Rustler IPA and Sofa King Fresh IPA. The latter is a feature from their 'Ales Of No Return' series (a one-off explorative beer and sometimes a collaborative effort available for a limited time). These brews did not disappoint! They have a massive "To Go" fridge with a hefty selection of their mighty fine brews. Payette Brewing Company recently expanded to a larger location located along the Boise River and the building is a sight to behold!
3. Edge Brewing Company
This is where phenomenal food and exceptional beer meet. The local charm and easy-going atmosphere are apparent the moment you walk through the doors at Edge Brewing Company. We sipped on the Obligatory Double IPA and the Hipster Dufus Blackberry Berlinerwies (the name deriving from a Yelp reviewer, who called the bartender a 'hipster dufus'). Highly recommend, highly drinkable. We couldn't pass up on the bites, so we had some amber ale battered deep fried dill pickles (possibly the best ones we've ever had, seriously) and some delicious kettle chip nachos. Mind blown. We were chatting with the folks at the table next to ours, and they were raving about their meals and beers as well. This is a good sign! The location may not be the most convenient, but breweries tend to never be ideally located. Make the trip to Edge Brewing Company, you won't be disappointed you ventured off the beaten path!
4. Boise Brewing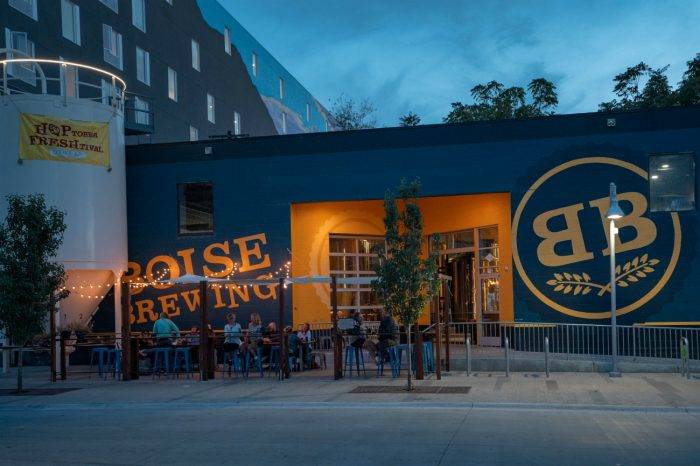 Boise Brewing is a community supported brewery, which offers locals a chance to purchase a "share" in the company and dividends are paid out in beer. Where can we sign up? We decided to switch up our IPA-leaning palette and opt for the Snowboarder Porter (chocolate style porter with hints of caramel and coffee). This was the perfect beer on a chillier night. We hear it's even better after a day on the ski hill – guess we'll need to come back!
5. Woodland Empire Ale Craft
Visit this awesome brewery for a wide-ranging list of brews that will appeal to any type of beer drinker. A quirky inside and cozy patio make this a must-visit on your Boise vacation. We went for the So Juicy IPA and so juicy it was. We sat on the patio, opted for a basket of fries from Manfred's next door, and capped off a perfect day/night.
Matt and Aaron are a duo of professional videographers and photographers seeking to push the boundaries of visual storytelling. These Canadians have been working remotely and traveling North America for the past two years in their camper van. Check out some of their work: @therollingvan.

Published on October 25, 2018