Lindy Callahan worked in partnership with Visit Idaho to create this Travel Tip.
Southeastern Idaho is really one of Idaho's best-kept secrets.
After spending three days exploring the area, I'm already looking forward to going back. From the quaint main street of downtown Lava Hot Springs and an entire pioneer settlement to explore to horseback riding on a ranch in Island Park, this is a destination to consider when planning your next Idaho adventure.
Day 1: Lava Hot Springs
My husband, Mike, and I left our home in Ogden early and headed north for the hour and forty-minute drive to Lava Hot Springs.
As we drove into town, the Portneuf River immediately caught my eye. This river is a tributary of the Snake River, and it runs right through downtown Lava Hot Springs. During the summer, you can rent a variety of inner tubes to float down the river for an exciting summer cool down.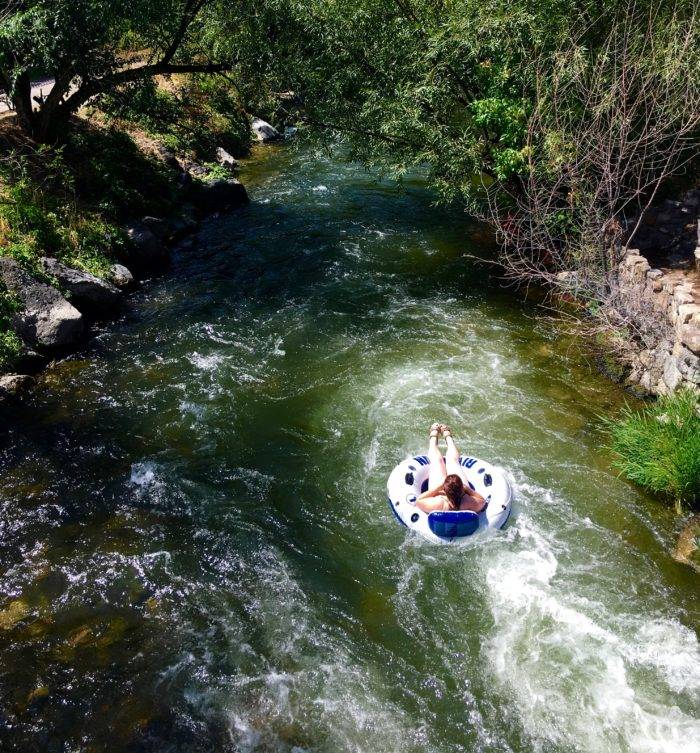 Unfortunately, on this day it was a bit cold and rainy so we walked the paved path along the river instead, before grabbing coffee at Mike's Market and heading on to our next destination for the day.
Historic Chesterfield and the Scenic Blazer Highway
With some extra energy in our system, we got back in the car and headed north again for about forty minutes, taking Highway 30 for another 12 miles, then taking Lund Road through the small town of Bancroft for another 12 miles. We were headed for Historic Chesterfield.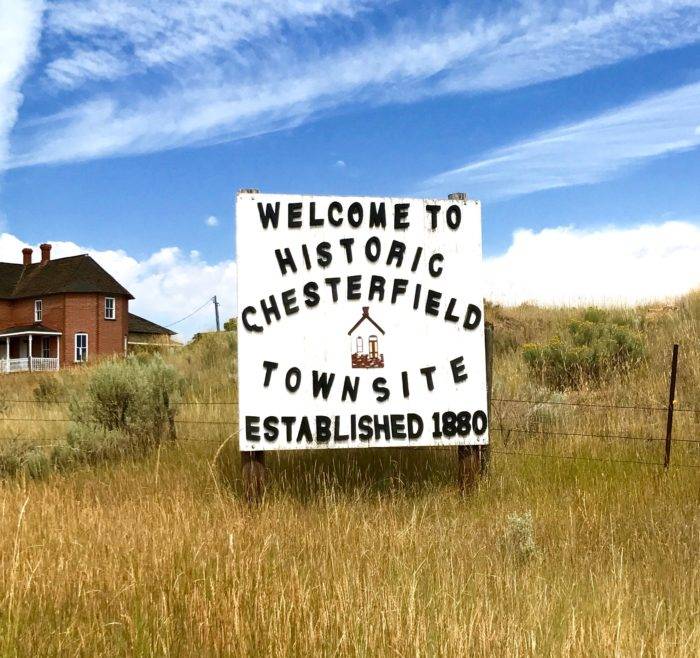 Chesterfield was an early Mormon settlement along the Oregon Trail. Not quite a ghost town, because it was inhabited until the 1970s. However, no buildings have been added since around the turn of the century and most of the homes and retail spaces have been restored for visitors to enjoy.
We were lucky enough to encounter one of the volunteers as we drove through. She was kind enough to come along with us on the tour and tell us about some of the buildings. Her husband's family had been one of the original families who settled the area in the 1800s.
My favorite cabin was built by Denmark Jensen. Our guide informed us that Denmark was, in fact, his name, given to him by parents who had left Denmark and were deeply homesick at the time he was born. The church was a treat to step inside of as well. The furnishings are all original, with the exception of the stove in the center of the room.
Local Lava Hot Springs Take Two
After a few hours in Chesterfield, we were getting hungry, so we headed back to Lava Hot Springs for some pizza at The Royal Hotel & Pizzeria. The personal calzones here are delicious and provide a great option if you aren't hungry enough to devour an entire pizza. Afterward, we browsed some of the local shops on the way back to the car.
We had to get to Baker Ranch to buy raspberries before they sold out. Just eight minutes from downtown, Baker Ranch grows their berries onsite, offers wagon ride dinners in the evenings, and rents out snowshoes and boots during the winter.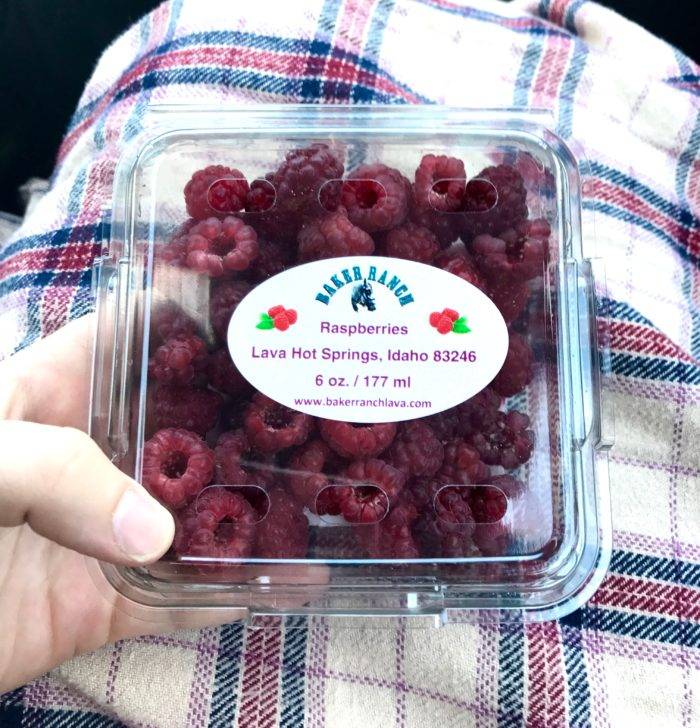 The owner, Rex Baker, is a fourth generation rancher in Lava Hot Springs. He and his wife started offering the wagon ride dinners about 20 years ago, and he told us they love meeting the people who come to see them.
Mike and I ate the raspberries on our way back to town, savoring the sweet, yet slightly tart bursts in each bite.
We got to our hotel for the evening, the Home Hotel, in time to clean up before our dinner reservation at Portneuf Grille & Lounge located in the Riverside Hot Springs Inn. We had been looking forward to eating here all day, as the restaurant has a growing reputation as an absolute surprise and delight, featuring gourmet regional cuisine, wines, and beers.
After filling up on some of the best food I have had in ages, we ended the evening with a soak in the town's famous hot pools. Conveniently they were located just a few minutes walk from our hotel.
The mineral pools here are the namesake of Lava Hot Springs, and have drawn people to the area for decades.
The pools have a lovely ambiance in the evening with low lighting and grassy areas in between. Each pool also varies in temperature, making it easy to find one that feels just right. It was the perfect end to a long day of exploring.
Day 2: Island Park
Island Park, in the Targhee National Forest, was next up on our Idaho adventure.
We woke up early to ensure that we would make it on time to ride horses at Eagle Ridge Ranch in Island Park. We headed back to I-15 and drove north for two and a half hours.
Our eight-person group included four girls visiting from New York City, and two women from northern California. We all spent two hours talking and guiding our horses (or maybe more like our horses guiding us) through the forested grazing area on the ranch. We walked along some meandering streams, and even let our horses cross through a chest-deep pond.
Not wanting to leave, ever, Mike and I lingered behind after dismounting to feed the horses.
Johnny Sack Cabin and the Big Springs Campground
Johnny Sack was a German immigrant who leased land to build his cabin in Big Springs in 1929, then spent three years building the entire thing by hand. He lived in the cabin until his death in 1957, and it was added to the National Register of Historic Places and obtained by the U.S. Forest Service in 1979. Now visitors have the opportunity to admire his handiwork.
In addition to the beautiful cabin, visitors can also enjoy a walk around Big Springs, which is one of the 40 largest natural springs in the world.
We really liked how small and spaced out the campground was at Big Springs, so we took site number 6 and set up camp. We built a fire, made foil dinners and biscuits, then took a walk through some of the back roads behind the campground before calling it a night.
Day 3: A Mega Waterfall and the Drive Home
Conveniently, the Mesa Falls Scenic Byway started in Island Park and would take us south to Ashton — just the way we needed to go.
The byway is almost 30 miles in length, going through the Targhee National Forest before opening up into more golden fields and farming country near Ashton.
Along the way, we stopped first at Upper Mesa Falls. The Mesa Falls Visitor Center, originally built as an inn in 1915, now holds information about the nature and geology of the area, including local wildlife.
A short trail leads from the visitor center to a viewing point, where you can take in a close-up look of the 10-story high falls as they cascade into the Snake River below. A 2-mile nature trail will take visitors to the lower falls viewing area. Mike and I opted to drive down to the next parking lot.
The Lower Mesa Falls viewing point offers a view from farther back, where you can get a glimpse of the falls in the distance with the roaring Snake River's path through the forest.
Seeing Mesa Falls and enjoying the scenic drive home was the perfect end to a weekend in Southeastern Idaho. We are already making plans to visit the area during the winter, knowing that we still have more to see and learn about this region. The best places are the ones that keep you coming back again and again.
THINGS TO KNOW
No matter what time of year you are visiting Lava Hot Springs, be sure to bring a bathing suit.
Bring snacks and water when visiting Historic Chesterfield – amenities aren't close by.
It's not a bad idea to call ahead or go early if you want to purchase local raspberries at Baker Ranch, they are delicious and they go quickly. They are sold in individual containers and flats.
Try something new at Portneuf Grille. These chefs know their stuff and no matter what you try, you won't be disappointed.
Bring water and a towel with you to the hot springs.
Be sure to wear jeans and closed-toe shoes for your horseback ride at Eagle Ridge Ranch.
When camping in Island Park, remember you are in bear country. Store your food overnight inside your car or in onsite bear boxes.
Lindy Callahan is a Utah native who also spends a lot of time in the Pacific Northwest, writing content for Zillow and working on an MFA at Oregon State. Having deep roots in two beautiful regions of the United States, she has a passion for environmental protection and appreciation. When she isn't out hiking with her husband, Mike and her dog, Phil Collins, she is usually found curled up with a book or working in her medicinal garden.

Published on January 22, 2019