This is a sponsored post.
Those strolling through Boise's verdant Capitol Park last Sunday were in for an unusual sight. Instead of the customary line of cars snaking down Capitol Boulevard, there was a long table blanketed in crisp white linens that wound down the street, hugging the arc of the bike lane. Bright summer sunflowers and zinnias sprouted out of wine bottles in the center of the tables, while gift bags stuffed with fresh Idaho peaches, plums and tomatoes rested on each guest's seat. Strands of cafe lights zig-zagged above the tables, casting a warm glow, with the Idaho State Capitol in the background.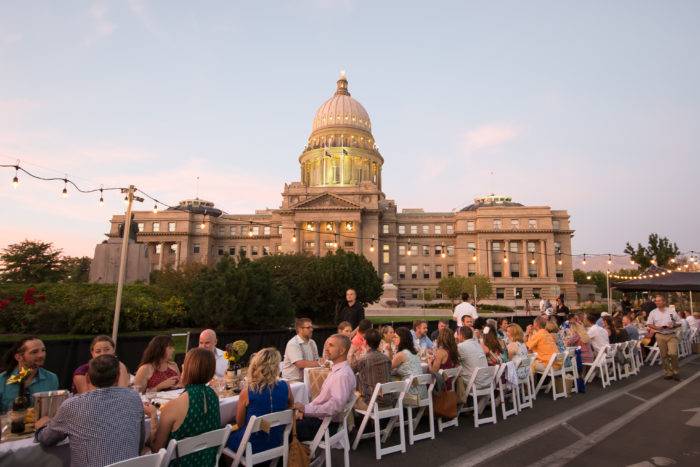 It was precisely the vision that Karlee May, Downtown Boise Association events and programs manager, had when she began planning the inaugural Capitol Table dinner three years ago.
"There are a couple other cities [Park City, Utah and Fort Worth, Texas] that do something very similar that I modeled the idea after," said May. "I spent a bunch of time on the phone with those cities and said, 'What do you guys like that you do? What would you change? What works, what doesn't?' I picked the concepts that I liked from both of theirs to create this one."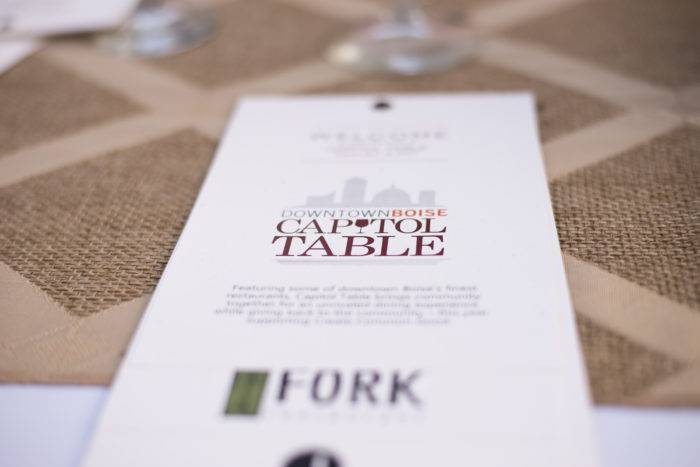 The DBA's 150-seat Capitol Table dinner highlighted five prominent downtown restaurants—Fork, Juniper, The Brickyard, Capitol Cellars and Red Feather Lounge.
"Our focus was restaurants that use a lot of Idaho food products, because that was one of the things that we really wanted to showcase," said May.
Instead of each restaurant preparing a single course for all 150 guests, as is common at many harvest dinners, each chef created a unique five-course menu and served it to a separate table of 30 guests. Though the menus differed significantly, there were threads of cohesion.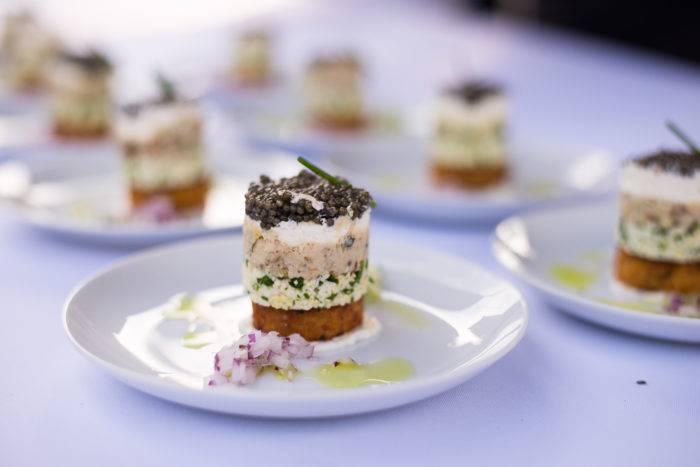 "There were two Idaho food products that each chef at different points worked into their menus, kind of a Chopped flair to the event," explained May. "We did Idaho peaches and sturgeon caviar, so at some point, those two ingredients were worked into each restaurant's menu."
While Red Feather Chef Michael Ridder opted to use the sturgeon caviar on his Smoked Idaho Trout Parfait, Fork Chef Kris Ott used it to top off his Summer Melon Gazpacho.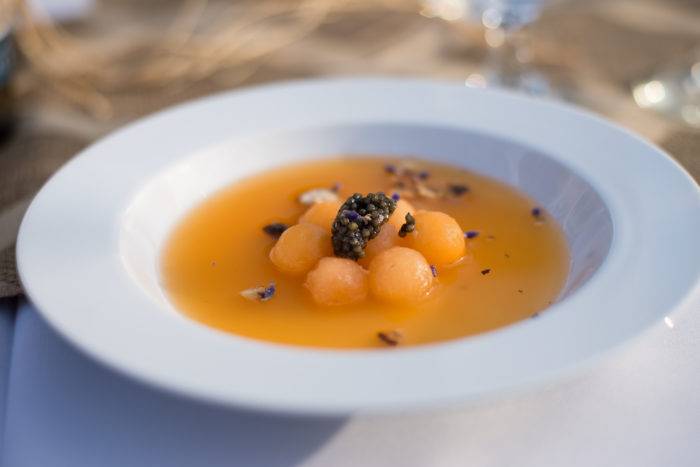 "We're featuring the caviar against the cantaloupe, which is always a good pairing—sweet and salty," explained Ott, while plating his first course. "We're doing cantaloupe gazpacho with toasted hazelnuts, lavender blossoms and a little quenelle of caviar on top and then they're going to pour the gazpacho tableside."
Another element that united the experience was the Idaho wine paired with each course–everything from Colter's Creek Winery's Viognier, which was paired with the first course; to Telaya Wine Co.'s Turas, served with the second course; to Koenig Vineyards' Cabernet, featured with the entree.
"Regardless of what you were eating, everyone was drinking the same thing across all five restaurants at the same time," said May.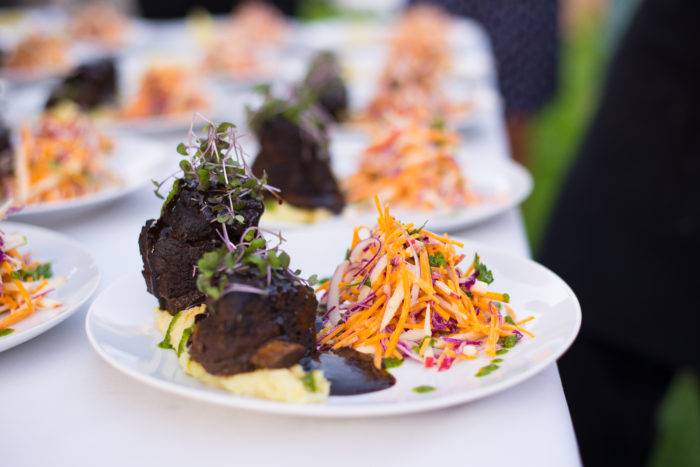 Koenig's lush Cabernet ended up being a great match for the heavier entree courses—which ranged from The Brickyard's Beef Tenderloin in Phylo with Mushroom Duxelle to Juniper's Espresso-Rubbed Bison Tenderloin to Fork's Snake River Farms Kurobuta Pork Cheeks, served with a barley pistachio salad and grilled peaches.
"We marinated the pork cheeks in peaches and champagne with heirloom tomatoes, so it's got a lot of summer flavors going on," said Ott.
In a unique twist, Ott also incorporated local tomatoes into his dessert dish, an Heirloom Tomato Upside Down Cake with Creme Fraiche and Salted Caramel Drizzle. As one attendee was overheard exclaiming: "If this was on a menu, I'd never order it. Tomatoes on a dessert? But, wow!"
Ott says he enjoys participating in farm-to-table dinners like this, particularly when he can design an entire menu instead of just a single course.
"I think it's a great opportunity for people to shine. We all get to put our best foot forward and show off what we do every day," said Ott. "I love doing these outside dinners like this. I think it's a great thing that Boise is bringing to the table and hopefully, we'll see a lot more of them."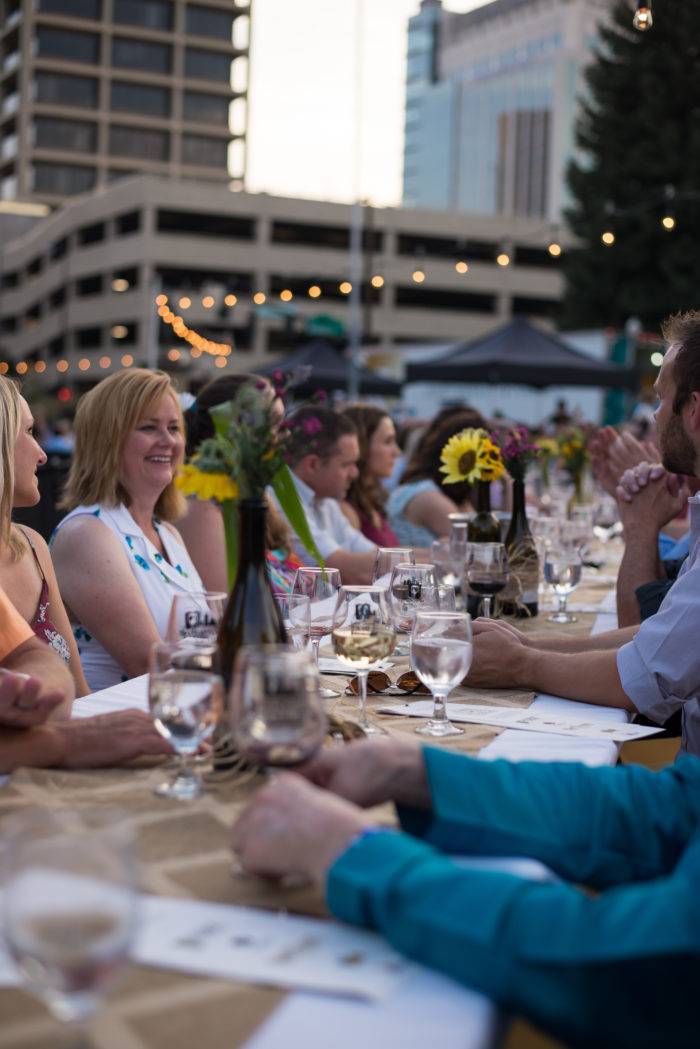 As dusk settled on downtown and the Idaho State Capitol's lights flickered on in the background, that feeling seemed to be shared by other attendees. This likely won't be the last we see of Capitol Table.
"The concept is very easy to grow with either more restaurants or more people, so once we get feedback from everybody we'll make that decision," said May. "But expect at least this size event again next year, if not bigger."
Tara Morgan is a freelance food and booze writer. She's an Editor at Edible Idaho Magazine, writes for publications like VIA Magazine and SIP Northwest and runs the website Boise Feed. She loves an epic dinner party, good design, bad puns and pretty much every French rosé ever made.

Published on September 15, 2017