Steve Graepel worked in partnership with Visit Idaho to create this Travel Tip.
I'm scratching my head over a bin of hooks–each knotted with tufts of feathers and fur–asking myself why does one need so many flies to catch a fish?
Thick with fat trout, the Henry's Fork requires what anglers call "a Ph.D. in fly fishing." And I'm walking on as a freshman. It takes years to master the sport, let alone fish Henry's Fork. But I know what I don't know and I call over the shopkeeper for help.
A tall bearded guy with a hard-earned tan at Three Rivers Ranch Outfitters Fly Shop guides me to a corner of the row of bins, preaching the pros and cons of danglers, toddlers, and assassin jigs, asking me if I'll run a single or two fly set up. Lost in the jargon, my eyes track on a giant bright yellow fly.
"What's that one for?" I had to ask.
"That's a streamer. It's for big fish. You won't need them where you're going." He plucks an assortment of small, dark and otherwise dull-looking flies and plops them in a small plastic Solo cup.
I shrug my shoulders, nod my head, and pay my $30.00.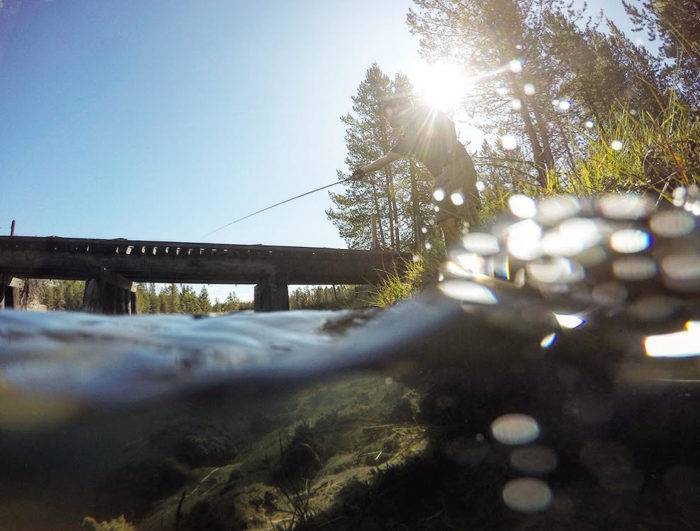 Idaho doesn't have any National Parks, (ok – it has a narrow sliver of Yellowstone) but it arguably has something better: anonymity. With it comes fewer crowds and more animals. And the eastern corner of Idaho–that part tucked under Montana and up against Yellowstone and the Tetons–has some of the best fishing in North America. It also hosts a small section of railroad that was yanked of its ties and spikes and converted to the Ashton to Tetonia rail trail. The idea of riding my bike and fishing some of the abundant populations of trout in the world has spun in my head for years.
Armed with a fresh box of hackled hooks, we drove north and parked the truck at Big Springs, the protected headwaters of the Henry's Fork, and a tributary of the Snake River. Here, 120 million gallons of crystal clear water bubble out from under a hill each day. Perched over the spring stands a gingerbread-style, hand-hewed log cabin.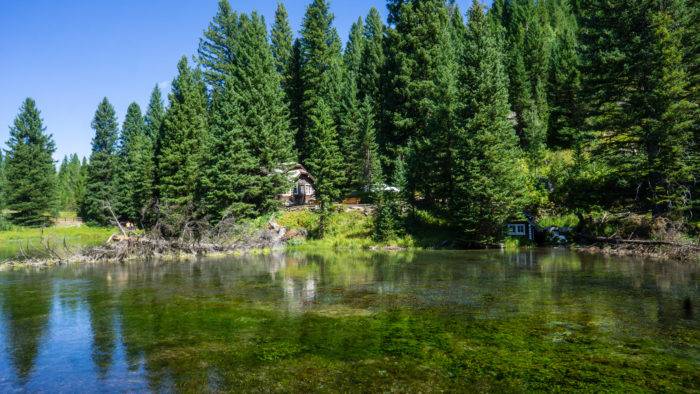 Johnny Sack, a German immigrant, leased the land from the state in 1929. He worked through summer and winter for 20 years, building his magnum opus by hand. What makes the cabin particularly interesting is the exquisite bark trim. "Except for refinishing the floors, the cabin hasn't been touched since the day Sack died in 1956." The enduring cabin is a testament to Sack's genius.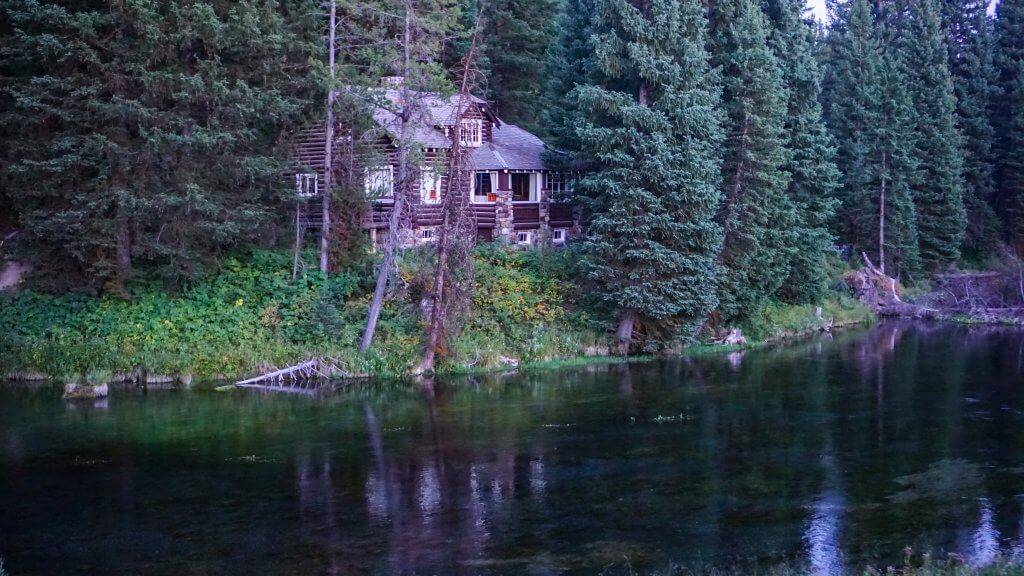 Still chatting about Sack's craftsmanship, we packed our bags outside the cabin while drooling at the chubby trout darting under the bridge. Big Springs is a primary spawning ground for trout, so fishing is prohibited. So we rack the rods to our bikes and pedaled east towards Harriman State Park.
With an average snowfall of 16 feet, come winter, Island Park is snowmobile heaven. Nearly every backroad in the region is marked and mapped with poles that poke awkwardly tall above the road in summer. We follow the markers through the stunted forest along quirky road names like Stamp Meadow and Old Shotgun as we wend our way down to the storied Harriman State Park.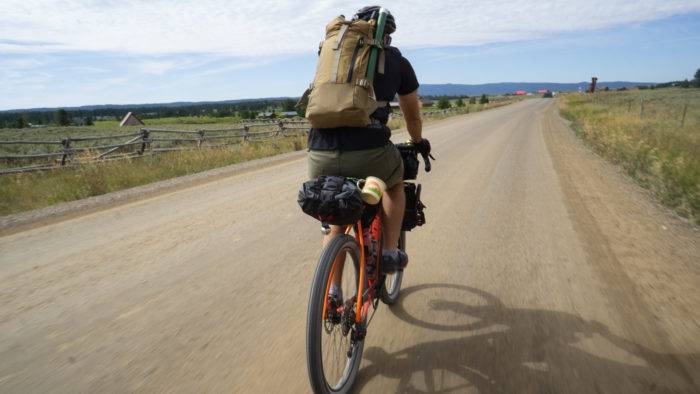 Railroad History in Idaho
I've heard of the Harrimans. I've ridden the namesake trail in Sun Valley, but I never made the connection to Island Park. And I certainly wasn't aware of the family's influence on Idaho (or the nation, for that matter). The family patriarch, E.H. Harriman, made the family fortune buying and rehabbing floundering railroads. In addition, grabbing tracks by the miles, Harriman had a penchant for property. As one neighbor put it, "he collects mountains as other men collect china." His prized possession was a large plot of land along the Henry's Fork.
Over the years, the Harriman's built a row of tidy cabins overlooking the river. One for the parents, one for the boys, a dinner cabin, and eventually selling plots to friends in high places to join the compound (think the Guggenheims). His son, Averell Harriman, would go on to help found Sun Valley, and became a successful politician (including Governor of New York, a Diplomat to Russia, and a two-time presidential candidate).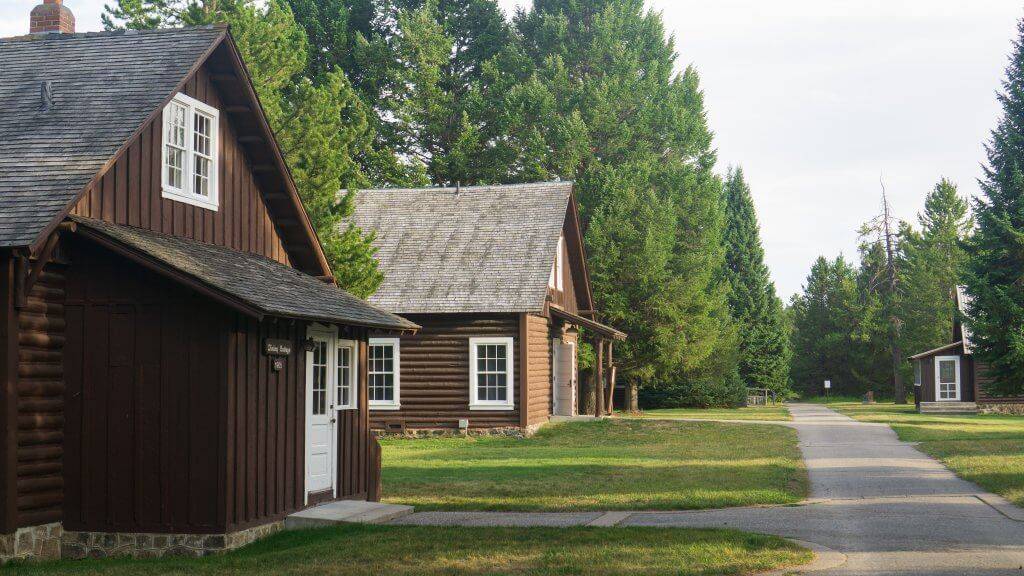 In 1977, the Ranch was deeded to the State under the condition that Idaho would create an institution to oversee it, spurring the creation of Idaho Department of Parks and Recreation. The Harriman's influence on 20th-century history is really quite amazing.
Today the Railroad Ranch, as it's become known by fly fishermen, is a spectacular spill of placid water holding some 4,000 trout per mile. We tour the Ranch (it's free and open to the public), pedal our bikes to the backcountry yurt, and then crept into the shallow waters to try our luck with the fish. Pelicans, cormorants and sandhill cranes preen their feathers as we flick grasshoppers across the surface. With the sun setting over Bishop Mountain, fishing Henry's Fork is about as close to tranquility you can find.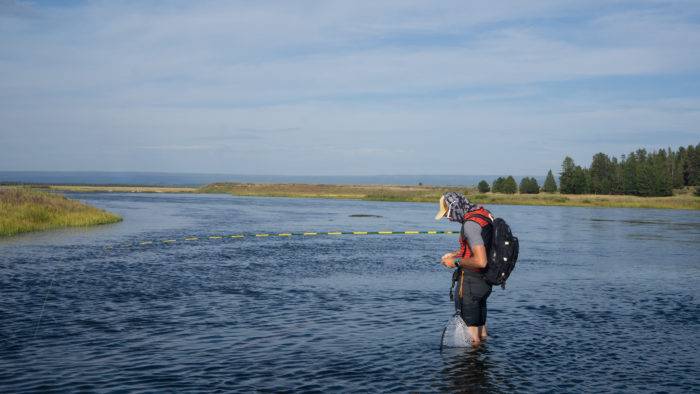 The following morning we decide to float our bikes down Henry's Fork on packrafts–a small inflatable raft suited for backcountry travel–drifting the eight-mile stretch to the Osborne Bridge. Skimming past the Ranch in our kiddie pool-sized boats, a pair of fly fishermen with thick Texan accents shout out "…that looks like more trouble than it's worth!"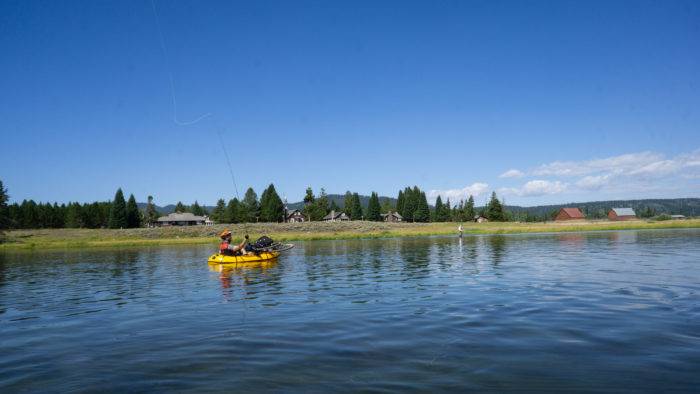 I chuckle. In a river of a thousand casts, floating Henry's Fork with bikes seems more productive than landing a fish. Indeed, we spend all morning watching rainbows hit the surface, ignoring our flies.
Past the Ranch, we bounce down a small stretch of riffles and swap the boats for bikes above the Osborne Bridge then hustle over to the Mesa Falls Scenic Byway. The only undammed section of the Snake River, the slow-moving Henry's Fork pinches through a pair of narrows forming (what the park sign described as) a "thunderous curtain of water".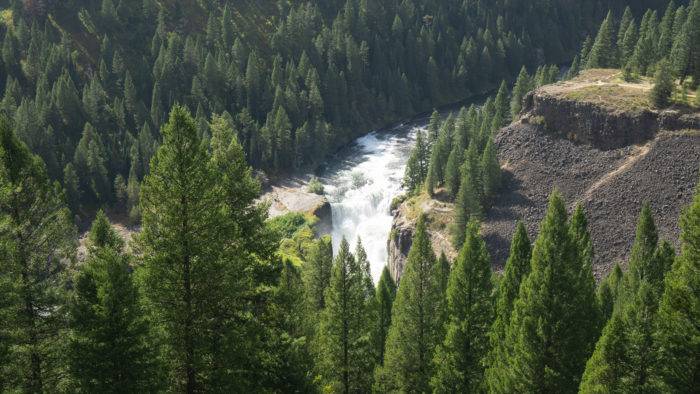 Gobsmacked, we hurry towards the Warm River where we catch the old Union Pacific Rail-Trail, also referred to as Railroad Right-of-Way Trail.
Rail-to-Trails
Yellowstone was the nation's first national park, but it wasn't easy to get to. Once again, Harriman enters the story. Determined to bring visitors to the Park's west entrance, Harriman ordered the construction of a Union Pacific line connecting St. Anthony northward to West Yellowstone, unlocking the park to throngs of summer visitors from the west.
The line was abandoned in 1979 and ties were removed shortly after. The state park system converted the abandoned line to rail-trail for bikes and ATVs to enjoy. Idaho has a handful of rail-trails worth a visit. The Railroad Right-of-Way was a straight arrow shot back to the truck, parked some 30 miles north.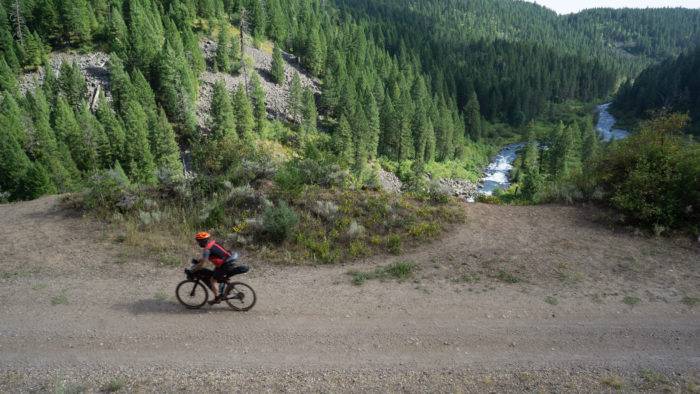 To break up the ride, we'd rented the Warm River cabin for the night. Snuggled between the shores of the Warm River the dense green canyon folds, the cabin is quaint at best. No water, no electricity, a wood stove, and a table are the only accouterments to the old fish hatchery manager's cabin. It's recommended you treat the water, but I can't imagine finding a more pure source. Warm Spring gushes a frothy 200 cubic feet of water per second right out the back door and into the valley.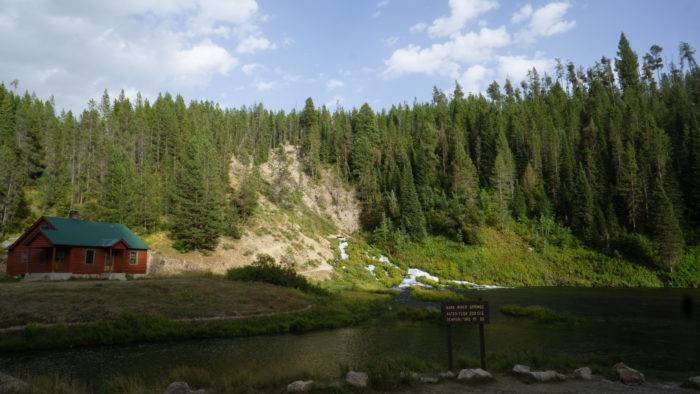 After dinner we reach for the rods and take a turn at flicking parachutes over the water, angling to hook one of the silver bullets streaking across the river bottom. As the sun set, the sky darkened with a cloud of tiny insects – the hatch of the day.
The following morning we lock up the cabin and continue riding north on the gravel trail, through stands of taiga, marshy uplands, and quiet farms, stopping occasionally to stalk trout.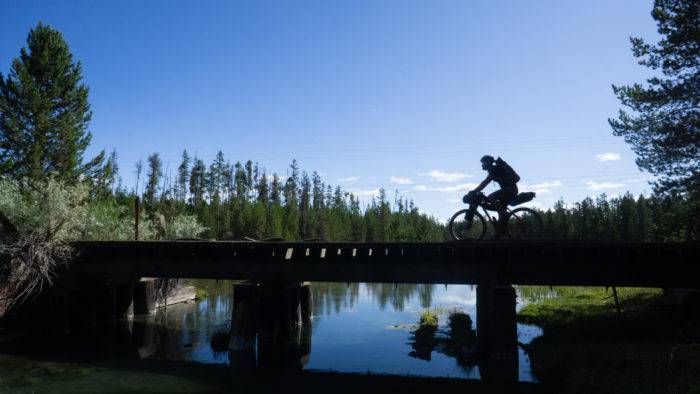 Along the way, we chatted about the trip…what we would change, what we would keep. We were ready for the bugs, the bears, and prepared to wrestle trout the size of small farm animals (though no trout were harmed on our ride). But what we weren't prepared for was the amazing amount of history found in Eastern Idaho and an appreciation to one family who made it all possible, preserving this wild land for generations to see.
Before we head home, we take one final peek over the Big Springs bridge, watching incredulously as schools of fat 'bows swim by in the protected headwaters of the Snake. Fish be damned.
When to Go
Eastern Idaho sits at the base of the Tetons. Along with those outstanding views comes alpine weather. Harsh cold and deep snow are plenty for those seeking winter thrills. If summer temperatures are more your thing, plan your visit between May and September. Things start to turn cold again once October sets in. The best time to cycle and fish in the region is probably September.
How to Get There
Head to Idaho Falls and follow Highway 20 north, past Rexburg and St. Anthony. Limited supplies can be purchased in Ashton and Island Park, but you'll be better off stocking up in Idaho Falls.
What to Bring
Reams of literature have been authored on fly fishing the Henry's Fork. Bike-packing (let alone bike-rafting … which is altogether another subject) is a niche, but with a little searching, you should find plenty on the subject. In short, we brought Tenkara fly rods–telescoping rods that collapse to 15 inches–and an assortment of dry flies and nymphs. Stock up on flies at the local fly shop in Ashton to match the current hatch.
We used gravel bikes, racked with bike bags to hold all our gear, including a stove and sleeping bags. The cabins we stayed at had pads. Save space for food and leave the pads at home.
The water in late summer was warm. No waders were required; a pair of sandals will do and keep the load light.
This is bear country. Bring bear mace (and insect repellent). Use the bear boxes in camps, or have a line to sling your food high from a limb. We saw no bears, but a packrat did steal a shoe.
Where to Stay
Walk-up camping is available at Big Springs Campground for $15 a night. Bring cash.
Harriman State Park is open to the public year-round but pets are not allowed. There's a $5 motor fee to enter the park and the original cabins are open to the public for a self-guided tour. If you'd like a little history, a docent will kindly share the story.
With enough planning, you can even stay the night in one of the Harriman cottages. Depending on the cottage, rentals vary from $110 to $300 a night. We opted for the backcountry yurt, a simple tent-like structure with a table, comfortable bunks and a view to die for. Both options can be reserved online at Reserve America.
Warm River Cabin is also open year-round, and will run you $50 a night (plus an $8 reservation fee), and can be rented on Recreation.gov.
There are over 400 miles of rail-trail to explore throughout Idaho.
Feature image credited to Steve Graepel.
Steve and his wife Kelly live in Boise, Idaho with their two children, Chloe and Ethan.

Published on April 30, 2020