This is a sponsored post.
On July 30th, 2016, Idaho natives and hardcore runners Andrija Barker and Taylor Neal set out on a journey to run the entire 960-mile Idaho Centennial Trail in just 30 days. It was a feat never before attempted. Below is a snapshot of what happened on the trail, from the perspective of these ambitious athletes as they took on the Idaho wilderness, Mother Nature, and unexpected detours. Andrija and Taylor plan to finish the final 100+ miles the last weekend of April 2017.
Days 1-3: We started off at the trailhead leading to upper Priest Falls; a gorgeous mile and a half path that would lead us to the true start (or end, depending on your direction) point of the Idaho Centennial Trail. Our excitement was mixed with a small dose of apprehension but, mostly, we were feeling anxious to take those first steps.
We cruised through that first day. Running on beautiful bark and smooth dirt trails, across newly built bridges and down flat gravel roads and along the edge of Priest Lake. By the time we reached our camp for the night, we were both naively confident in our ability to reach our lofty goal of a 30-day ICT completion. That night, we shoveled down a couple burgers each, relaxed at camp and slept comfortably in the warmth of an RV. The following morning, post-breakfast, we set out toward Indian Creek Campground, pounding the pavement for a lengthy stretch that morning. After a lunch break at Indian Creek we started our first long climb of the trip, toward Hunt Lake. The 'ease' of the past day and a half was over.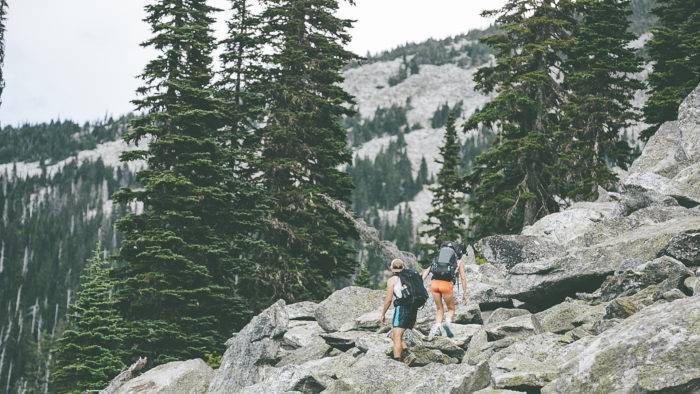 Once we reached the top of the road, we were met with our larger packs to hike into Hunt Lake where we spent the night. It was a peek into future days on the trail – a dehydrated meal, scrambling to gather firewood, attempting to dry out our sweat-soaked clothes, before quickly succumbing to the chill in the air and the exhaustion of the many hours on our feet. That night was cold and sleep was erratic. I made a mental note to pack warmer gear for the upcoming wilderness section.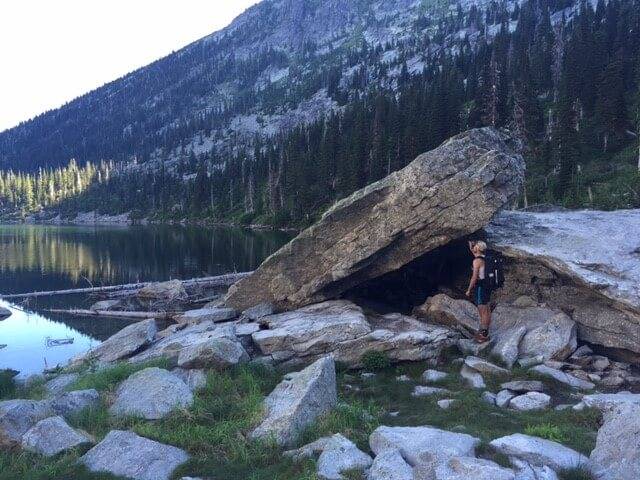 Day 4: Day four was tough. Mid-way through the day, we threw on our overnight packs and headed toward Lunch Peak. Massive downed trees blocked the trail and slowed our pace to a crawl as we maneuvered our way, up, over, under and around the mess. As the wind picked up, it began to rain as the darkness enveloped the ridges, chilling us to the core. We found a small saddle near Ponderay Peak and set up a makeshift camp. It was another brisk night.
Days 6-9: Over the next couple of days, it was much of the same. The climbs became longer and steeper with the trail mainly intact and much of it on dirt roads. We climbed to Idaho Peak to Porcupine Pass to Thompson Pass, as the miles started to tick by, we fell into a routine – grateful to meet family at the end of each day and sleep comfortably.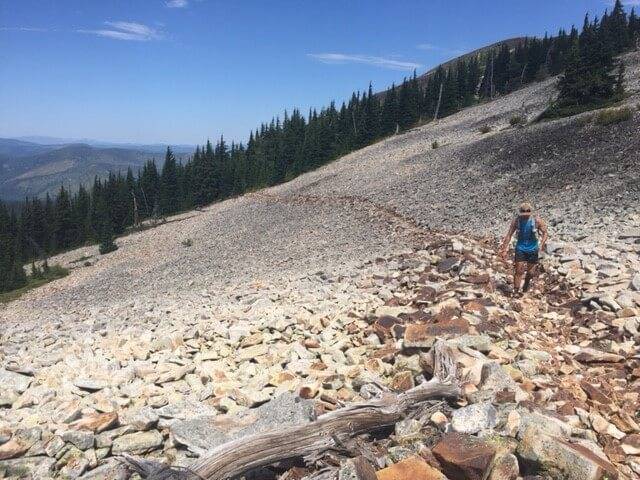 On the eighth day, we breezed through half the day's mileage before meeting friends and family in Wallace, Idaho. Following a hefty meal we set out for the remaining 12 miles, with plans to meet up again at Bullion Pass with our packs. The second half of the day was brutal. The trek up to Steven's Pass was almost vertical in spots, a relentless climb – it felt like we were barely inching forward. When we finally dropped into Bullion Pass, the sun was going down. That evening, sitting around a fire while eating our dehydrated meals – I remember being both excited about how far we had gotten and utterly overwhelmed by how far we had to go.
Day 10: As happened time after time, map mileage and actual mileage didn't match up that day. Thirty-four miles and a couple hours later than planned, we finally arrived at Hoodoo where our friends waited with a much-needed meal. It rained all night. For a while, I lay awake in our tent and listened to a young elk try out his voice – high-pitched and sporadic.
Days 12- 13: We didn't bother eating breakfast as we dismantled our camp in record time and hit the trail, desperately trying to use movement to warm up. Within the hour, we dropped into Kidd Lake with the intention of building a fire to dry out. However, we saw smoke curling up into the overcast sky and noticed two people standing around an inviting campfire. As we were passing by, a woman headed back toward the camp, greeted us and insisted we join them. For the next couple of hours, we swapped stories, laughed, ate, dried out and relaxed with these incredibly generous individuals. When we headed down the trail again, it felt like we were leaving great friends.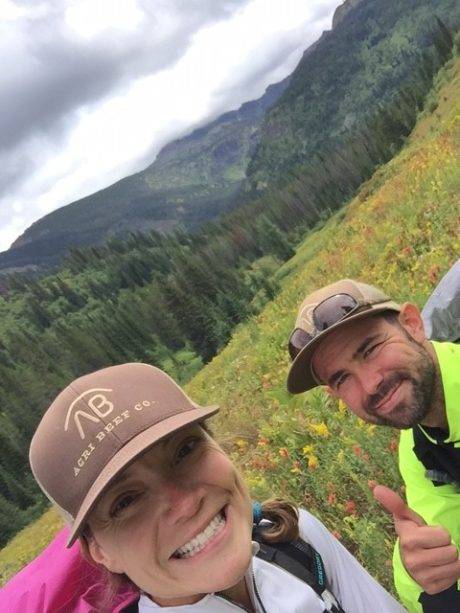 Physically, I had dealt with intense muscle soreness for the first six days but it had passed and I was now feeling pain-free. Unfortunately, at this point, Taylor had an old knee injury flare up. Later the next day, we ended up backtracking almost 10 miles when Taylor's knee locked up completely on the trail. Thinking that if we headed back to the dirt road leading out of Kelly Creek and took an alternate toward Wilderness Gateway, perhaps the more even ground would help. We concluded that it would certainly be easier to access us via forest service road versus the top of a mountain. It was a long, slow day. I cringe recalling our meager camp in the middle of the road that night.
Day 14: The following day, two weeks in, not seeing much improvement with the knee, we walked along the mountainous road for eight, endless hours. It didn't take long to realize that our alternate was far from a short cut – in fact we had added more than 10 miles. Now almost two days behind schedule, our GPS/satellite communication device was dead, we were almost out of food and there had been no sign of anyone in almost 40 miles of road walking. We felt defeated. Suddenly, I heard the faint sound of a motor in the distance. There had been several false alarms over the past couple of days, thus we were both too wary to get too excited. But this time, above us, coming down the switchbacks we had just traversed, was an old, beige truck. We will never forget Gary. He stopped, looking as startled as we were to see another human – but without hesitation offered to let us hitch to highway 12. Our ICT angel (as we affectionately call him) ended up taking us all the way to Lowell. For dinner I ordered a burger, fries, salad, apple pie and a huckleberry milkshake – the waitress looked skeptical and asked if we had others joining us. Starkly contrasting the night before, camped in the middle of a remote, dirt road, the Wilderness Inn was pure luxury. To give us our best chance of both Taylor and myself feeling ready to press on through the wilderness section, we decided to take a rest day.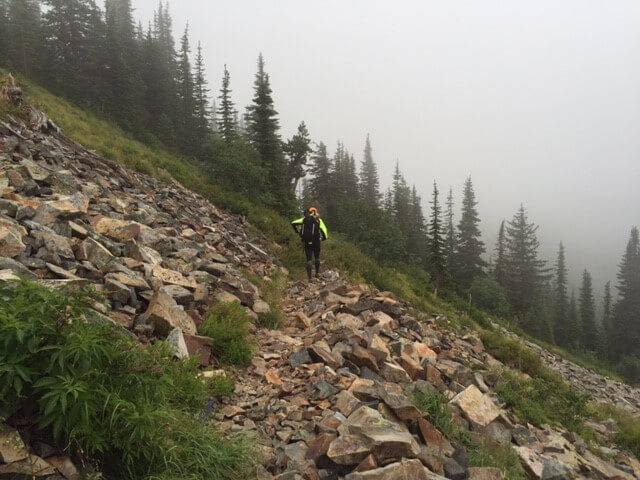 Day 20- 23: The next four days were a mess. Another wrong turn at Chamberlain Basin, hours of backtracking through swampy meadows and balancing on fatigued legs as we climbed over and traversed among thousands of blown down trees – looking for the trail. A freezing night next to a beaver dam, another misdirection leading into Big Creek and a massive climb out, up and down into Marble Creek. Up to this point, we had consistently traversed 27-30 miles each day. Camping about 10 miles down Marble Creek, we made a last-minute decision to cover the 45 miles to Boundary Creek (end of the wilderness section) in a single day.
Day 24: The epic day began with an early morning, frigid tromp down Marble Creek where we crossed the creek over 30 times. Once we reached the middle fork of the Salmon River, we had another 29 miles to Boundary Creek. The few people we met along that stretch looked at us with something akin to astonishment and nothing short of doubt when we revealed our day's destination. This only spurred us on. We were a couple of days behind, our communication device had died (again), which meant my brother (our support waiting at Lola Creek) was blindly waiting for us. All we wanted was real food and to get rid of our heavy packs. Finally, at 1 am on a Tuesday, we arrived at Boundary Creek, wearily stumbled around setting up our tent and lay down for a fitful, sleepless night. The temperature dropped to 24 degrees.
Day 25: I didn't feel well that morning. Blaming it on the long trek the day before, I nibbled on some breakfast and prepped for the short 17 miles to Lola Creek. We handed off our packs with a ranger (and friend) and hit the trail, finally running again, with renewed enthusiasm. Without the weight of our packs, we were covering distance swiftly, slowing only when needed in spots where the trail narrowed. At certain points, the trail was almost completely washed out. The ground under our feet moved precariously, causing rocks and dirt to crash into the river, about 40 feet below.
Ten miles in, moving too quickly, I hit one of these spots and tripped. Pitching forward, I flipped off the edge of the cliff. As I fell, I grasped at the earth, trying to stop the free fall. My body hit several outcroppings of rock, slightly slowing my plunge. Finally, my right heel hit a rock that didn't move and my right side wedged, ever-so-slightly into a shallow crevice. I stopped abruptly, roughly 10 feet above the river, ducking as the earth I had knocked loose came tumbling down above me. A hasty evaluation of my injuries revealed what seemed to be only deep cuts and numerous abrasions. There was no way for Taylor to help me and knowing I had adrenaline on my side, I began the slow and cautious ascent. After what felt like hours, I was standing on the trail once again.
A moment of well-intentioned scolding from Taylor about slowing down and taking our time and we kept moving. We had 7 miles to go; there was no other option. By the time we arrived at Lola Creek, not only were my fresh wounds aching and raw but, I had become slightly nauseous – which I initially blamed on hunger and pain.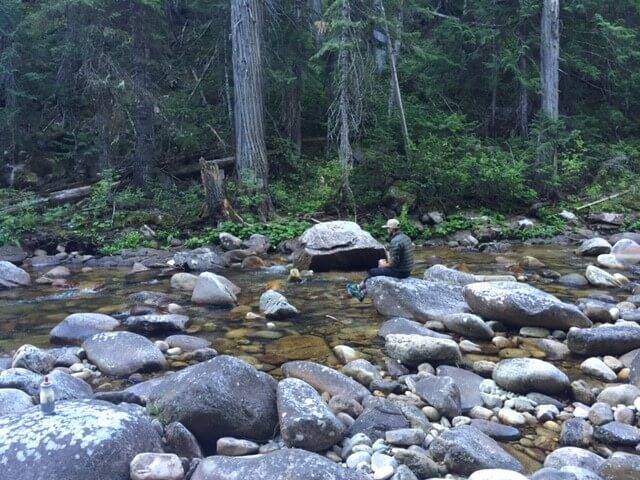 Day 26: The next morning, there was little to no improvement and I couldn't keep any food down. Stubbornly, I made the decision to keep going – which we did, slowly. That day, we hit the high point of the trail, Ross Peak at 9,800 feet. By the time we got to camp that night, it was well past dark and I hadn't been able to eat most of the day. An attempt to nibble at dinner was unsuccessful and another night similar to the previous one left me a mess in the morning.
Day 27: I stupidly and adamantly insisted we press on. A massive climb out of Willow Creek and a largely flooded trail from beaver dams made for another lengthy day and when we finally reached Lime Creek in the early evening, I knew I was finished. I continued to be sick throughout the evening and into the night – the next morning, another attempt to eat was unsuccessful and after much internal debate (and some tough love from my brother and Taylor), I called it quits. We had covered nearly 800 of the 900 + miles in 27 days.
The most common question I have been asked since our stint on the ICT is, "Did you have fun?" This question is normally asked with such sincere enthusiasm that it's tough to find an answer that feels authentic and, yet, doesn't squelch that fervor. I usually answer, "Hmmm…it was interesting!" If I learned one thing on the ICT, it was to let go of expectations. From one day to the next, it was impossible to predict any aspect of a day – from trail conditions to wildlife encounters to mental and physical state of being. But, the one thing you could count on was the unexpected.
Would we ever do it again? The answer to that question is a resounding, no.
Not the way we did it.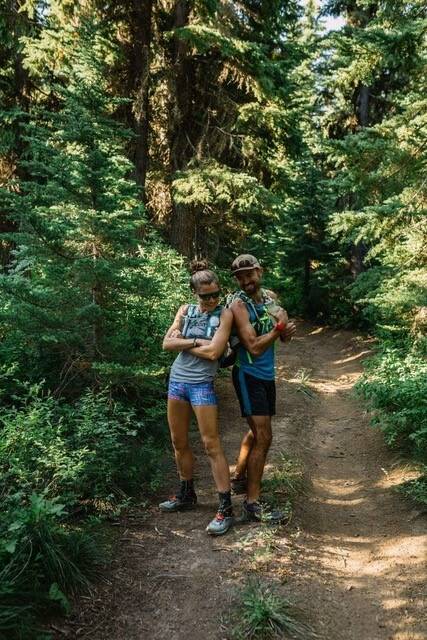 I have no doubt, that without my illness, we would have finished within mere days of our goal of 30 days – a record-setting feat. However, Idaho is meant to be experienced not conquered. Our speedy method left little time to fully absorb our journey, moment by moment. We basically threw ourselves into the depths of our state's backcountry with preconceived ideas of shaping our experience and came out humbled by the way Idaho shook us up and spit us out – bloodied, bruised and craving a steak.
Feature photo is credited to Brandon Koomler.
Andrija Barker calls Boise home with her two four-legged kids, Drake & Merle. When she's not out galavanting on a trail somewhere, hitting the ski slopes, or planning the next great adventure, you can probably find her downtown swapping stories with friends over a tasty beverage. Although not without its challenges, she believes her experience on the ICT has had a profoundly positive impact on how she responds to what life presents.

Published on April 13, 2017