HoneyTrek worked in partnership with Visit Idaho to create this Travel Tip.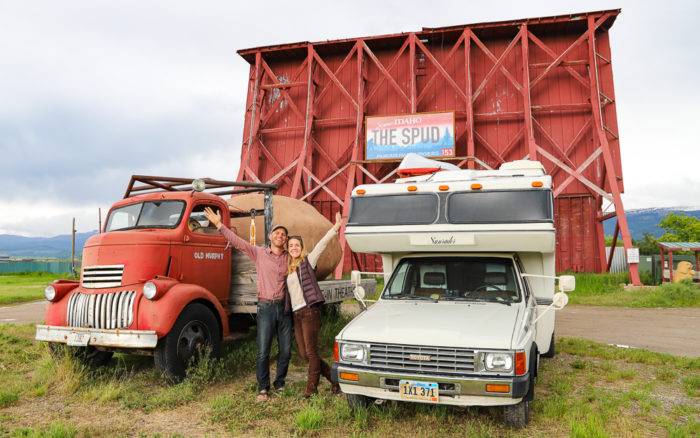 During the first few months of our two-year road trip around North America, we sped through Idaho to get to an event in Montana and instantly knew we made a mistake. We passed by glistening lakes, jagged mountains, and charming towns. Then we heard about their range with 40 peaks over 10,000 feet, a river gorge deeper than the Grand Canyon, and 20.4 million acres of national forest. This was a state that warranted deeper exploration. Our cross-continent road trip and seven-year honeymoon continued with loose plans and one certainty—summer of 2018 we'd return to the great Gem State! We're happy to say, we just clocked 1,523 miles over four weeks and we were amazed by the diversity of topography. From the verdant peaks of the Teton Valley to the lava-covered Craters of the Moon, it was this ever-changing landscape of mountains and rock formations that kept us exploring. Here are our seven favorite destinations to get your mountain high.
Teton Valley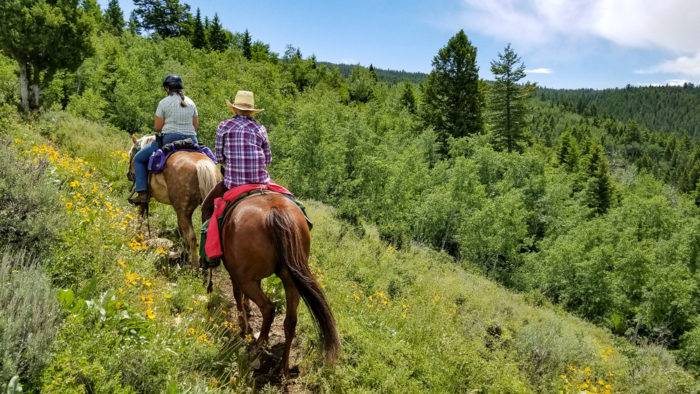 Crossing the state line from bustling Jackson, Wyoming into Idaho felt like there was not only more room to breathe, but the air got fresher. Teton Valley, Idaho shares the same dramatic mountain range and national forests as Jackson Hole, but with a fraction of the people. Being in cowboy country, we had to satisfy our Wild West spirit with a stay at Linn Canyon Ranch. The family has been raising horses and outfitting pack trips in the area since 1906 and have most recently renovated a century-old farmhouse and built fabulous luxury tents. After settling into our glamping suite on the hill, we took a three-hour lunch ride from their property into thousands of acres of forest. Following a trail lined with aspen trees, wild mint, and purple lupines, we reached a vista over the charming town of Victor and the Big Hole Mountains. The owner Trudy trained as a chef in France and packs a mean picnic, chock-full of veggies from their organic garden. The good news is that even if you don't have time to stay overnight, Linn Canyon Ranch is open to the public for horseback riding—including their beloved sunset dinner rides.
City of Rocks National Reserve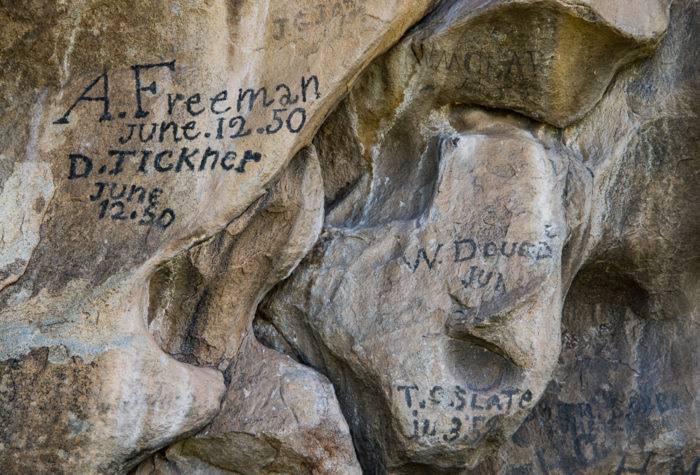 On the southern edge of Idaho, lies a park that's so good, it's part of a national reserve. We'll get into the incredible Castle Rocks State Park in a moment, but first the City of Rocks! The granitic spires and pinnacles form a skyline that dazzles like a geological Manhattan, dating back 2.5 million years. Beyond just beautiful, it's steeped in Western history. It was a major junction on the California Trail, where over 200,000 pioneers passed through on covered wagons during the Gold Rush. Be sure to stop at Camp Rock and Register Rock, where hundreds of 19th-century signatures are written with axle grease, and keep your eye out for wagon ruts on the 22 miles of hiking trails.
Castle Rocks State Park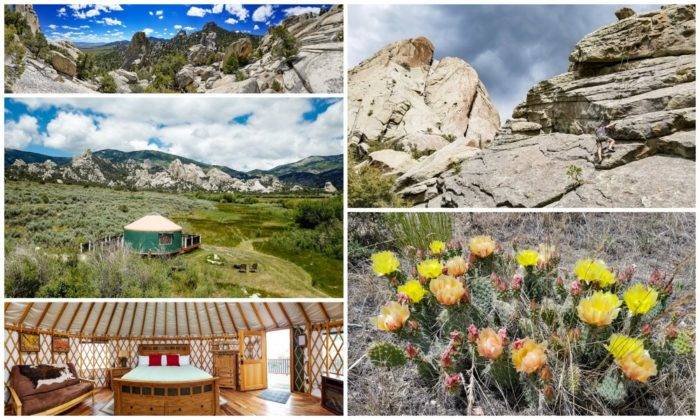 City of Rocks National Reserve and Castle Rocks State Park share a ranger station, so you can easily plot your adventure to both recreation areas. Between the two parks, there are 173 recorded bird species (one of the highest concentrations in the state) and over 700 rock climbing routes, making it a climber's mecca. We really enjoy climbing, but without your own gear, it can be an expensive hobby. When we found out the park had a dedicated climbing ranger leading two-hour trips for $37 (including gear), we signed up on the spot! Ranger Jeremiah took us to Warrior Rock for a fun 5.8 climb (advanced routes in the park run as high as 5.14). After a few ascents, we stayed to boulder at Three Pool and marvel at the pros climbing the legendary Castle Rock. Another reason we came to Castle Rocks? It has Idaho Parks and Recreation's first-ever glamping accommodation, the ultra-chic Willow Glamping Yurt! Having a secluded and plush accommodation with a deck overlooking the 10,339-foot Cache Peak and forest of stone was camping bliss!
Craters of the Moon National Monument & Preserve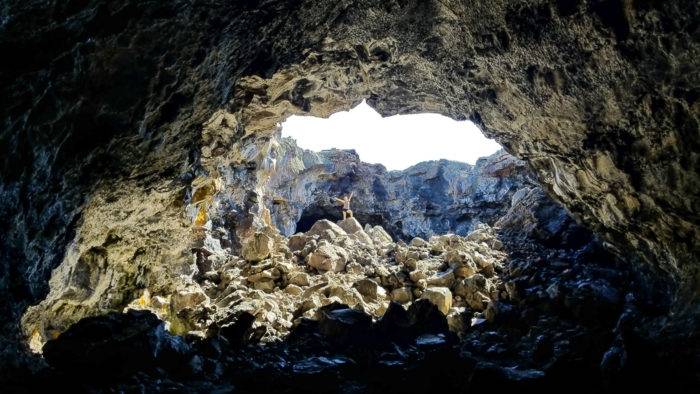 Driving along the Big Lost River, the green landscape faded to black. Two thousand years ago a volcanic eruption coated 750,000 acres of Arco, Idaho with basaltic lava. What looked like hills were actually cinder buttes, caves were lava tubes, and spires were spatter cones. Nothing was what it seemed. A landscape that appeared dead from a distance had an abundance of wildflowers bursting from the volcanic rock. We drove the scenic seven-mile loop at Craters of the Moon National Monument and Preserve, hopping out for a hike at the surreal Devil's Orchard, panoramic views atop Big Cinder Butte, and to spelunk the incredible Caves Trail. Walking along this flat path over the swirling lava field, you can dip down into four different lava tubes, with the most dramatic being the 800-foot long Indian Tunnel. The Shoshone Native Americans would stop here for water and shade on their summer migration (it's crazy to think their ancestors witnessed the last eruption!). Walking in lava's path, you can't help but think about the next cataclysmic shakeup. According to historic trends, the park is overdue for some fresh activity.
Tip: Try to time your visit around a new moon. This national monument is a designated International Dark Sky Park with some of the best stargazing in the country!
Land of the Yankee Fork State Park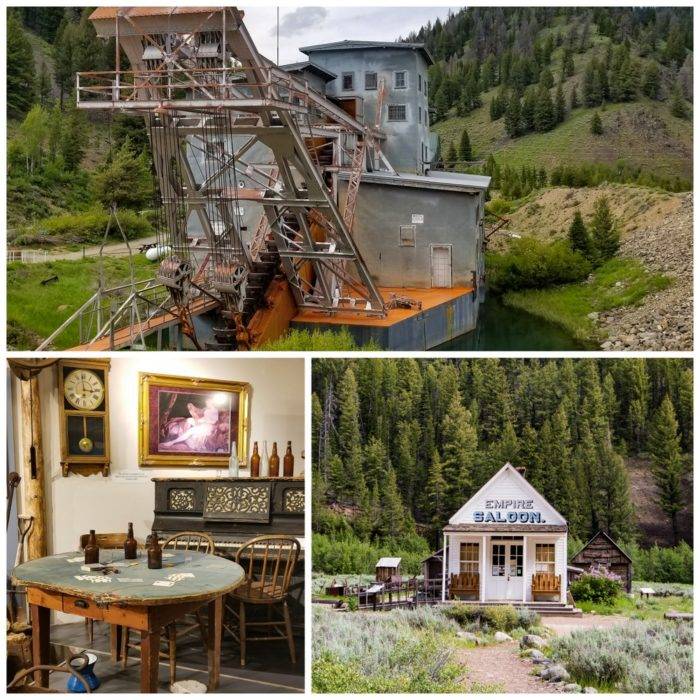 Continuing up the Salmon River Scenic Byway, we stopped at the Land of the Yankee Fork State Park. Not confined by a boundary, the sites are scattered throughout Idaho's gold country. After a great stop at the museum and park visitor center in Challis, the rangers sent us road tripping to the ghost towns of Bonanza and Custer. Driving up a narrow valley, we saw crooked old cabins, mountainous piles of stone, a 988-ton gold dredge (still owned by the original mining families), and then Custer emerged. Beautifully restored to its 1870s heyday, the town's old saloon, schoolhouse, a few cabins, and plenty of mining relics remained. Docents on-site bring the history to life with stories of deadly poker matches and a lively jailhouse.
Stanley & Redfish Lake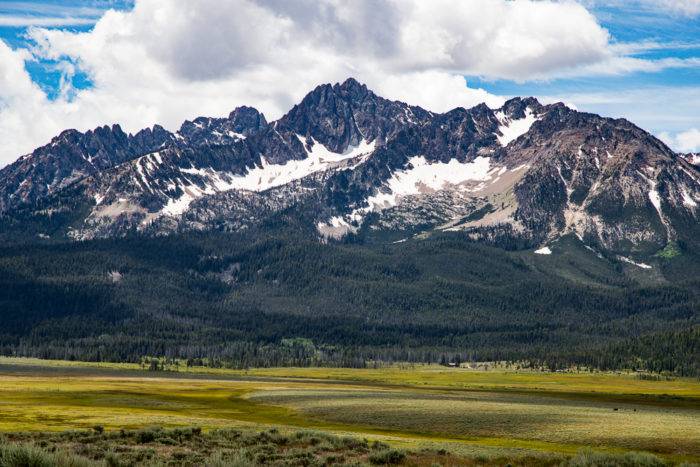 The town of Stanley might not be big, but it has presence. The Sawtooth Mountains tower over downtown dotted with charming local shops, like Riverwear, Mountain Village Mercantile, and the legendary Stanley Baking Company. Just eight miles south of town, you'll reach the beloved Redfish Lake. Those 10,000-foot jagged peaks reflect in the waters and everyone comes to marvel at them from a kayak, boat cruise, or beach chair. After a sunset picnic, we retired to one of Idaho's many awesome free campgrounds, with mountain views and the sounds of the Salmon River whooshing past our site.
McCall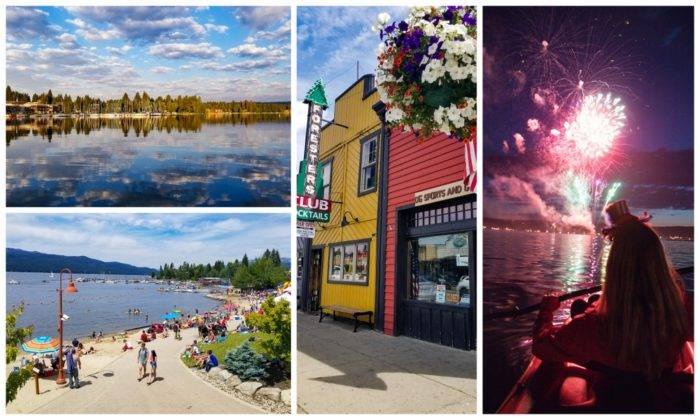 We love the serenity of the mountains, especially when there is a lively ski town nearby. McCall is known for Brundage Mountain Resort's powder in the winter and Payette Lake's water sports in the summer, so this city has year-round fun on tap—especially on the Fourth of July. They like the holiday so much they declared it ten days long, hosting volleyball tournaments, car shows, block parties, and, of course, a full-on fireworks display. People packed the lakeside with picnic blankets and piled into boats for the show. Paddling our kayak at sunset then watching the fireworks explode overhead and reflect in the water was nothing short of Independence Day magic.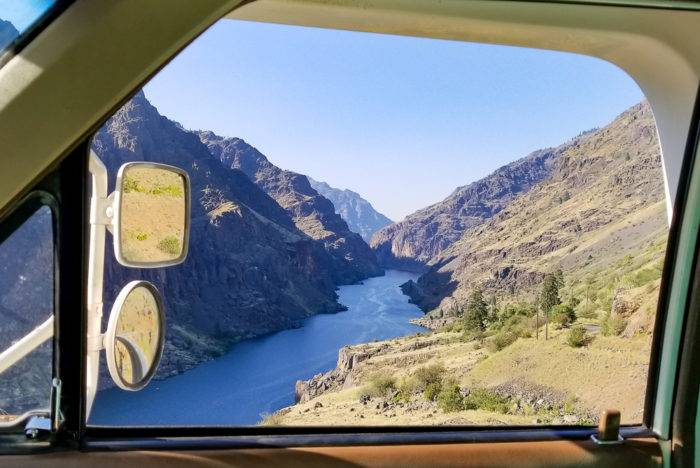 No matter if you're a rock climber, hiker, or just like a mountain view with your craft beer, Idaho won't leave you feeling flat.
Feature image credited to HoneyTrek.
Mike and Anne Howard left on their honeymoon in 2012 and have been traveling the world ever since. Chronicling their journey across seven continents, HoneyTrek.com is their inspirational travel hub for hundreds of the world's most spectacular destinations. Their writing, photography, and the story of the "World's Longest Honeymoon" can also be found on Condé Nast Traveler, Lonely Planet, BBC Travel, plus a Microsoft television commercial. To help more people get off the beaten path, they recently wrote a book for National Geographic, Ultimate Journeys for Two, and started a boutique travel agency, HoneyTrek Trips.

Published on August 16, 2018