Let the madness begin! March Madness that is, gets underway at Taco Bell Arena in Boise, March 15-17. Whether you're a local catching a couple basketball games or a fan traveling to cheer on your team – there is plenty of ways to enjoy your time in Boise. Thursday and Saturday are game days, meaning you need to know your options for food, drinks and decompressing. With no games on Friday, you have time to do a bit of exploring. Dive in and see all there is to do in the City of Trees. For more information on the tournament schedule and tickets, click here.
THURSDAY & SATURDAY: GAME DAY GAME PLAN
Where to Fuel Up
If you have time to sit down for breakfast, head to Big City Coffee & Café for huge plates and pastries with even bigger flavor or hit Java Downtown for small plates, scrambles, breakfast specials and their signature Bowl of Soul.
For a quick breakfast with good coffee, there are several options to try in the downtown core. For coffee with a pastry, head to Flying M Coffeehouse off 5th and Idaho Street (you might be able to pick up a quirky souvenir too!) or walk one block south to Blue Sky Bagels – home of the best bagel sandwiches in the Treasure Valley.
Where to Eat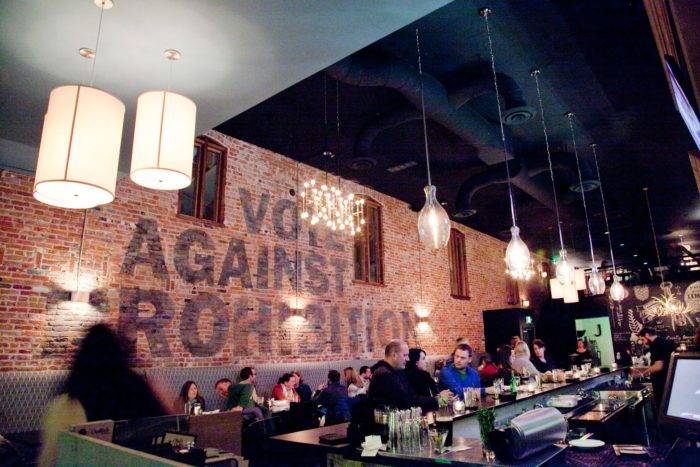 In between games or once the day is done, there is usually one thing top of mind: where to eat. If you're looking to grab a bite to eat with a tasty beverage on the side, try one of the options below. Reservations for large groups are recommended.
Those searching for places that emphasize local ingredients can head to 8th Street in downtown Boise for several delicious options. Bittercreek Alehouse is the place to go for burgers, sandwiches, pizza , and appetizers. The food menu is just as large as the beer list or opt for one of Bittercreek's signature cocktails. Just across the street, Juniper is a bar and restaurant that is excellent for lunch, happy hour and dinner. The menu is packed with flavorful meals and craft cocktails. If you're a fan of gin, be sure to check out Juniper's cocktails made using their homemade gin. Just down the street and around the corner on 10th and Bannock, 10 Barrel Brewing is a great spot for craft beer lovers. With a big tap list, great cocktails and excellent food, there is sure to be something delicious for everyone.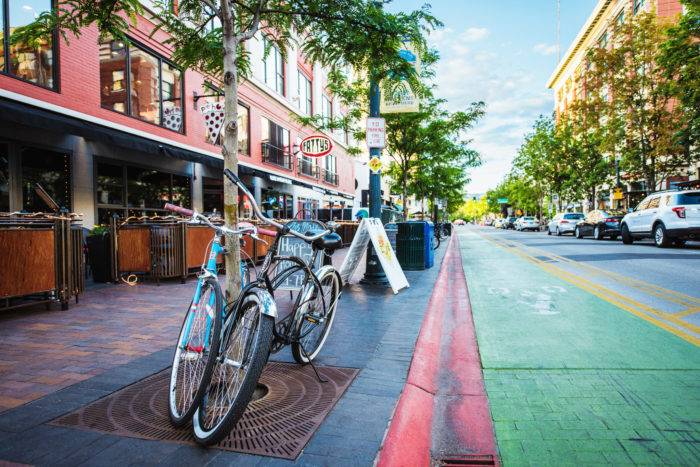 Closer to Boise State, The Shed is a little-known gem near the west end of campus just across Capitol Boulevard. It's a place that is just as popular with students as with non-students due to the friendly vibe, awesome food and drinks and great prices. The Shed is the place to go to hang out for a while and has several televisions in the bar, so you can stay caught up on the sports action.
Sometimes, pizza seems like the only option. Luckily, Idaho Pizza Company makes that option a delicious one. Perfect for large groups and picky eaters, Idaho Pizza Company has a huge pizza menu, sandwiches, and an amazing salad bar. Every day of the week from 11 a.m. – 2 p.m. Idaho Pizza Company has an incredible lunch buffet with all-you-can-eat pizza and salad.
Where to Drink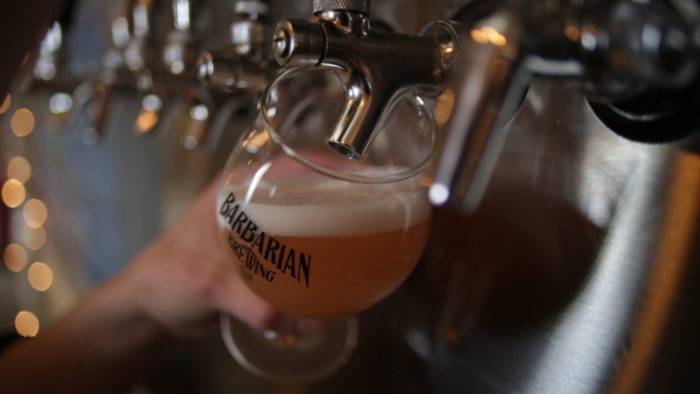 In a state with deep agricultural roots, it's only right for Boise to be a hot spot for craft beer and wine. Because many breweries and wineries grow or source their ingredients locally and make their products just outside the city limits, downtown Boise is full of taprooms, urban breweries, and tasting rooms. After a long day watching basketball, take a load off and kick back with a glass of Boise's best.
An easy walk from Boise State, Payette Brewing Co.'s downtown brewery and taproom is right off the Boise Greenbelt, making it a perfect place to hang out without straying too far from the tournament. Payette has a variety of beer on tap in addition to cider and wine. While this hot spot doesn't serve food, you're likely to find a food truck out front to get your foodie fix.
On the corner of 11th and Main Street, Barbarian Brewing's downtown taproom is the place to try something new. It has an impressive tap list packed with big, bold IPA's, experimental sours and seasonal ales to taste. Walk a few blocks south to PreFunk Beer Bar where you can try a ton of different local and regional beers or spend some time at Woodland Empire Ale Craft, where you can play darts or pinball while you sip Woodland's delightful brews.
Vino lovers – Boise has you covered, too. Coiled Winery recently opened its downtown wine bar, located across the street from 10 Barrel. Coiled is known for fantastic wines, like the sparking Rizza. Moving farther into the downtown core, Bodovino is a great spot for wine lovers who are there to taste more than one. Bodovino is a self-serve wine bar that carries an array of wine from around the world.
In addition to beer and wine, Boise is a great place for cocktails. Close to Boise State, Gas Lantern Drinking Co. is fairly new to Boise and has already made a name for itself with fantastic cocktails and a unique food menu. Also fairly new to downtown, The Wylder is a family-owned pizzeria and cocktail bar that is every bit as tasty as it is swanky. The Modern Hotel & Bar is always a solid choice, with creative cocktails and great food; it will likely be the best hotel fare you've ever had.
What to See & Do
Even though your schedule is likely jam-packed with basketball, Boise is painless to get around in, which makes it easy to fit a little urban exploration into your schedule. There is plenty to see and do without getting yourself in a time crunch before, in between or after a game.
One of the easiest ways explore Boise is on a Boise Green Bike. There are several stations to rent bikes near downtown and Boise State and it costs just $5 an hour to ride. Once you've got your wheels, you're ready to cruise down the Boise Greenbelt where you can take in the fresh air, make a pit stop at one of Boise's many parks and stop off to watch the river surfers at Whitewater Park.
After exploring the Greenbelt, head to downtown Boise to explore the sights. Nestled in the midst of 8th and 9th Streets in downtown Boise, Freak Alley is a huge outdoor art gallery that is an absolute must-see while in Boise. The paintings change every year and make the perfect backdrop for a photo opp.
FRIDAY: DAY OFF ADVENTURE
There's a lot you can do here in one day, especially when you have the whole day to explore! Essentially, you have two options: stay in town and discover what all the hype about Boise is or hop in the car and experience a little more of Idaho.
For those sticking close to Boise, you have options based on what you're feeling up to.
If you're feeling the need to stretch your legs and your appetite, book a food tour with Indulge Boise. These tours are a unique way to sample small bites and drinks from multiple eateries in the downtown core on walking tours that stop at up to ten locations to sample drinks and snacks while gathering tidbits of history along the way. Later in the afternoon, relax a bit and catch a movie at The Flicks, which screens independent, foreign and art films.
For those traveling as a family with younger kids, there are several options to entertain the crew. Just across the river from Boise State, Zoo Boise opens at 10:00 a.m. every day and has a variety of exhibits to visit including the opportunity to feed a giraffe! Just a quick walk from the zoo will bring you to the Discovery Center of Idaho, a hands-on science center that has a ton of interactive exhibits.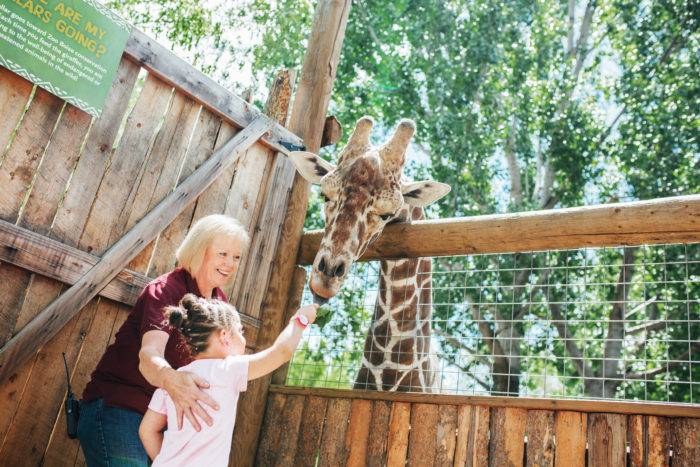 If you have access to a car, explore Boise beyond the downtown core by making your way to Bogus Basin Mountain Recreation Area – where you'll find the alpine mountain coaster. The Glade Runner is an outdoor coaster that whips down 4,330 feet of mountain twists and turns at over 25 miles per hour. Depending on the weather, you can also go tubing, snowshoeing or catch a couple downhill runs while at Bogus Basin.
Day Trip Tip: Feeling the need to go beyond city limits? Just an hour away from Boise, The Springs is a hot springs retreat that offers several steaming mineral pools, spa services and massages. In addition, The Springs has an onsite café and lounge with food and drinks for purchase. Reservations at The Springs are highly recommended as soaking spots are limited to maximize the experience for everyone.

Published on March 13, 2018