Having grown up in Idaho, I look forward to the first snowfall of winter like a kid looks forward to Christmas morning. I love winter, and just can't get enough of it. From skiing and finding hot springs hidden in the mountains to snowmobiling through unending valleys of fresh powder, winters in the Gem State are always adventure-packed. Instead of hiding indoors until spring like many people do, us Idahoans see snowfall, throw on our boots, and run for the hills.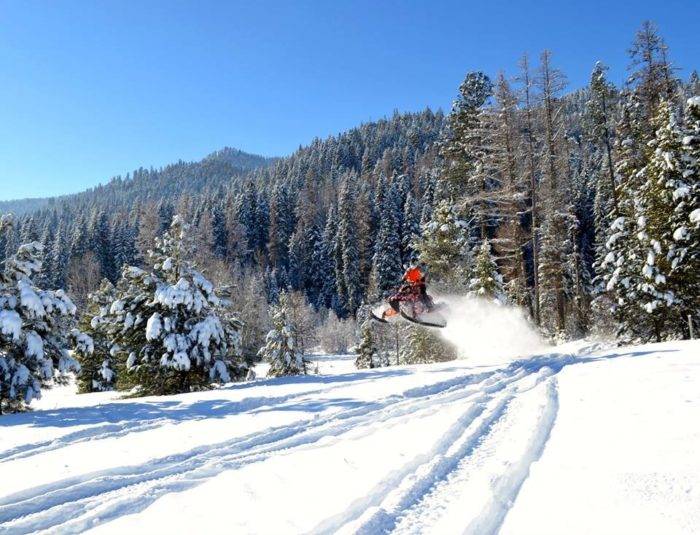 One of the unique ways to explore Idaho's snow-blanketed wilderness is on a snowmobile. With ten national forests, near-endless backcountry, and over 5,000 miles of groomed trails, it's hard to deny that Idaho is a winter playground. If you're looking to plan your next winter adventure, take a short drive to Sun Valley and rip through the mountains on a high powered sled.
Cruising Through Sun Valley
One of my favorite areas to explore in Idaho on a snowmobile is the Sun Valley-Ketchum area. Ten miles north of Ketchum lies the Baker Creek zone, the Wood River Recreation Area sits just three miles west of Hailey, and there are multitudes of off-trail options available just outside of Sun Valley for anyone looking to lay on the throttle.
If you venture out a little further and head over the Galena Summit to the Stanley and Smiley Creek area, you will have access to 170 miles of groomed trail. But don't feel constrained to stay on the groomed paths. If you're looking to push the boundaries and get off the grid, there's a bevy of off trail riding in the nearby backcountry.
Video Credit: GoPro: Backcountry Snowmobiling in Idaho
Where can I rent a snowmobile?
If you're staying in Sun Valley or Ketchum, you need to visit Smiley Creek Lodge. They've been a local favorite for years and they're only 37 miles from Sun Valley. Smiley Creek Lodge offers guided and unguided trips as well as Yamaha and Polaris Snowmobiles for rent. Just north of Smiley are 185 miles of groomed trails that are just waiting to be explored. In the winter, this area is always blanketed in layers of plush white snow and is quickly gaining recognition as being one of the best places to snowmobile in the Gem State.
To view rental options, prices, or to plan a guided trip, visit Smiley Creek Lodge online.
If you plan on bringing your own sled, make sure it's registered. Idaho snowmobile owners are required to register their snowmobiles on or before November 1st of each year. If you are unsure about Idaho state laws and regulations for snowmobiling, visit Idaho Parks and Recreation online for further information and answers to commonly asked questions.
Your Checklist Before Riding:
Make sure you're prepared before heading out into Idaho's vast backcountry. Wearing the proper attire is a must, ensuring safety and preventing hypothermia. Here's a short and sweet checklist for all you first-timers:
Wear proper attire: Goggles, waterproof gloves, waterproof clothing, rubber-lined boots, and a snowmobile approved helmet.
Bring a first-aid kit in case of emergency.
Avoid injury by being alert when loading snowmobiles on and off of trailers.
Check the condition of the trails you plan to explore before you set out.
Always avoid ice, especially if you are unsure of how thick it is.
Check the weather forecast prior to leaving.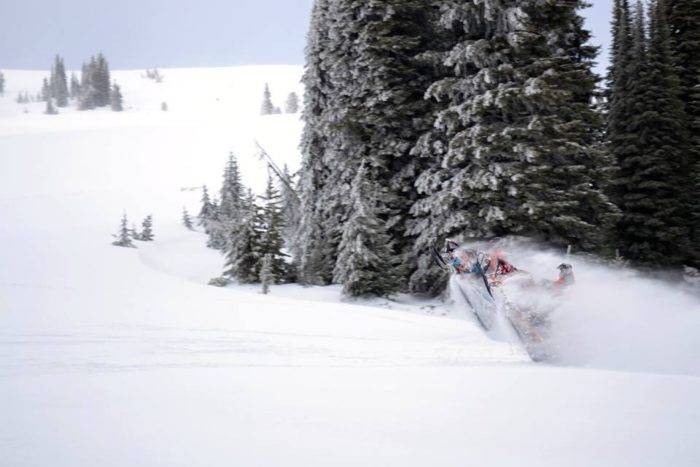 There are many outfitters ready to guide you and your family through Idaho's beautiful winter backcountry. Check out the Idaho Outfitters & Guides Association or the Idaho Outfitters and Guides Licensing Board to find your next snowmobile adventure. I'll see you out on the trails!
This author is a paid content writer for Idaho Tourism.

Published on January 12, 2016