This is a sponsored post.
Exploration. Adventure. Culture. Those are the things I personally look for on a ski or snowboard trip. Growing up a Midwest kid, I've always looked for mountains and ski-towns that are different and untainted…special gems that are pure and less corporate. There are the typical hangouts you can visit in the Rockies, but where can you go that's distinctive – that's memorable – that's unlike the masses? The answer is simple. It's Idaho!
Stop 1: Wallace, ID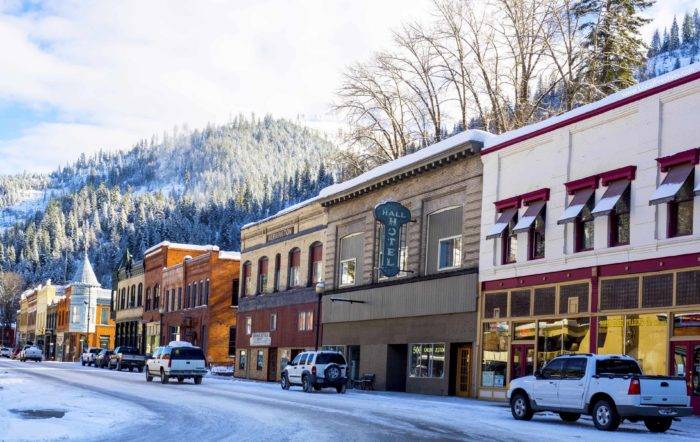 As soon as we arrived in Wallace, we knew there was something a bit different about this place. Being used to ski-towns that are crowded, busy, and often new-looking, the entire town of Wallace dates to the late 1800's, exquisitely preserved and intact. It gave the place a feel unlike any other ski town I've visited. Using Wallace as our 'time capsule' base of operations, we checked out two resorts, flanked on either side of town: Lookout Pass Ski Area and Silver Mountain Ski Resort. If that isn't enough, this small town has two breweries, a plethora of restaurants for EVERY price range, and affordable lodging.
Snowiest Ski Resort in Idaho
Hopping onto I-90, we did the quick 20-minute drive up to the snowiest ski resort in Idaho – Lookout Pass. According to the local intel, the reason why Lookout Pass gets so much snow is because of its location and geography. The pass itself is the dividing line between the cold Arctic air mass and the moist Pacific air mass. In the winter, these two air masses battle it out, leading to drier and more bountiful snow. For our day on the slopes, we arrived around 11 am to a sun shining brightly over the peaks. In the parking lot, there were only a handful of cars, and remember it was almost lunch time! This was going to be the theme of our entire Idaho trip… Nonexistent lift lines and amazing snow.
Lookout Pass – Great for Beginners & Intermediates
Lookout Pass is a great mountain for beginners and intermediates. For the easiest terrain other than Chair 4, head to Huckleberry Ridge and follow it around the mountain. Beyond the gentle run, the views are spectacular so don't forget your camera. Take it slow and snap lots of pictures! For intermediates, Red Dog and Marmot are a good introduction, both located on the North Side. For something a bit steeper, hit runs off the Idaho side as the resort straddles Idaho and Montana, like Bonanza or Black Bear, heading over to Gold.
What about the Experts?
While there may not be massive cliff bands or scare-your-pants-off descents, there are several sections, like the Lucky Friday Glades, that'll keep you entertained and focused. The most exciting news for any seasoned skier or snowboarder is the upcoming plans to expand Lookout Pass terrain into the St. Regis Basin. From the Montana side, you see an area filled with open bowls and high angle slopes that will soon be on the trail map!
Hello? Is anybody out there?
WHOOSH… The hotel curtains swing open exposing a white winter wonderland. Massive flakes blanket the ground at a solid pace. Early in our planning, we made the decision to attempt a backcountry mission while in this part of Idaho. The snow here provides the best of both worlds, it settles like a maritime snowpack yet is dry like the snow found in neighboring states. On this day, the backcountry was calling and we were prepared. Pulling up to the trailhead entrance we wondered aloud, "Are we really the ONLY ones venturing into the wilderness today?" Hopping out of the car, our feet hit the ground with a soft POOF. While the resort across the way is only reporting a few inches, it's nearly a foot deep where we are.
Easiest Backcountry Ever!
Gearing up and slapping skins onto our splitboards, we begin our journey to the summit. After a few minutes, we quickly exit the thick forest and enter a wide burn area. The slope isn't too steep but we could tell it was going to be perfect for those huge swooping-like turns. Reaching the summit, we survey the terrain and notice that we can't see more than a few hundred feet in front of us. With the weather conditions deteriorating, we make the call – it's a one lap kind of day.
With our splitboards pack assembled, we drop into the slope. The snow is nearly thigh deep, billowing past our faces as we take nice smooth turns down the mountain. Grinning ear to ear, we let our boards do the work and float our way down to the car, slapping high fives. Talk about an amazing time!
Back at the hotel, I watch the giant flakes continue to fall from the sky at an unbelievable pace. With nearly 10″ on the ground in Wallace, we knew Silver Mountain was going to be off-the-hook. Leaving town westbound on I-90, the clouds sat low, blocking our view of the mountain tops, but even in the snowstorm, we arrived in Kellogg within 20 minutes. At around nine o'clock, we turn into the resort village and park only 100 yards from the gondola. The only access to the resort is via one of the longest gondolas in North America. After another 20-minute jaunt on the gondola, we make it to Silver's upper station known as the Summit Haus.
Great Fall Line Skiing & Deep Snow
We take a run called Shortcut over to Chair 2. Riding up this lift, we scope out the terrain. The slope is steep and playful filled with bumps, rollers, perfectly spaced trees, and trails that are cut to follow the fall line. It is time to ride and the pitch is much steeper than expected AND the snow is just as good as it looked from the lift. Huge plumes of snow whoosh past us as we easily connect turns down the mountain. If you're looking for some challenging terrain, we suggest heading over to Wardner Peak. With a short hike in-bounds, this peak grants you access to the best terrain at Silver Mountain. If you're an expert, you should give this area a go! After the runs at Silver Mountain and another amazing day, our time in Wallace has come to an end. Time to head south to McCall.
Stop 2: McCall, ID
The town of McCall is dubbed "Ski Town USA" and there's truth to this statement. Most ski towns in North America are filled with hotel and restaurant chains. And sadly, even the ski resorts are owned by mega-corporations. Not McCall! It still holds the feeling of a true ski town. Every store and lodging property is a small business. The best part is the resorts are still owned by people who LOVE to ski instead of just making a profit. Talk about my kind of place! If only the rest of America could be like this.
Snowmobile to Burgdorf Hot Springs
As we gear up, we meet our guide for the day – Cody Fox. He gives us a safety briefing and goes over the particulars of operating the sleds, then shares the plan for the day. Revving our engines, we ride away from Brundage Mountain Resort and quickly ascend towards the summit pass. Even with the howling wind and snow, the views are spectacular and the snowmobile trails are incredibly fun. One section of the trail reminded me more of a Les Mans race course with its descending tight banked turns cut into the side of the mountain. Our path is leading us into the valley where Burgdorf Hot Springs is hidden away.
Making the final turn into the valley, the clouds quickly part and glimpses of blue sky peeked through. It was as if Idaho secretly welcomed us to the Burgdorf Hot Springs. The old weathered wooden buildings had character and charm not seen anywhere else on our trip, and in the center of it all, steaming hot springs. Heated changing rooms sit off to one side of the pool allowing us to change into our swimsuits without freezing. A natural gravel-bottom pool that's miles away from civilization, like-minded people enjoying a good soak and a few refreshing beers are sure to melt away the stresses of life. After a leisurely soak, we change back into our snow gear and saddle up our iron horses for the ride back to Brundage. Hopping off our steeds, we thank Cody for an amazing day. It was time to celebrate and try one of the local breweries.
A Place Full of Surprises
Making the same trek as the day before, we drive back up to Brundage Mountain Resort. Rising from the valley via the high-speed squad, the front of Brundage reminds us a little bit of Grand Targhee Ski Resort. There are a few clumps of trees here and there but overall, it's a big, open, moderately pitched face.
So, what makes Brundage different from other resorts? This resort is all about building your own adventure. From hike-to-terrain inbounds to secret stashes, you could seriously spend years exploring this mountain. For beginners, the Bear Chair is where it's at, but this resort really caters to the intermediates. Nearly every inch of the resort can be accessed, with Lakeview being the best for intermediates or experts alike to find the big powder stashes. Brundage may look tame but Hidden Valley IS the zone where all the serious terrain lives. From mandatory airs to chutes and cliffs, it can get dicey if you don't know where you're going, so be sure to spot your run before dropping in. Northwest Passage is a good place to start and you can slowly head skier's right to find more complex terrain to play in. With an adrenaline fun-filled day at Brundage, the next day's adventure will lead us to Tamarack Resort.
Our Kind of Ghost Town
In the morning, we head out of town on US-55 towards Donnelly. As we drive through the valley, huge mountains rise on either side of us, thousands of feet into the air. It's about a 20-minute drive to reach Tamarack Resort.
Pulling into the parking lot around 10 am, we count 18 cars in the lot… Yup, you read that right – EIGHTEEN! I don't care which resort you go to, that is unheard of! After picking up our lift tickets, we immediately head to the top. Scoping out the terrain from above, we're shocked at what we see. We clean our goggles just to make sure we aren't dreaming. The ENTIRE bowl below the lift was untracked with only a few turns dotting the landscape. It was nearly 10:30 am and STILL untracked pow?!?! WHAT??? After enjoying all of it and marking our lines across the terrain, we made the decision to check out the new and improved La Bamba Cliffs.
La Bamba Cliffs: Best 8 turns of the season
With just a little hike, we end up at the top of the La Bamba Cliffs. Dropping in, we take massive arcing turns through the untracked snow into the tight chute. The snow billowed around me, making me grin like a little kid. I hoot and holler the whole way down! Looking up, I'm again in awe that this type of inbounds terrain could be untracked this late in the day. We end the road trip with the best turns of the season, hands down!
One thing is for certain. We set out on this road trip to explore, but in the end, we fell in love with Idaho. The next time you're planning your winter getaway, make sure Idaho is on your the list!
All photos, including feature image, are credited to Local Freshies.
Local Freshies is about sharing the passion for skiing, snowboarding and mountain town culture. We specialize in providing news, stories, and event coverage while supporting local businesses in ski towns throughout North America. Our goal is to give everyone an opportunity to experience what locals get to cherish every day. To be a Local where ever you go!

Published on April 4, 2017