Tara Morgan worked in partnership with Visit Idaho to create this Travel Tip.
Comfort food season has arrived. As the digits drop and the cozy sweaters come out, so do all the decadent winter dishes. But it's easy to overload on cheesy casseroles, hearty stews and roasted meats. So if you're looking to dial it back a bit, take a trip to one of these Boise restaurants that incorporate seasonal winter produce into hearty, veggie-focused dishes. It's comfort food that won't leave you feeling uncomfortable afterward.
The Modern Hotel and Bar
For a filling vegan feast, head to The Modern for their seasonal delicata squash dish. Roasted local squash and chickpeas are tossed in an aromatic chili sauce then drizzled in a rich cashew cream that's dotted with pickled raisins and bright herb chutney. Another great vegetarian option on The Modern's late fall menu is the Grilled Farm Cheese—wedges of salty, seared cheese ladled with a sweet elderberry gastrique and topped with tart pickled plums and pumpkin seed dukkah.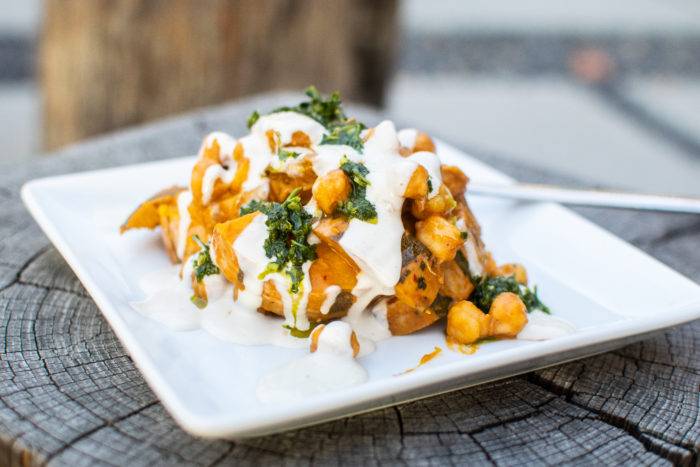 Petite 4
For a hearty happy hour, take a trip to the perennially packed Petite 4 and snag a seat at the French bistro's bar before the crowds arrive. With a glass of Cinder's silky Laissez Faire red in hand, dive into the restaurant's decadent Roasted Cauliflower. Florets of caramelized cauliflower are dusted with crispy brioche breadcrumbs then drizzled in a dreamy mornay sauce—béchamel amped up with grated gruyère—and crowned with an anise-y fennel marmalade. For a meatier treat, order the Sausage Stuffed Baby Apples, served in a puddle of sage-infused butter.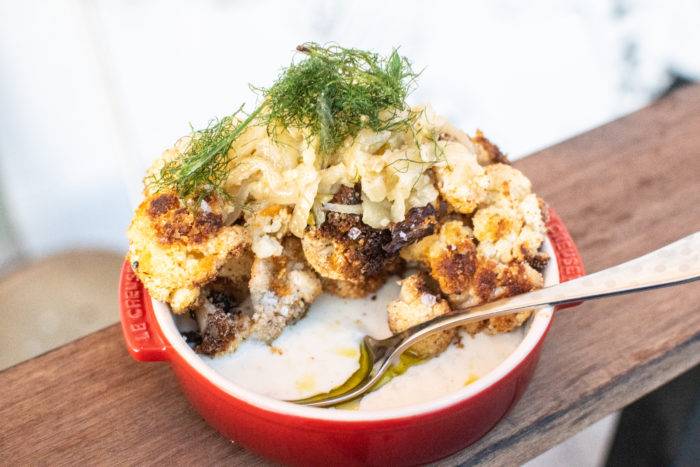 Wild Root
Finding downtown lunch options that deviate from the meat + cheese + bread combo can be difficult. But not at Wild Root, an 8th Street cafe that caters to alternative diets with loads of vegan, gluten-free and paleo options. Whether you order a steaming bowl of bone broth or go heartier with the housemade Indian flatbread—loaded with spiced squash, apples, paneer cheese and crispy garbanzos in a tangy tamarind date sauce—Wild Root has tons of comforting fall/winter options that appeal to a diverse crowd. As their Instagram tagline states, "Come for the tofu, stay for the pork belly."
The Wylder
Though this Boise pizza haven is known for its excellent thin-crust sourdough pies, the veggies are really where it's at. With a rotating selection of thoughtfully executed seasonal sides, The Wylder is one of the few spots around where vegetables aren't treated as an afterthought. Summer favorites—like the zucchini noodles slathered in sunflower seed pesto—have now given way to heartier fall/winter dishes, like roasted acorn squash on a bed of whipped goat cheese with fig marmalade or the delightfully crispy balsamic brussels sprout petals, tossed with crushed hazelnuts.
Diablo & Sons
With fringed saloon chandeliers and hot pink corseted chairs, Diablo & Sons rocks an "Alice fell down the rabbit hole into the Wild West" kind of vibe. And the menu is equally eclectic. From the Angels on Horseback taco—loaded with fried oysters, bacon, charred cabbage and lemon mayo—to the roasted butternut squash soup with black peanut salsa, the menu's influences are diverse. One of the more classic current offerings is the Fall Panzanella salad, tossed with fire-roasted brussels sprouts, seared cubes of halloumi cheese, crisp apples, red onions and pepitas. It's a lightish lunch that can be bulked up with a side of fire-licked chicken wings and a cold, frothy lager.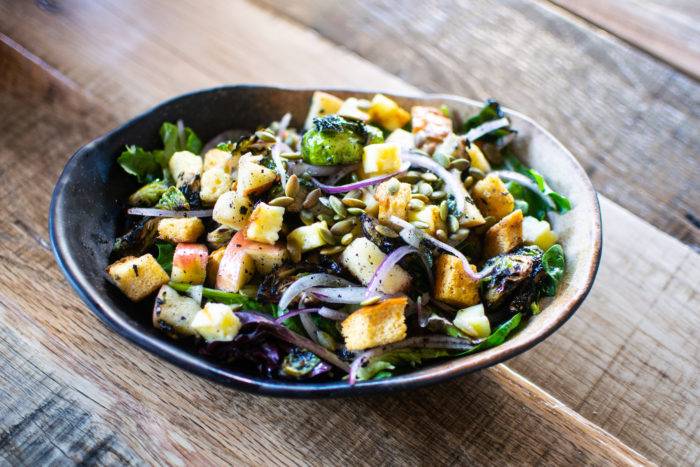 Feature image credited to Tara Morgan.
Tara Morgan is a freelance food + booze writer and co-owner of the company Wild Plum Events. She loves an epic dinner party, good design, bad puns and pretty much every French rosé ever made.

Published on December 10, 2019