COVID-19 has stolen many moments from travel lovers this year. But for Basque-Americans and their relatives on the other side of the Atlantic, the postponement of Jaialdi 2020 really stung. The massive cultural festival, which attracts about 30,000 revelers to Boise once every five years, is a major touchstone for people from the Basque diaspora. It's a chance to have family reunions, to meet new friends, and to gain a deeper love of this ancient culture.
It's also one heck of a party.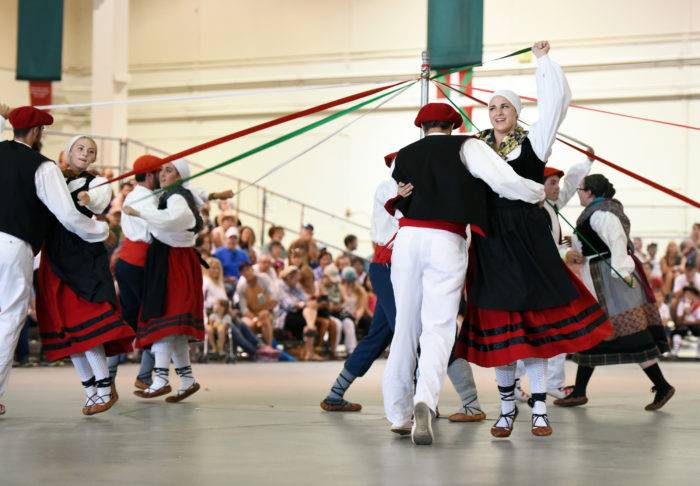 Baina ez kezkatu — but don't worry! — because Jaialdi organizers are planning on bringing this once-every-five-years cultural festival back to the Basque Block July 26-31, 2022. Here's what you can expect next summer.
Sports! One of the most popular events at every Jaialdi is Sports Night, an exhibition of traditional farm sports. What's a farm sport, you ask? Think of a challenge a farmer would have dreamed up centuries ago: "Hey, bet you can't chop wood as fast I can!" Hundreds of years later, high-speed wood chopping is still popular, as is a number of lifting sports — you'll see competitors lift massive stones, hay bales, even wagons! Jaialdi brings in a number of athletes from the Basque Country, which straddles Spain and France, and they're at the top of their games.
Dancing! The French writer and historian Voltaire reportedly once described the Basques as "people who dance at the foot of the Pyrenees." If you've ever been to a Basque festival and watched as groups of people spontaneously break out into the jota, you know that the foot of the Pyrenees isn't their only dance floor. Jaialdi 2021 will showcase traditional dancers from Boise's celebrated Oinkari Basque Dancers as well as groups from California, Wyoming, Nevada, and more. Plus, everyone is invited to join the fun at Dantzaldi, a freewheeling massive dance with a live band at CenturyLink Arena.
Culture! Much of Jaialdi is pretty informal, but the Festara showcase allows attendees to take in the culture at the beautiful Morrison Center on the Boise State University campus. You'll hear music from talented performers from the Basque Country and explore the culture through story and dance. Festara is always super popular, so be sure to secure tickets beforehand.
Of course, none of us can know exactly what next year will hold, so please be sure to check the festival's website for an updated schedule and list of performers and athletes. Organizers expect to re-release tickets toward the end of 2020.
Can't wait that long? There are plenty of ways to get your Basque fix in Boise!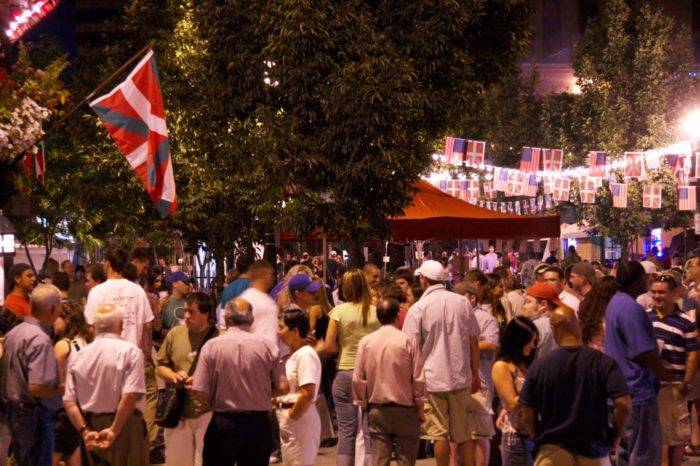 Basque Museum & Cultural Center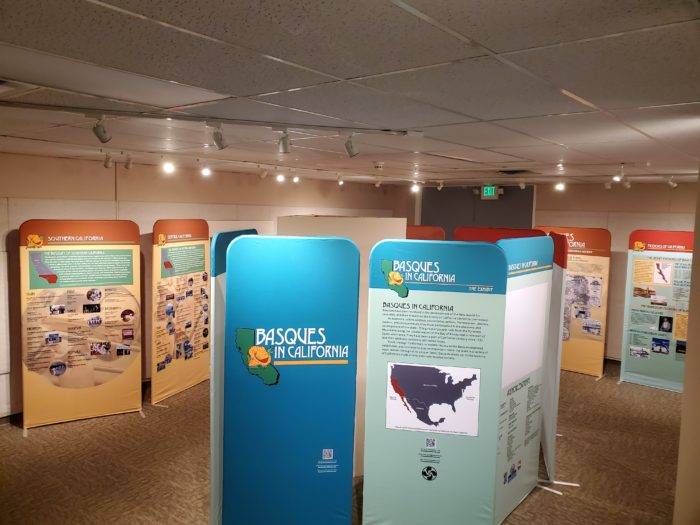 This museum — the only one in America dedicated to Basque culture — offers rotating exhibits about the Basque and Basque-American experience. History buffs and Golden State visitors will love Basques in California, a deep dive that explores the way Basque people have shaped the state over the course of 500 years. Take a look at the Museum's Cyrus Jacobs/Uberuaga House next door, too — it's the oldest standing brick structure in the city and offers a peek into what a typical Basque boarding house was like. Can't make it to Boise? Check out the Museum's online exhibits and tours.
The Basque Market
The Basque Market may be small, but what a selection! Have an afternoon pintxo (the Basque take on tapas) session over a glass of wine. Tuck into seafood paella made in an extraordinarily large special pan on the patio. Take home fresh sheepherder bread on Saturday. Or just stock up on the Basque Market's incredibly well-curated selection of wines — owners Tony Eiguren and Tara McElhose-Eiguren really know their stuff. Head to the Basque Market's website to discover a whole host of to-go and curbside delivery options, too.
The Basque Center
This building perched on the end of the Basque Block has been the gathering place of Boise's Basques since 1948 — part social club, part event center, part information hub. The Center's unpretentious bar is open to the public and is one of the locations where you're most likely to hear Euskera, the untraceable and enigmatic Basque language. It also serves up strong, cheap drinks, making it a favorite hangout for locals. The organization that runs the Basque Center, Euzkaldunak, hosts several events a year that are open to everyone: the annual Mortzillak (blood sausage) Dinner and Bingo, where you can eat your fill of this specialty sausage and win prizes like bottles of wine or golf course gift certificates, and the Sheepherder's Ball, a huge dinner and dance that can be traced back to boardinghouse celebrations. Unfortunately, due to COVID-19, the bar's availability and the certainty of upcoming events is in flux, so check the Basque Center's website for up-to-date details.
Epi's
Epi's is in nearby Meridian, not Boise, but we're including it here because it's well worth the short drive. Here, you can sit down to a traditional Basque-American meal that will leave you practically rolling out the door when you're finished — the portions are huge and the food is so good that it's tough to convince yourself to stop eating. Epi's prides itself on its family recipes, fresh ingredients, and welcoming atmosphere: the restaurant is located in an old house and really feels like you're sitting down in someone's home. Epi's is currently open for both sit-down meals and takeout; it's always best to make a reservation because this place is popular.
Bar Gernika
Imagining Downtown Boise without Bar Gernika is like imagining Idaho without potatoes — it probably existed at one time, but who wants to live like that? This little gem of a restaurant is a haven for locals and Basque Block visitors thanks to its intimate interior, its great patio, and its menu of can't-miss favorites like lamb grinders, croquetas, solomo (marinated pork loin) sandwiches, and traditional egg tortillas. Owner Jeff May really knows his beer, too, so you can always count on a fantastic tap list.
Leku Ona
Leku Ona (lay-koo oh-nah) translates to "good place," and if you're craving straight-ahead traditional Basque food, this is a very good place indeed. The restaurant and bar was founded in 2005 by the late Jose Maria Artiach as an homage to his home country, and its menu is packed with plenty of Basque Country staples. Enjoy salt cod, thinly-sliced and tender beef tongue, stuffed piquillo peppers, squid in its own ink … as well as plenty of other options on the huge menu. Speaking of huge: The space itself is part of Boise's 6th and Main historic area and spans three floors and multiple patio options. And if you have a bit too much fun at the restaurant's bar, never fear — you can check into the boutique Leku Ona Hotel next door.
Ansot's
Dan Ansotegui has opened — or had a hand in opening — many of the restaurants on this list (Txikiteo, Gernika, the Basque Market). So when local foodies heard that he was starting his own chorizo-focused eatery downtown, well, there was a fair bit of rejoicing. Ansot's is slated to open in early August and will feature three types of bulk chorizo: roasted garlic and pimiento, a smoky-and-spicy version, and a traditional recipe that Dan says is the closest he could get to his grandmother's. Ansot's will also have small plates on the menu and favorites like solomo sandwiches. And, of course, a nice selection of wines. Ansot's doesn't have a website yet, but it will be located at 560 Main Street in downtown Boise.
Txikiteo
Txikiteo (chee-kee-tay-oh) may be tough for unpracticed ears, but luckily you don't need to know how to pronounce it to enjoy the refined-yet-accessible food inside. This is a small-plates restaurant, but good luck narrowing your meal down to just a few — the uber-fresh rotating salads will make you rethink this humble starter, the carefully made tapas offer great riffs on the traditional bites you find in Basque Country bars, and the wine selection is inspired. Plus, it has one of the best patios in town.
Remember to check websites before visiting these hangouts or making plans — and don't forget to wear a mask!
Feature image credited to Jon Hodgson.
Julie Hahn is a freelance writer and editor who spends every free minute traveling, eating or traveling to eat. She's married to a heck of a guy, has two very naughty dogs, and splits her time between Boise and the mountain town of Atlanta, Idaho.

Published on July 28, 2020