The name alone sounds hardcore; heli skiing. But the adrenaline pumping adventure has Idaho roots. In fact, helicopter skiing in the United States was born in Sun Valley in 1966. How's that for cutting-edge adventure? So if you're ready to fly up, jump out, and ski(or board) down some of the most pristine powder available, it's time to suit up.
There are a few spots in the Gem State that offer the attraction. So check out some of these options and see if you're ready for an adrenaline rush that just won't quit.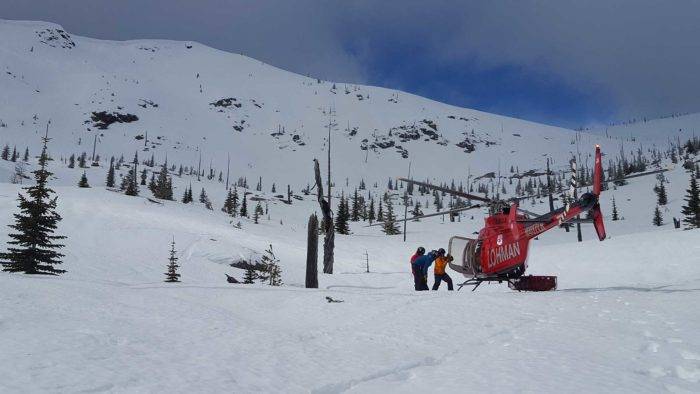 Idaho's newest heli skiing outfitter is based in Sandpoint and even has an office in Schweitzer Mountain Resort's base village. Selkirk Powder Guides operate along the Selkirk Range in north Idaho, where the snow is plentiful and deep. Selkirk Powder Guides is a full-service winter recreation outfitter, also offering snowcat skiing and snowmobiling tours daily throughout the winter. And, their location adjacent to a full-service ski resort allows for parties of mixed abilities to undertake all sorts of adventures while still being able to rally together at the end of each day.
Sun Valley Heli Ski was the original heli ski company. The company has more than 100 years of collective experience among their guide team. On staff, you'll find former X Games athletes, several EMTs, and those who are trained in avalanche forecasting and avalanche rescues. You'll typically be able to tackle six runs in a day.
High Mountain Heli-Skiing partners with the Teton Springs Lodge and Spa to offer an unmatched powder skiing experience. The helicopter will even pick you up right next to the resort to make the experience as seamless as possible. Then it's off to more than 305,000 acres of skiable terrain in the Teton and surrounding mountains. This day of heli skiing consists of six runs.
We talked with the experts to find out what you need to know before making your first heli-skiing trip.
Take a look at this checklist of skills:
Extensive skiing experience for a number of recent seasons at big mountain, downhill resorts.
You choose black runs in all snow and weather conditions without hesitation.
Experience with multi-day ski trips.
Fit enough to ski a number of consecutive days.
You can side-slip, step uphill sideways, traverse and make kick turns.
Stay well in control in backcountry conditions.
Now grab some friends and climb in a helicopter for a ride with incredible views and a few wild runs down mountains you can brag about for years.
Feature Photo Credit: High Mountain Heli-Skiing, Teton Springs

Published on January 28, 2016