Kristen Pope worked in partnership with Visit Idaho to create this Travel Tip.
Go on a hard-charging adventure and see the beauty of Idaho from a snowmobile. While some people prefer to rent snowmobiles and embark on a DIY adventure, many would rather go along with a knowledgeable guide to get the inside scoop on some of the best snowmobiling in the world. Numerous outfitters offer tours around the state, so sample a few different excursions to experience the best snowmobiling in Idaho.
Schweitzer Mountain Resort: Selkirk Powder Guides
Head up north near Sandpoint to Schweitzer Mountain Resort for a guided snowmobile trip to remember. Selkirk Powder Guides operates out of Schweitzer Mountain Resort and the first part of your snowmobiling adventure is taking a ride up the chairlift to the summit operations lodge where guides set you up with a snowmobile and prepare you for the day.
The resort is surrounded by 400 miles of trails, leaving almost endless room for exploration. The season runs from late November to mid-April and guided tours are available for all skill and experience levels, from beginners to experts.
Two-hour tours offer stunning views of Lake Pend Oreille, and also include the potential to look for wildlife like moose and bobcats, if time allows. The longer five-hour tours can include an opportunity to play in the Selkirk Powder Ranch. A number of different options are available depending on each group's abilities and interests, and views of the Selkirk and Cabinet mountains abound. After an action-packed day, simply hop on the chairlift for a ride back down to the base.
Mesa Falls & Big Hole Mountains: Teton Valley Adventures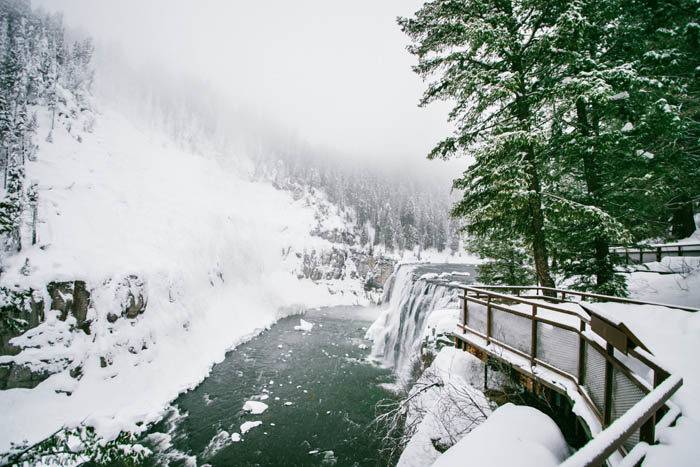 Based in the eastern town of Driggs, Teton Valley Adventures offers tours to Mesa Falls and the Big Hole Mountains, among other locations.
Sign up for the Mesa Falls tour and experience a spectacular roaring, 100-foot waterfall in the middle of the winter, with opportunities to see the upper and lower falls. Keep your eyes peeled for moose and other wildlife, play in the powder, and enjoy a ride to Big Springs where there's a chance of spotting spawning fish.
The Big Hole Mountains are one of the lesser-visited gems with big powder and abundant options for everyone, from beginners to experts on half or full-day tours. People who are new to the sport can stick to the trails while the more experienced can have a bit of off-trail fun.
Sawtooth Mountains: Smiley Creek Lodge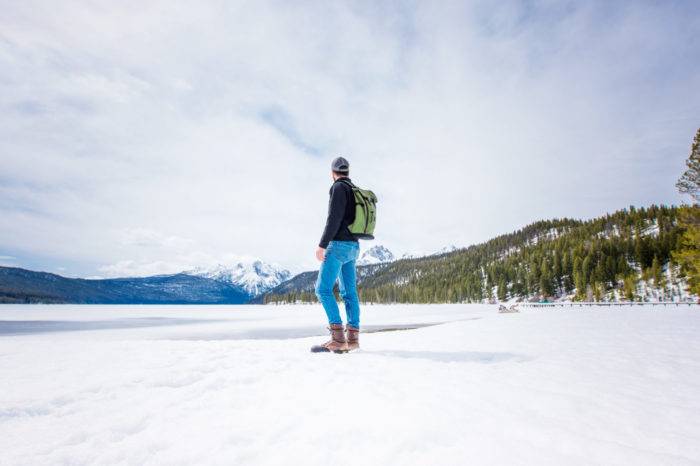 Just 25 minutes from Stanley (around 40 minutes from Ketchum), Smiley Creek Lodge is a great jumping-off point to explore the Sawtooth region by snowmobile. The season starts in late December and the lodge rents snowmobiles for guided tours.
With over 185 miles of trails nearby, riders can explore new territory all day long. Guides often bring their clients to hidden spots where they can enjoy incredible winter views of Stanley Lake, Redfish Lake, and other scenic sites of the Sawtooth region.
McCall: CM Backcountry Rentals & Brundage Mountain Resort
Explore the wilds near McCall on a guided snowmobile ride with Brundage Mountain Resort or CM Backcountry Rentals.
Brundage Mountain Resort offers an array of tours leaving right from the resort featuring destinations like Burgdorf Hot Springs, Granite Lake, Brundage Mountain Lookout, and plenty of other scenic options with views of the Salmon River Mountains and Payette Lake.
CM Backcountry Rentals sets up tours to Burgdorf Hot Springs and Secesh Stage Stop, among other locations, and the company also offers clinics where riders of all levels can enhance their skills. Beginners can learn skills like reading terrain, how to control a machine, and how to get "unstuck" if they get bogged down (as well as how to avoid getting stuck in the first place). Advanced clinics focus on skills like riding in powder, sidehilling, and more.
Wherever you choose to explore, be sure to dress appropriately for conditions, be aware of the weather, and be familiar with avalanche conditions and safety precautions. Going out in the backcountry always has inherent risks, so be sure to ask your guide if you are unsure or have any questions.
Feature image credited to Cody Monroe.
Kristen Pope is a Jackson, Wyoming-based freelance writer and editor who writes about outdoor adventure, science, conservation, and travel for NationalGeographic.com, Backpacker, Audubon.com, Western Confluence, and Discover, just to name a few. Visit her at www.kepope.com.

Published on December 4, 2018