Tara Morgan worked in partnership with Visit Idaho to create this Travel Tip.​​​​​​​​​​​​​​
Sure, it's a stereotype. Idaho = potatoes. According to the Idaho Potato Commission, 9 out of 10 Americans say they associate potatoes more with Idaho than any other state in the nation. We've got butter-crowned bakers on our license plates, we drop a giant Russet to ring in the New Year and there's even a 28-foot-long potato that traverses the country to promote the state's signature tuber. If you're looking to sample some of Idaho's famous potatoes in its capital city, you've got more options than mashed or fried. These seven Treasure Valley restaurants put a unique spin on spuds with their unusual or inventive preparations.
Bittercreek Alehouse's Classic Poutine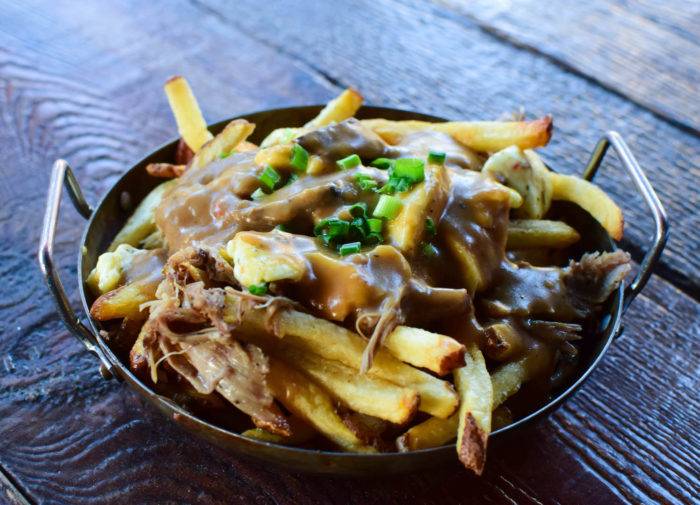 Poutine might be a Canadian export, but Bittercreek Alehouse puts a uniquely Idaho spin on this classic bar food. It all starts with house-cut local, organic potatoes that are fried to a golden crisp. The fries are then topped with fresh local Ballard cheese curds and hunks of braised pork, then ladled with a rich brown gravy and sprinkled with scallions. It's a great shareable snack to help you soak up one of Bittercreek's high octane craft brews.
Calle 75's Idaho Potato Taco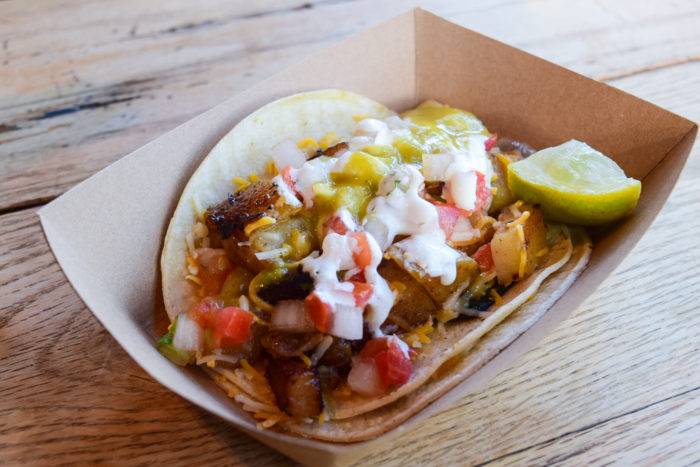 Calle 75 has come a long way since opening its cart at the Capital City Public Market in 2008. Now, in addition to a brick-and-mortar location in the Village at Meridian, street taco slingers Mike and Rosie Weems are opening a second outpost in downtown Boise, complete with a vibrant veggie mural and a late night taco window near the raucous Neurolux. All-hours revelers can now enjoy the popular Idaho Potato Taco—made with roasted seasonal Idaho potatoes, poblano peppers, onion and fresh pico de gallo—on house nixtamalized stone ground organic corn tortillas hot off the grill. Carnivores can even add local bacon or chorizo to make it a decadent late night snack.
Bear Island Brewing's Idaho Potato Ale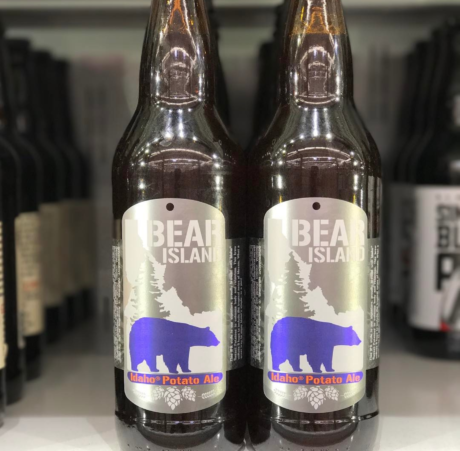 Boise's Bear Island Brewing found a way to turn Idaho's starchy export into a drinkable delight. Brewer Beth Bechtel came up with the recipe for her Idaho Potato Ale while on deployment with the U.S. Navy. In the midst of making beer in her quarters, Bechtel ran out of barley and decided to swap in some Idaho russets out of necessity. The resulting concoction has since been perfected into one of the brewery's signature sips, available everywhere from Eureka! to Piper Pub to the new Gas Lantern Drinking Co. in downtown Boise.
Richard's Yukon Gold Chips with Truffle Salt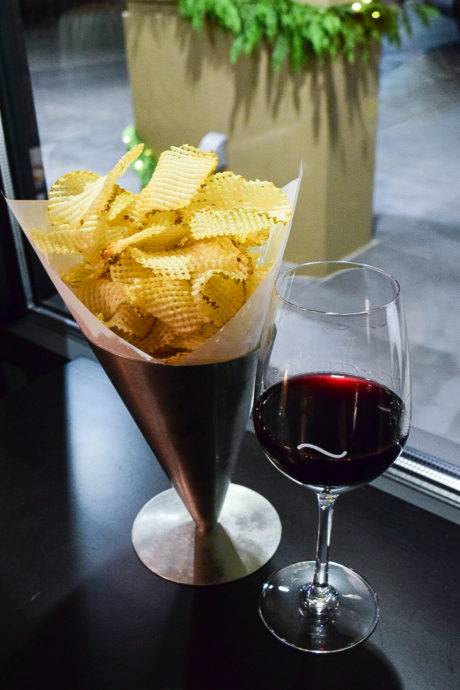 Though Chef Richard Langston shuttered his quaint North End trattoria in 2016 in favor of elegant new digs in the Inn at 500 Capitol, his menu still retains some Cafe Vicino classics. A perennial favorite at Richard's is the whisper-thin waffle-cut Yukon Gold potato chips dusted with pungent truffle salt. You can snag a cone of these addictively airy crisps for only $3 during happy hour, which runs daily from 3-6 p.m. in the restaurant's bustling bar. The happy hour menu also includes a rotating $5 sparkling wine, which is a super magical pairing with salty, truffle-y potato chips.
Blue Tiger's Bacon and Eggs Pizza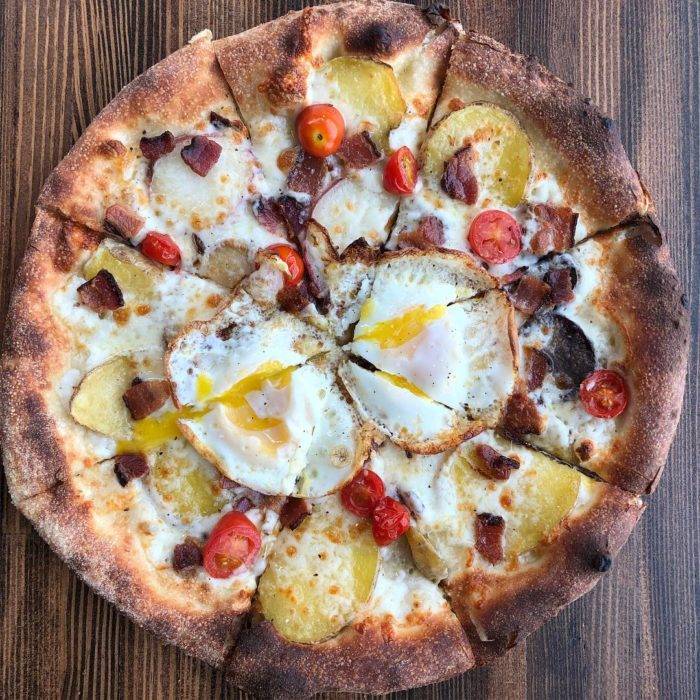 Blue Tiger Pizza opened its doors in mid-October in the former Barnyard Kitchen and Bar space at 1435 N. Eagle Road. The pizza shop serves artisan wood-fired pies and craft brews in the heart of Meridian's chain row. From Fried Brussels Sprouts with Greek yogurt and candied nuts to the Pig Destroyer pizza, loaded with smoked ham, chorizo, applewood bacon and Mama Lil's Sweet And Spicy Peppers, Blue Tiger adds eclectic flourishes to familiar staples. And the brunch-tastic Bacon and Eggs pizza is a prime example. Topped with thinly sliced potato coins, applewood smoked bacon, roasted cherry tomatoes, mozzarella and provolone, this thin crust pie is crowned with a couple of oozing fried eggs.
Parrilla Grill's Idaho Nachos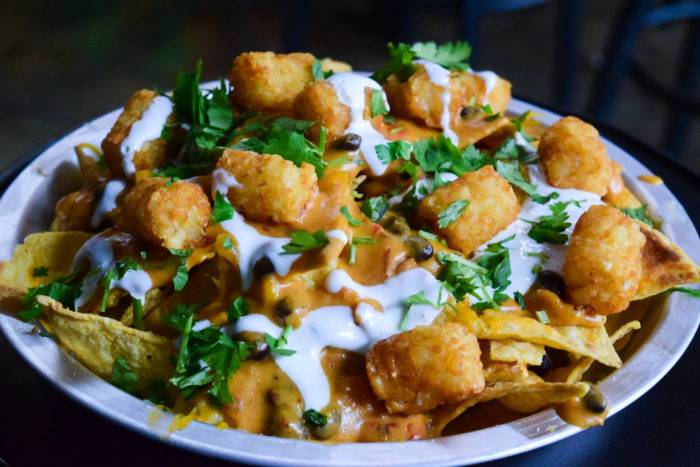 Good luck saddling up to the bar at this Hyde Park staple on a Sunday afternoon. The popular pub draws a sizeable crowd of North Enders who while away the afternoon with $4 Bloody Marys and football on the big screen. If you can snag a table, send a friend to order some snacks to keep you going through halftime. The Idaho Nachos are a hearty option, with two layers of tortilla chips smothered in black bean-studded Gaucho cheese sauce, shredded cheddar-jack cheese, sour cream, fresh cilantro and crispy deep-fried tater tots.
Piper Pub's Bacon Bleu Cheese Potato Stack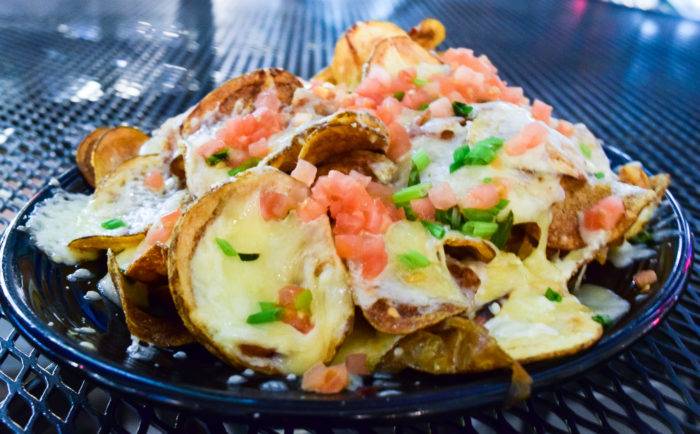 Piper Pub is a popular after-work haunt, with its buy-one, get-one happy hour and second floor downtown patio overlooking bustling Eighth Street. Whether you opt for a couple of craft IPAs or a couple of rye Manhattans, make sure to order a plate of thick cut, extra crispy house fried potato chips smothered in tangy bleu cheese sauce and topped with diced tomatoes and chives. They're grown-up nachos that your crew will polish off crazy quick.
Feature image credited to Tara Morgan.
Tara Morgan is a freelance food and booze writer. She's an Editor at Edible Idaho Magazine, writes for publications like VIA Magazine and SIP Northwest and runs the website Boise Feed. She loves an epic dinner party, good design, bad puns and pretty much every French rosé ever made.

Published on January 11, 2018