This is a sponsored post.
There's something magically relaxing about nursing a cocktail next to the water. It's the stuff Jimmy Buffett songs are made of: sunshine, icy cold drinks and the rhythmic lap of waves on the beach. While Idaho doesn't boast any seaside shorelines, there are plenty of spots to sip a cold one near a shimmering body of water. So go ahead, throw on that Hawaiian shirt, kick off your flip flops and let someone else pour the booze in the blender.
Trinity at City Beach, Sandpoint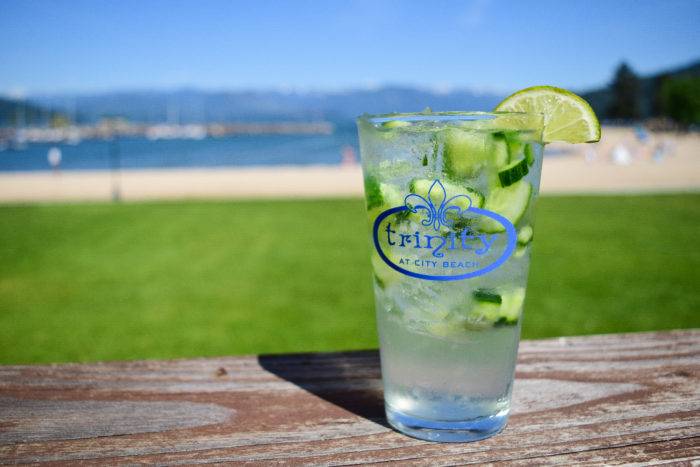 Sandpoint's sandy City Beach is the perfect place to unfurl a towel and watch sailboats bob on the crystal clear waters of Lake Pend Oreille. Once you've had your fill of North Idaho sunshine, head to Trinity at City Beach, the lakeside restaurant adjacent to the Best Western Edgewater Resort. From the shaded patio, you can soak up the beach vibes while savoring a seared scallop salad with strawberries and sipping Pend d'Oreille Winery's City Beach Chardonnay or the TCB Cooler, made with Hendrick's gin, tonic, muddled cucumber, and lime.
The Sandbar Patio Bar & Grill, Boise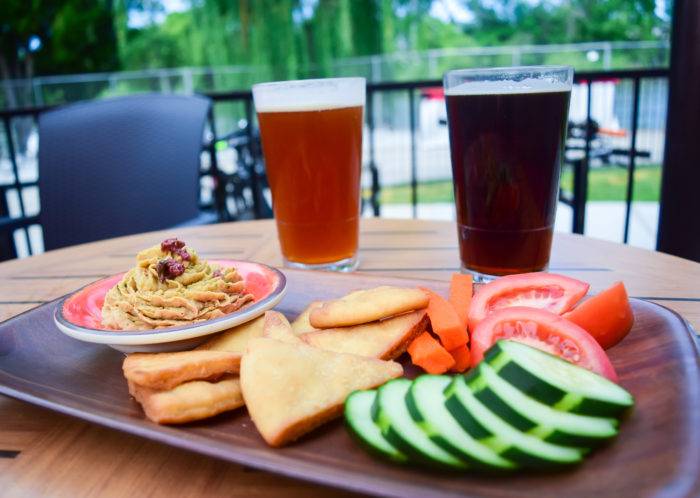 Follow the sixties rock covers to Sandbar Patio Bar and Grill, where throngs of riverside relaxers gather to listen to live music and sip cold brews. The bustling patio butts up against the Boise Greenbelt, where a steady stream of cyclists and joggers glide by the rushing Boise River. Misters keep the heat at bay while you snack on a plate of hummus and deep-fried pita or sink your teeth into an ice cream sandwich with local Cloverleaf ice cream. Draft beers are sourced solely from Idaho breweries, while cocktails include the refreshing Pat's Main Beach Sangria or the boozier Vesper Squared, with Square One Botanical Vodka, Square One Cucumber Vodka, Lillet Blanc and sparkling wine.
Whispers, The Coeur d'Alene Resort, Coeur d'Alene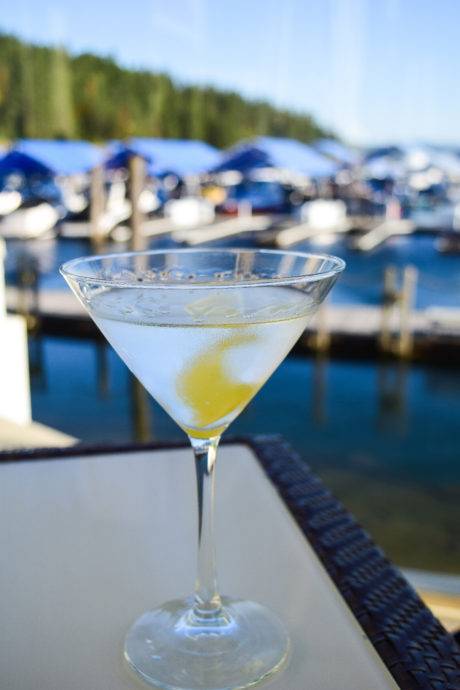 Weave through the busy lobby of the Coeur d'Alene Resort and make a beeline for the back bar, Whispers, which boasts an elegant outdoor lounge overlooking Lake Coeur d'Alene. Grab a seat in a comfy chair and order a Moscow Mule or an ice cold martini with a twist. High glass walls protect you from the wind, while still allowing stunning views of the sun setting over the marina. After the sun goes down, you can watch the fire pits flicker against the night sky.
Shore Lodge, McCall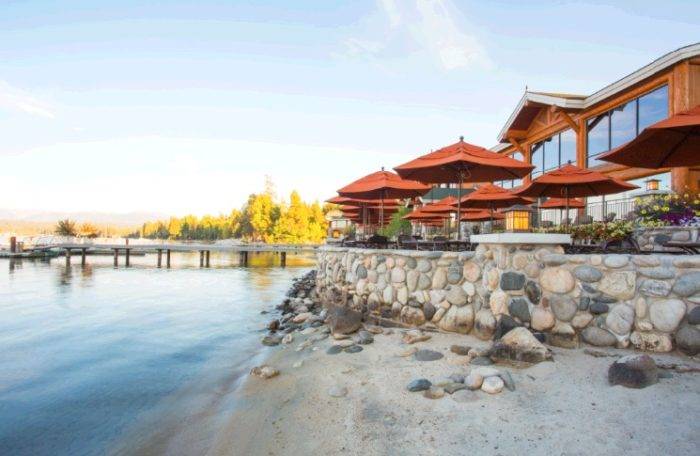 Summertime in McCall is all about the cool mountain water. If you don't own a cabin on the lip of Payette Lake or a boat to coast out to the middle, the best place to be is The Shore Lodge. With a beachy cove dotted with chairs and shady umbrellas, it's a lovely spot to crack open a book and sip a Huckletini—a vodka martini made with Cointreau, locally foraged huckleberries and fresh lime. If you're looking for snacks, head to The Cutwater, Shore Lodge's revamped lakeside restaurant, and sink your teeth into the Cutwater Burger, served on a local artisan bun.
Forty-One South, Sagle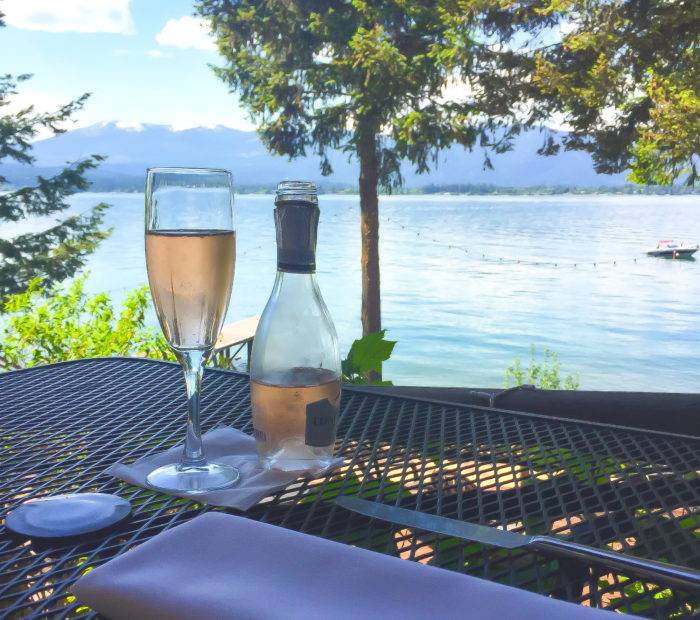 Located in the tiny town of Sagle, just across the Long Bridge from Sandpoint, Forty-One South boasts stunning views of Lake Pend d'Oreille with the Selkirk, Cabinet, and Bitterroot mountains rising up in the distance. Pull up a chair on the patio and peer through the pines at the glistening lake, the fifth deepest in the United States. Whether you opt for a split of sparkling rosé and a plate of smoked Idaho ruby trout, or a scotch on the rocks with a mesquite-smoked filet mignon, Forty-One South is a serene place to kick back and relax.
Cottonwood Grille, Boise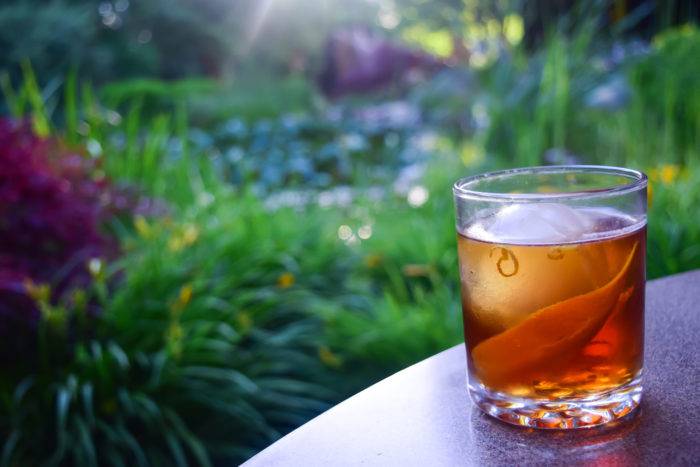 If not for the steady stream of Greenbelters, you might not know you're a stone's throw from the Boise River when you're seated on the lush patio at Cottonwood Grille. A twisting bramble of Japanese maples gives way to a rock-lined stream filled with floating lilies, while a water fountain gurgles in the distance. If you're a fan of classic cocktails, don't miss bartender Clark van Vooren's riff on the Manhattan, called the Midtown. Crafted with Woodford Reserve, Averna, Luxardo Maraschino liqueur, B&B and Angostura bitters, the cocktail is served over an ice spear with a twist of flamed orange.
Bardenay, Coeur d'Alene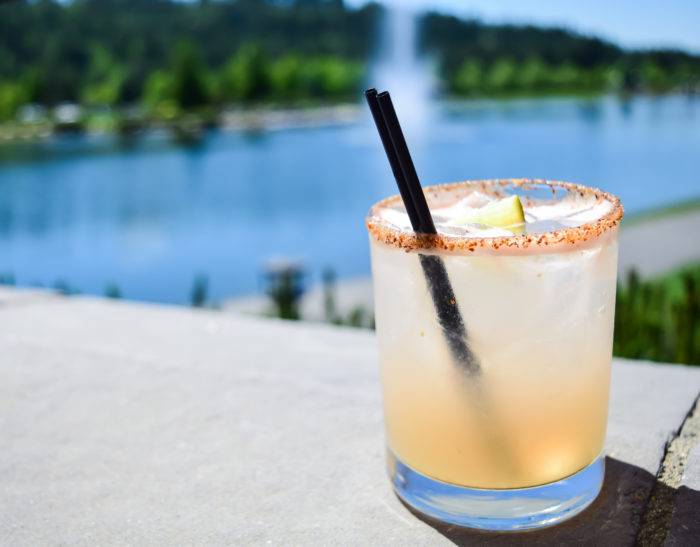 While each of Bardenay's three Idaho locations feature epic patios, the distillery pub's Coeur d'Alene outpost has the best waterside view. Situated on the edge of a small lake—a short skip from the Spokane River, which feeds Lake Coeur d'Alene—Bardenay serves up house-crafted spirits along with an assortment of hearty fusion dishes. For a north Idaho/south-of-the-border vibe, snag a table under a triangle shade sail and sip on a Paloma, made with Espolon Reposado tequila, Patron Citronge, fresh pressed grapefruit, lime juice and a spicy-salty Tajin rim. And don't forget to order a plate of Kurobuta pork shoulder tacos with harissa-red pepper jam to keep your hunger at bay.
Tara Morgan is a freelance food and booze writer. She's an Editor at Edible Idaho Magazine, writes for publications like VIA Magazine and SIP Northwest and runs the website Boise Feed. She loves an epic dinner party, good design, bad puns and pretty much every French rosé ever made.

Published on July 13, 2017