Traveling through the Sawtooth Scenic Byway is like having a massive lesson in geology. Around every bend is a new sight to behold and to be quite frank, those sights are jaw dropping and awe inspiring. Countless times we pulled over to take photo after photo.
Our destination is the Salmon River Campground in Stanley, Idaho. This campground is absolutely breathtaking and I can't help but think what a picturesque painting it would make. The Salmon River Campground boasts 30 campsites situated along the Salmon River mixed amongst Lodgepole pine trees and sagebrush meadows. If you enjoy being close to the river and don't mind dry camping, this is the spot for you.
After we settled in, our son ran down to have a look at the river. He was pondering his next fishing adventure. Should he use his fly rod or spinning reel?
After a bit of fishing, we decided to explore this beautiful piece of land. We admired colorful wildflowers blooming in full glory as well as wildlife from eagles soaring high above to young deer bravely crossing the swift river.
Our time here was spent fishing to our hearts' content and admiring the idyllic landscape. Our neighbors were the local rangers who took care of the campground. We enjoyed chatting it up with them as they taught us about the history of the area and also some places of interest to visit along our way. I was very grateful for them, such a wealth of information and knowledge!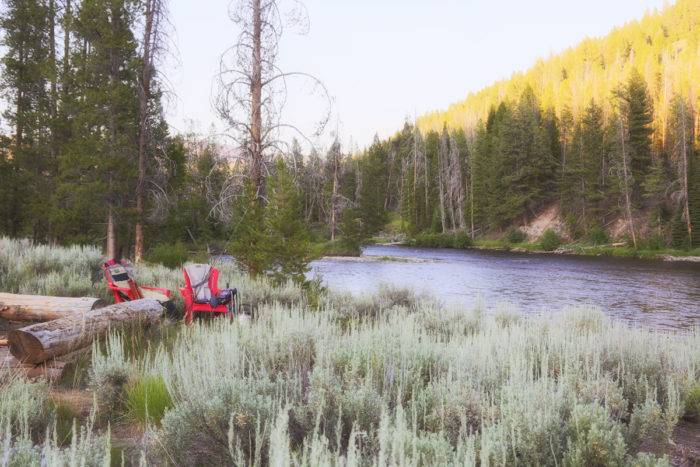 The following morning we decided to leave at the break of dawn in order to arrive in the town of Ketchum for a hearty breakfast based on the rangers' recommendation. The drive to Ketchum was another gift of beautiful sights to behold.
When we arrived in Ketchum, I was filled with an immediate sense of wonder, astonishment and surprise. I was expecting a rather small town with a few shops scattered about. I was completely awestruck over the charming boutiques, unique restaurants, quaint book stores and so much more. This town had such a great feel and I was excited to start exploring!
The park rangers back at the Salmon River Campground highly suggested we have breakfast at the restaurant named, "The Kneadery," and we could hardly wait. The portions were generous, the price was right and the service was the best. This was the perfect start to our morning before heading over to the Ketchum Arts Festival.
The Ketchum Arts Festival was in full swing during our visit and it was definitely an event we wouldn't have wanted to miss. So after our satisfying breakfast, we took a leisurely walk through town to the "Festival Meadow," where all the happenings were taking place.
The festival was free to enter and we enjoyed viewing over 100 different arts and crafts from local Idaho artists. We also had a great time chatting it up with the artists as well! For example, Debbie, from Ken Newman Sculpture took the time to show us the hard work, time and dedication that goes into each bronze sculpture she and her husband Ken create. It was quite an education for us that made us appreciate their work that much more. Thank you Debbie!
As we walked back to town through crowds of happy folk, I am reminded just how genuinely beautiful this state is. From the magnificent and ever changing landscapes, to the kind hearted, welcoming people who make Idaho their home, I can only dream of the one day, we too will be able to call Idaho our home. Until then we visit, explore and enjoy and I hope you can too!
This is a sponsored post.
Together with her husband and young son, Monica Bennett seeks out non-stop RVing adventures and culinary discoveries in the Pacific Northwest. Her travels on the road inspires her work as a photographer and writer for her blog, "Just 5 More Minutes," where she shares her passion for cooking in her RV, demonstrates creative DIY crafting projects and writes about mastering the art of RVing domesticity. The RVing lifestyle is Monica's escape from her 9-5 as a graphic designer in busy corporate America. Travel with Monica and her family to their blog: J5MM.com. All photos, including feature image, provided by J5MM.com.

Published on May 3, 2016