Tara Morgan worked in partnership with Visit Idaho to create this Travel Tip.
Tacos have officially taken over Boise. With two high-profile restaurant openings in the last couple of months (Calle 75 and Funky Taco) and two more in the works (Madre Boutique Taqueria and Diablo & Sons) the town is in the midst of a taco renaissance. But it's not all fancy mezcal cocktails and housemade organic corn tortillas. Boise also has a thriving taco truck scene where $1.25 snags you a simple snack-sized taco passed through a street-side window. So whether you prefer to enjoy your tacos al fresco at a picnic table as cars zoom by, or in a vibrant modern dining room with an icy cold beverage, you've got plenty of tasty taco options.
The Funky Taco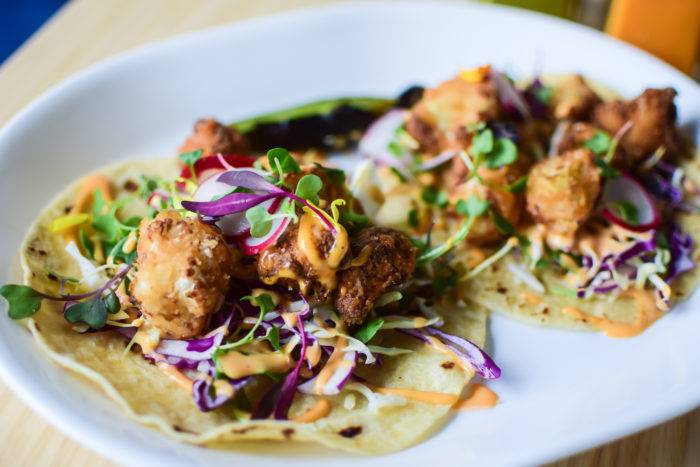 In March, The Funky Taco traded in its vintage Airstream trailer for a beautiful brick-and-mortar in the heart of Boise's busiest restaurant corridor. Located in the former Mongolian Grill and Bar spot on Eighth and Bannock Streets, Funky Taco transformed the space with giant windows, bright blue booths and a colorful second story mural from Boise artist Cody Rutty. The menu features equally colorful options like the Macho tacos—with coffee braised brisket, Roja salsa, cilantro crema and shaved carrot—or the Korean Pastor with ground pork, diced pork belly, smoked ham, kimchi, Asian mango salsa, cilantro and radishes. The spot also offers an impressive array of vegan and vegetarian options, like the excellent Fried Flower tacos, loaded with crispy panko cauliflower, arugula slaw, microgreens, scallions, radishes and "bomb" sauce.
Basilio's Tacos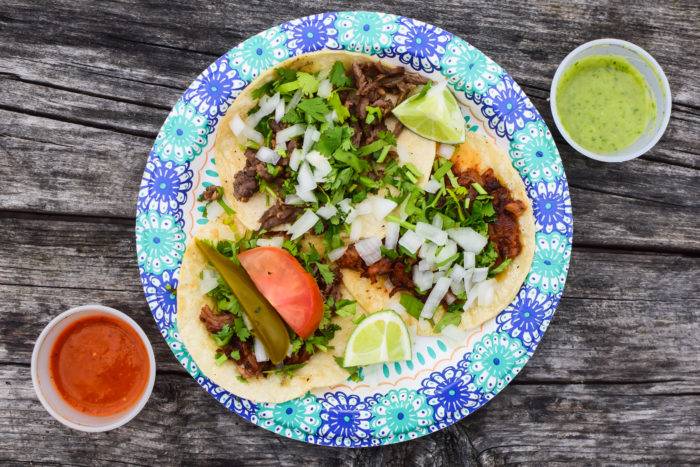 Parked regularly in the lot adjacent to Boise Bistro Market on Fairview Ave., Basilios Tacos is famous for its El Pastor tacos, with photos of the schwarma-style pork and pineapple peppered all over the trailer. With mole-esque sweet cinnamon notes, the pastor is certainly a must-try, but the tender-yet-crispy carnitas was the winner on a recent visit. Served with the requisite diced onions and sprinkled with cilantro, Basilios' carnitas taco comes topped with a grilled jalapeno and the option of adding a splash of mild green or mightily spicy red salsa. Be warned: If Basilios' flavorful street tacos don't make you cry, the fire-engine red salsa certainly will.
Carneceria Coalcoman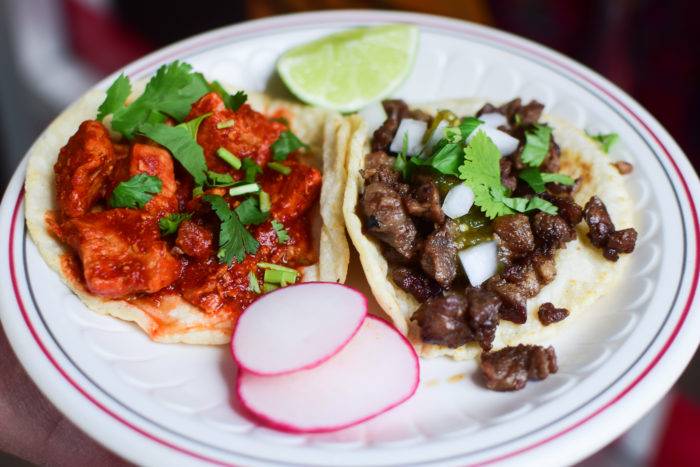 Situated in the back corner of a dated strip mall on Fairview Ave., Carniceria Coalcoman is easy to overlook. But once you've made it inside, the restaurant and mini market is a feast for the eyes. With rainbow-hued mini pinatas dangling from the ceiling, giant shards of fried pork skin glistening in the counter case and a small produce shelf packed with tiny limes and an array of unfamiliar jarred bits in brine, Carniceria Coalcoman is a one-way ticket to Mexico. The asada tacos are a popular choice—with flavor-packed chopped beef that's missing the gristle common in other local versions—as are the massive quesadillas, loaded with the meat of your choice, cheese, lettuce, crema and avocado shrouded in a thick-yet-crispy masa blanket.
Gem Street Kitchen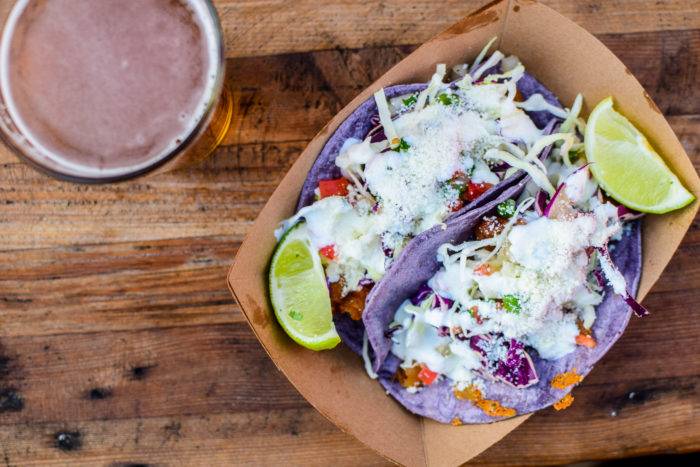 California dreaming? Throw on some flip flops and pedal your cruiser down to The Yardarm, Garden City's favorite riverside shipping container bar. At the back of the sandy, open-air establishment—past the throngs of beach bums sipping microbrews—you'll find Gem Street Kitchen, which is parked on-site slinging tacos throughout the summer season. While the fried brussels sprouts with chipotle crema and cotija are a popular snack, don't miss the excellent fish tacos, loaded with perfectly crisp fried mahi mahi, organic red cabbage, pico de gallo, cotija and garlic lime crema on a bright purple tortilla.
Tacos Veloz Mexico City Grill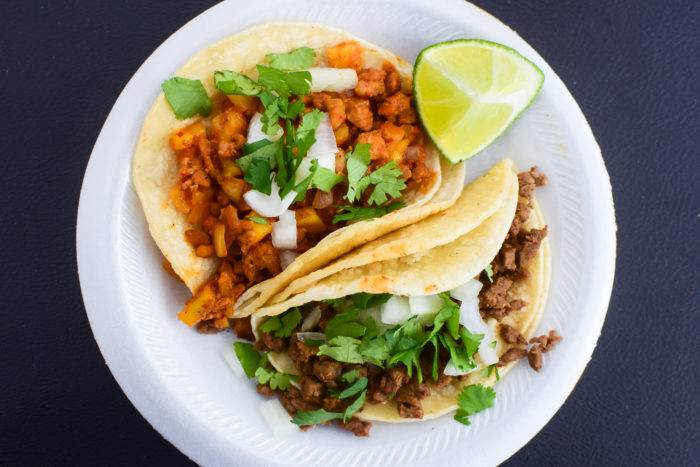 Tacos Veloz is an easy-to-miss gem, parked near the Idaho Swim and Sun Shop on Fairview Ave., just past Cole Road. With options that range from adobada—pork marinated in a red chile sauce—to offal offerings like lengua and cabeza, Tacos Veloz is a straight-up-classic street taco shack. The pastor tacos are a highlight, with sauteed onions and bits of tart pineapple that brighten up the rich marinated pork. And don't forget to top your tacos off with a squeeze of the zippy tomatillo salsa.
Calle 75 Street Tacos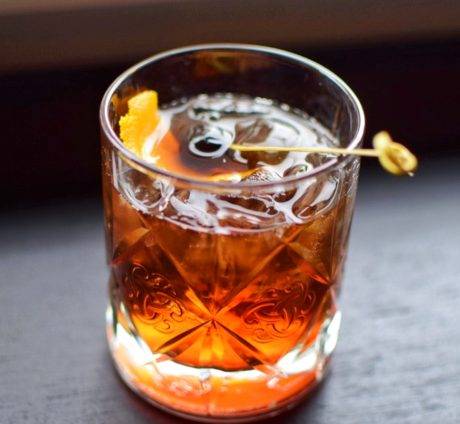 At most street taco joints around town, your drink options are fairly limited—Jarritos, bottled Mexican Coke and maybe a pitcher of horchata, if you're lucky. But not at Calle 75 Street Tacos, a former street cart that opened its second brick-and-mortar in the former Oriental Express space across from Neurolux. The modern taco outpost has a full bar, with cocktail options ranging from the Jamaica Margarita, flavored with hibiscus flowers, to the unusual Oaxacan Old Fashioned with bourbon, smoky mezcal, demerara simple syrup and mole bitters. If you're craving a classic with a boozy twist, there's the housemade horchata, spiked with spiced rum and horchata whipped cream.
Lorena's Mexican Cocina Grill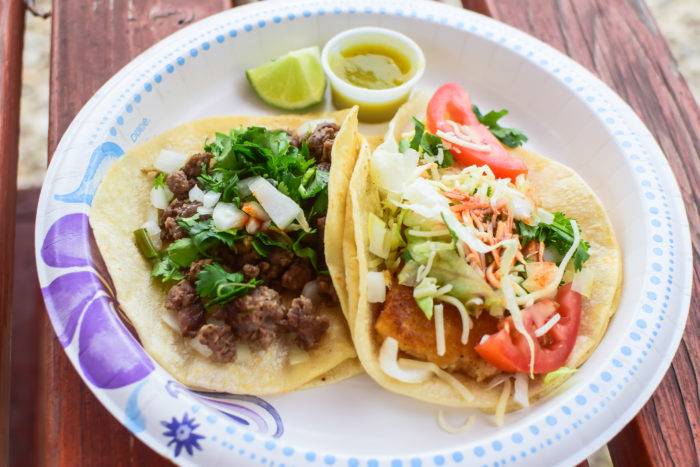 Looking for better seating options than a salsa-stained picnic table? Head to Lorena's Mexican Grill on Fairview Ave. at Maple Grove Rd., behind the Jack in the Box. The semi-permanent taco stand has an array of umbrella-shaded redwood tables with a tidy brick walkway leading to a fully tented seating area. Owner Lorena Jimenez recommends the asada tacos, topped with chopped onions, cilantro and a spritz of red salsa. The fried fish tacos are another hearty option, with breaded white fish, sliced tomato, grilled onion and cabbage.
Campos Market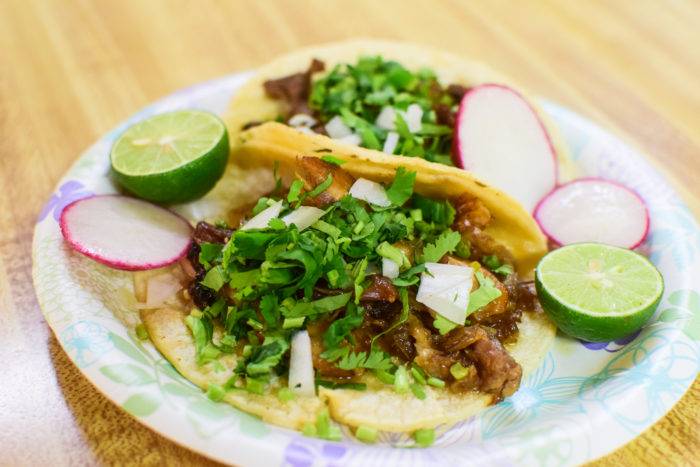 If you've ever needed dried epazote or pickled pigs feet, you've probably ended up at Campos Market on Orchard Street. The Mexican market boasts an array of spices and canned foods, along with a bustling meat counter, or carniceria, that features everything from marinated carne asada to whole beef tongue. The taco counter, located in the back of the market, cooks up many of the meats offered in the case—chorizo, asada, carnitas, lengua—and serves them on housemade corn tortillas. Plus, if you're looking to wash back your tacos with a crisp Mexican lager, there's a fully stocked beer case within arm's reach.
Feature image is credited to Tara Morgan.
Tara Morgan is a freelance food and booze writer. She's an Editor at Edible Idaho Magazine, writes for publications like VIA Magazine and SIP Northwest and runs the website Boise Feed. She loves an epic dinner party, good design, bad puns and pretty much every French rosé ever made.

Published on May 24, 2018