Scott Kranz worked in partnership with Visit Idaho to create this Travel Tip.
This was the year. Once and for all, I'd visit the Gem State in winter for some snow-filled adventures.
I'm lucky to have visited Idaho for many years in a row. But all my previous visits involved hiking and backpacking in the summer months. While this is no reason to complain, I know Idaho is a destination offering year-round adventures. So one thing was certain: a winter trip to Idaho would not disappoint!
As a Seattleite, sunlight isn't abundant at home this time of year. It sounded just right to make Sun Valley our home base. What better way to see if the area lives up to its name?
Torn between backcountry and resort skiing options? No need! We planned to explore the best of all worlds and soak in some hot springs to boot. The fun was about to begin!
Backcountry Ski Touring
We kicked off the trip with some good ol' backcountry ski touring. For me, the wintry backcountry is where I can get a great workout skinning uphill while enjoying fresh air, untracked powder, and solitude.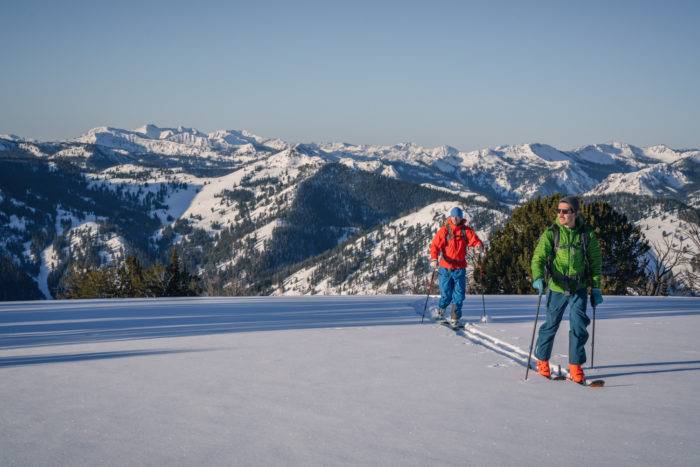 Central Idaho's backcountry checks off all of these boxes and more, plus a big bonus: stunning views of the surrounding peaks. I'm talking about the Sawtooths, the Smoky and Boulder ranges, and the stunning Pioneer mountains, as well. As a mountain lover, it's a slice of heaven.
With countless acres of backcountry terrain to choose from, we decided on the backcountry zone just north of Sun Valley: the Galena Summit area.
Parking our car near the top of the pass, we started the delightful cycle of skinning up and skiing down. With each lap, we enjoyed fresh tracks and new views.
As the day wrapped up, we glided back to our car and headed down to the historic Galena Lodge for a meal and hot drink. The lodge, a popular stop for skiers in the area, was the icing on the cake. A great day of touring from start to finish.
Side note: if you plan to enter the backcountry to ski, board, sled, or snowshoe, be sure to bring the proper equipment (beacon, shovel, and probe) and have the necessary avalanche safety training. Also, familiarize yourself with the current snowpack and conditions as well as the Sawtooth Avalanche Center forecast.
Resort Skiing
After a few days in the backcountry, a new storm brought a fresh coat of powder to Sun Valley's mountains. So we hung up the ski skins to dry and packed up the resort skis, helmet, and goggles for some in-bounds fun.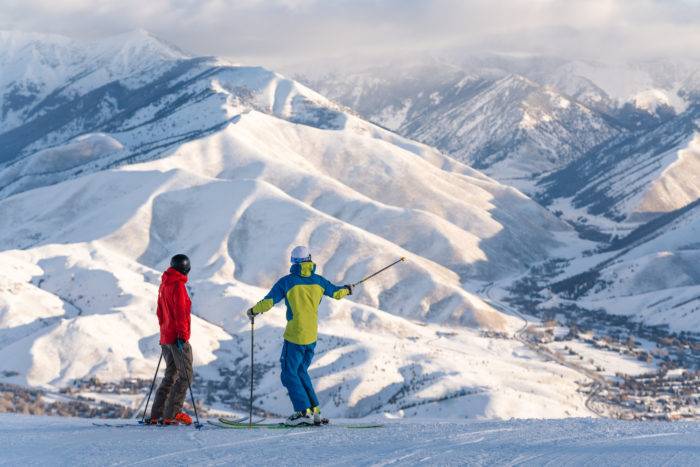 Our choice of resort was a no-brainer — Sun Valley Resort (Bald Mountain) offers up more than 3,400 vertical feet. With long, consistent runs from top to bottom and short lift lines, a huge two days of skiing were guaranteed.
Day 1 was an epic powder day. We started at River Run Day Lodge and caught the first gondola up the mountain. Between several classic runs plus the legendary bowls, we skied with ear-to-ear smiles until my legs were nearly burnt out. We rested up at the lodge and restaurant near the top of the mountain, enjoying delicious food and drink and chatting with the friendly locals about the history of the area.
Day 2 brought excellent grooming, sunny skies, and stunning 360-degree views of central Idaho's mountains. Personally, I couldn't stop staring at the nearby Pioneer Range, the peaks prominently rising to the east. Another epic resort day left our hearts full and legs tired. At last chair, we were ready for après in downtown Ketchum.
After only one trip, Sun Valley Resort has quickly become one of my favorite resorts in the country.
Hot Springs Soaking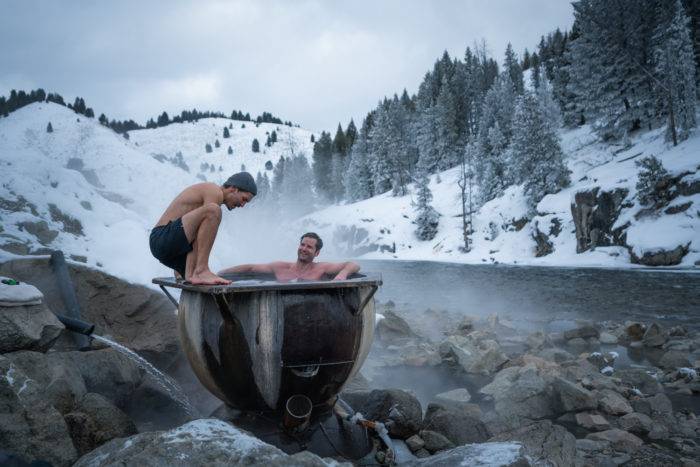 With all of our time backcountry touring and resort skiing, there was one more thing to add to our trip: hot springs!
On previous visits to Idaho, I had learned the state was home to hundreds of natural hot springs in gorgeous outdoor settings. On this winter trip, we were determined to find a few new hot springs.
So we drove to the Stanley area and found the perfect hot springs, which we enjoyed all to ourselves. Which ones you ask? Well, I'll be keeping the hot springs' names to myself for good reason. Full disclosure of specific hot springs can cause over-traffic and overuse. Let's keep Idaho's natural hot springs as special and protected as possible.
Stepping into the hot spring water, we basked in the warmth, while a snowy scene surrounded us in all directions. What better way to relax and rejuvenate after some epic days of skiing.
Each day of our winter trip in Idaho was filled with powder skiing, hot springs, and stunning scenery. As the best trips often do, it flew by.
As the last day wrapped up, I reflected on the unique experiences that winter made possible. To think this was only my first winter trip to Idaho. With so much more left to explore, another winter visit next season is already in order!
Scott Kranz (@scott_kranz) is a full-time photographer based in Seattle, Washington, specializing in outdoor sports, lifestyle, landscapes, travel photography and storytelling. Partnering with the world's leading outdoor brands and destinations, Scott's professional work includes hiking and alpine climbing in the Cascade, Sierra, Sawtooth, and Rocky mountain ranges; trekking in both the European and New Zealand Alps; canyoneering and mountain bike expeditions in the Southwest desert; and backcountry skiing among the active volcanoes of Japan.

Published on February 7, 2019