This is a sponsored post.
With such wide diversity in landscapes and outdoor recreation opportunities, Idaho is one of the most underrated states in the West. From the high desert plains to jagged mountain peaks to pristine rivers and streams, no matter what part of the state you find yourself in, we guarantee there's someplace beautiful to explore nearby.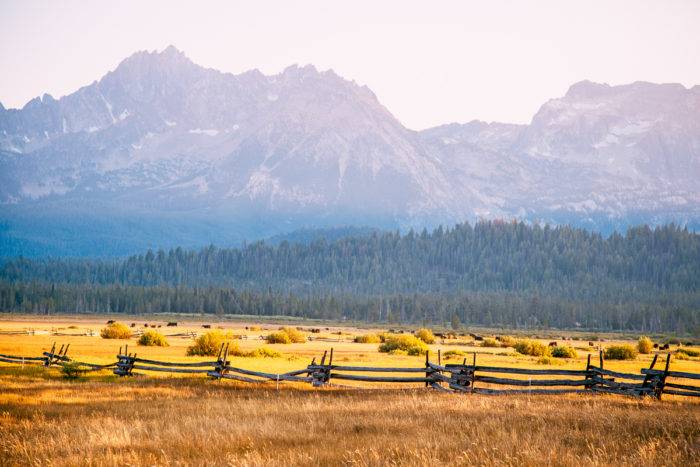 One of the best ways to get the full Idaho experience is to road trip through the state. With so many gorgeous scenic byways and charming rural towns to stop in along the way, the journey can be as much of a draw as the destinations themselves.
We compiled a road trip itinerary that features some of the best outdoor recreation activities the state has to offer. Whether you're into kayaking, rafting, horseback riding, biking, hiking, or fly fishing, we've got something for you.
Twin Falls
Located along the dramatic cliffs of the Snake River Canyon, the city of Twin Falls has a high desert climate but tons of outdoor water recreation.
What to Do:
Snake River Canyon Rim Trail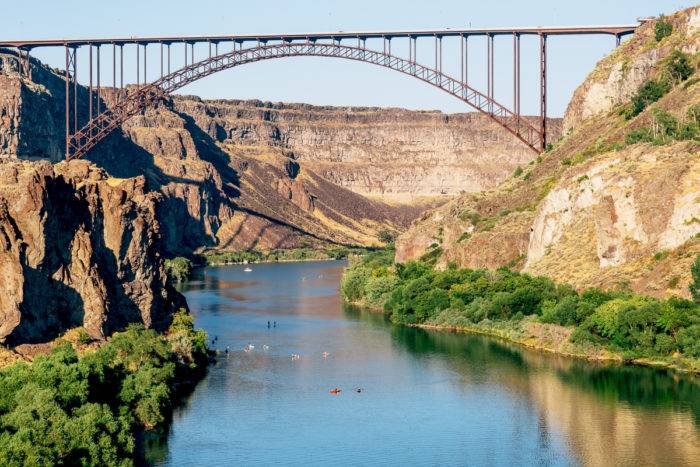 Walk, run, or bike along the spectacularly scenic Snake River Canyon Rim Trail. The rim trail can be picked up from the northern terminus of Washington Street, next to the Visitor Center, or in Shoshone Park. Venture out to the famed Evil Knievel jump site, watch BASE jumpers leap from Perrine Bridge, or grab a drink at Elevation 486 and watch the sun set over the canyon.
Perrine-Coulee Falls – This waterfall drops nearly 200 feet down into the Snake River Canyon, creating a continuous ribbon of water as it falls. Unlike most waterfalls, Perrine-Coulee Falls actually increases in strength during the summer because water used for irrigation spills over into the Coulee River. If you don't mind getting a little wet, there's even trail that leads behind the falls.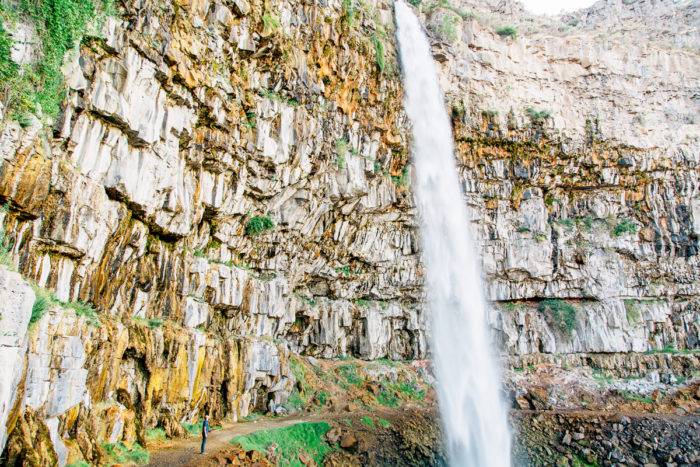 Kayaking the Snake River with AWOL – In order to really appreciate the size and scale of the Snake River Canyon, you have to get down inside it. And there's no better way to do that then by kayaking the Snake River. Paddle underneath Perrine Bridge, explore Pillar Falls, or even make the trek all the way up to the massive Shoshone Falls. AWOL rentals is located right along the water at Centennial Park and can get you set up for a very reasonable price.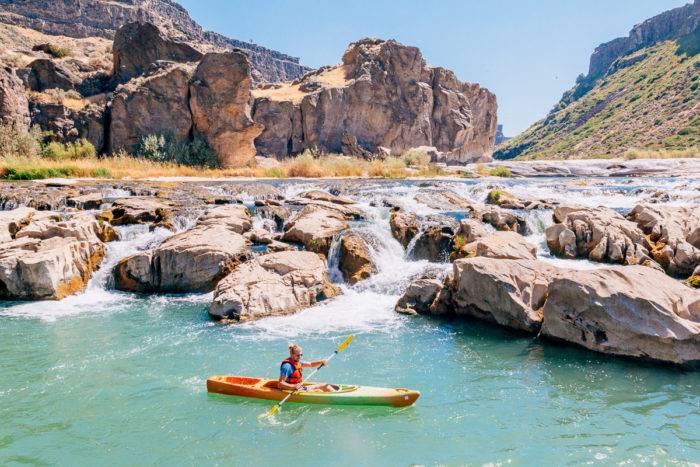 Where to Stay:
Blue Lakes Inn – While the outside looks like an unassuming roadside motel, on the inside the rooms have all had a classy modern makeover. Don't pass up this hidden gem. (Note: the complimentary breakfast here is legit!)
Where to Eat:
The Buffalo Cafe – Light on amenities, heavy on character, this old fashioned hole-in-the-wall diner is where the town's old guard gathers for breakfast.
KB's – With five locations throughout Idaho, KB is quickly becoming the premiere burrito stop in the whole state (Recommendation: get the Jordan's Burrito – It's loaded with slow cooked pork, black beans, and yams!)
Slice Pizza – Delicious brick oven pizza right in downtown Twin Falls. Grab an order to go or hang out on their front patio.
From Twin Falls to Boise, take Interstate 84 heading west.
Boise
As one of the fastest growing urban centers in America, Boise is quickly becoming the new darling city of the West. With a charming downtown, new restaurants and breweries, and an abundance of outdoor recreation opportunities nearby, it's easy to see why people are flocking to Boise.
What to Do: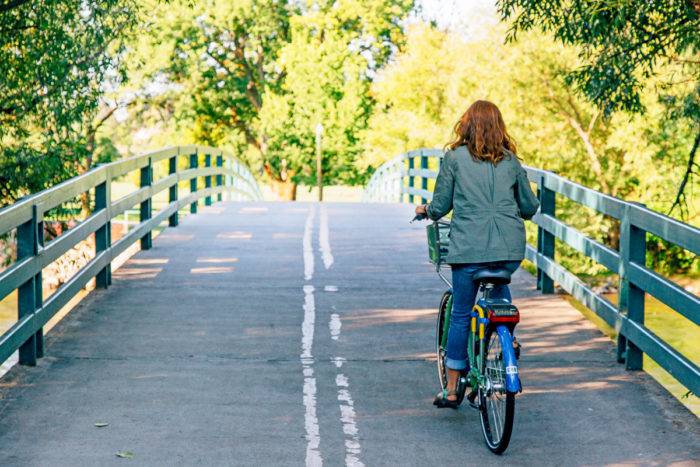 Boise Greenbelt – Running through the heart of the city, the Greenbelt is a 25-mile pathway that runs along the Boise River. This tree-lined river corridor is both a recreation destination and means of access for pedestrians and cyclists. Take a sunset stroll, rent a bike from one of the many Green Bike stations, or grab an inner tube and float down the Boise River during the warm summer months.
Payette Brewing Tour – Feeling thirsty while pedaling down the Greenbelt? Stop by the Payette Brewery and take a brewery tour. With a brand new building, plenty of outdoor space, and tons of amazing craft brews on tap, Payette Brewing is a great place to spend the afternoon.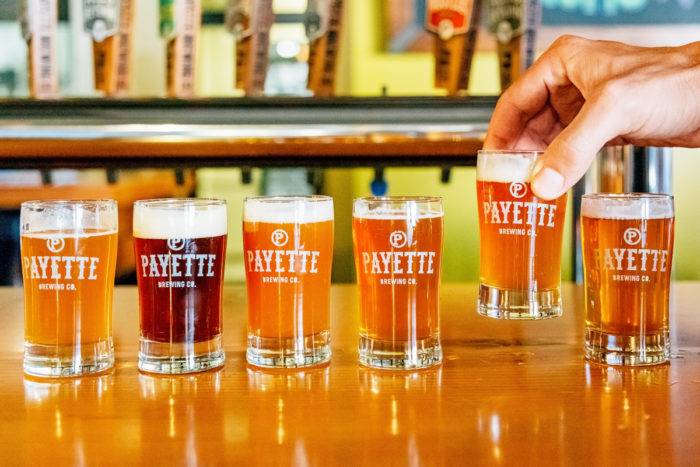 Old Idaho Penitentiary – While today Boise is a very modern city, you can still connect with its western roots at the Old Idaho Penitentiary. Operated as a prison from 1872 to 1973, this historical site is open to the public. While a sobering place to visit, it offers a glimpse into what life behind bars looked like in the old American West.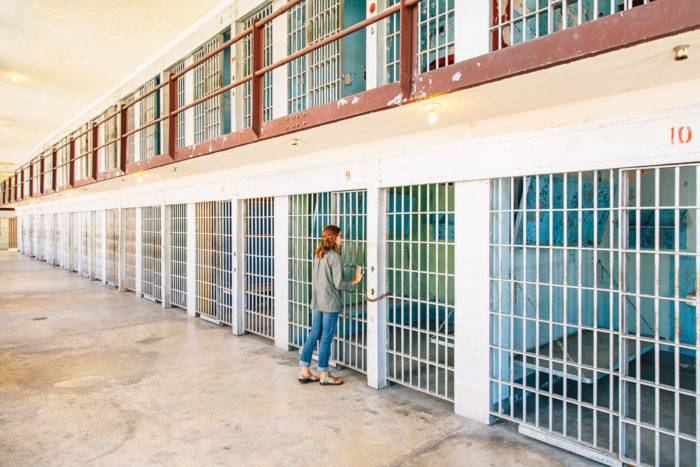 Raft the Payette River with Cascade Raft & Kayak – While the city of Boise is a great place to visit on its own, its access to outdoor recreation opportunities is what truly makes it incredible. Case in point: only 45 minutes outside of town and you have access to world class whitewater. Sign up with Cascade Raft & Kayak and get an introduction to the class III & IV rapids on the South Fork of the Payette River or check out the all-ages option for the whole family. This is a must do experience!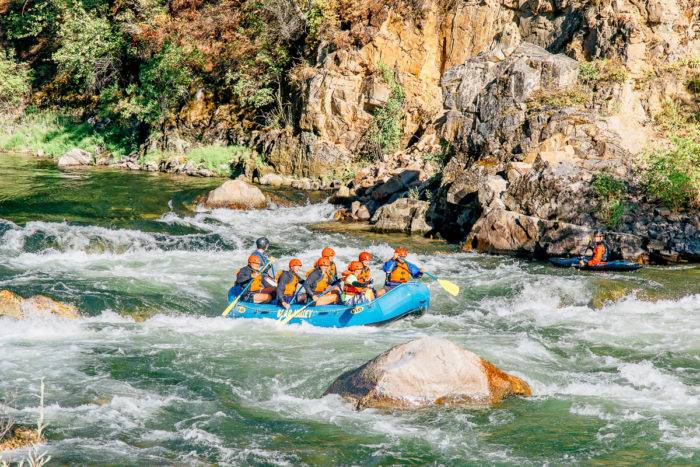 Where to Stay: Hotel 43 – Sitting on the 43rd parallel in the 43rd state, Hotel 43 is a uniquely styled boutique hotel right in the heart of downtown Boise. (Note: Coffee drinkers rejoice. Each room comes with a Keurig coffee maker!)Where to Eat: Bacon – This breakfast and lunch bistro joint takes its bacon seriously. In addition to the standard menu, there is also a separate bacon menu with five different kinds of bacon. Bacon also makes an incredible bacon Bloody Mary.
High Note – Exceptional breakfast and lunch menu with a slight dive bar feel, the High Note is a favorite locals hangout in the middle of downtown Boise.
Bittercreek Alehouse – Casual, mindful, and often pretty busy, the Bittercreek Alehouse serves a wide range of draft microbrews alongside locally sourced pub fare. (If you like fries, cheese, and gravy, then definitely check out their poutine!)
From Boise to Stanley, take Highway 21 going north.
Stanley
At the foot of the Sawtooth Mountains, the tiny town of Stanley (population 63) is one of the last remaining holdouts of the Idaho frontier. Scenically located, pristinely untouched, this town feels a little like stepping into the past. With access to nearly any type of outdoor recreation you can possibly imagine, Stanley serves as a gateway to an entire world of Idaho adventures.
What to Do:
Hike in the Sawtooths Mountains – While this stunning mountain range rivals the Sierra Nevadas and the Canadian Rockies in beauty, they are very lacking in one department: crowds. Their relatively remote location makes them a haven for those looking for a more intimate connection with the natural environment. There over 700 miles of trails, 300 high mountain lakes, and 40 peaks that rise above 10,000 feet. Out here, there's plenty of wilderness to explore.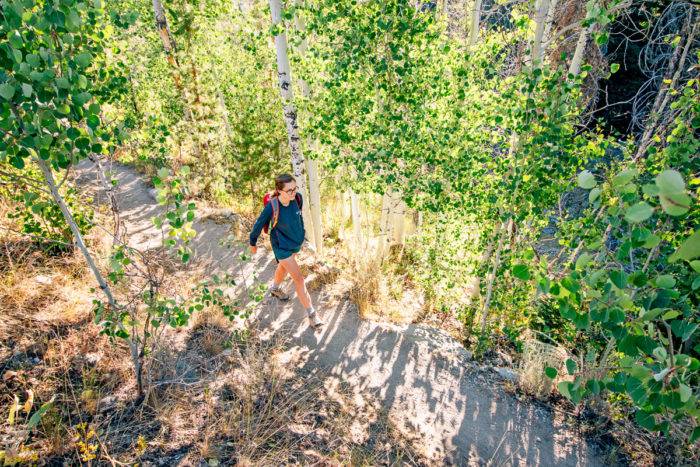 Horseback riding with Redfish Lake Corrals – If you want to experience the Sawtooths like the early settlers, then you've got to ride out on horseback. Redfish Lake Corrals can take you on an early morning tour where you can watch the sunrise illuminate the jagged mountain cliffs, or lead you on a day ride out to one of the many gorgeous alpine lakes. It's an experience that won't easily be forgotten. (If possible, ask for Kagan to be your guide! An Idaho native, he's full of fun facts and interesting history about the area.)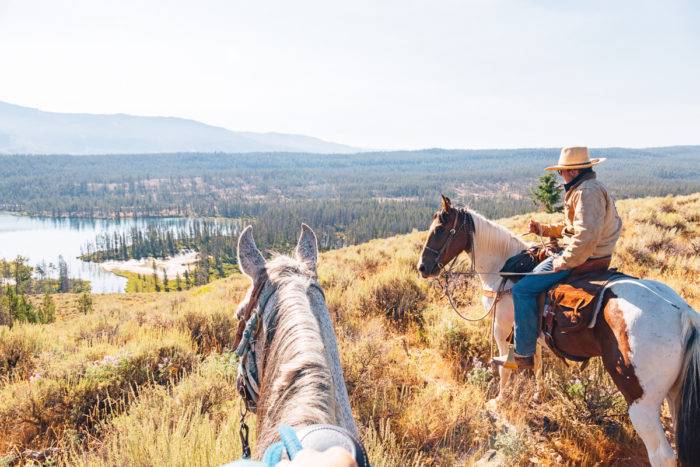 Land of Yankee Fork State Park – Take a glimpse into Idaho's rich mining history with a visit to Land of the Yankee Fork State Park. Explore the old mining boom towns of Custer, Bayhorse, and Bonanza or take a guided tour of one of best preserved floating gold dredges in the world. (Not all visitor center movies are worth it, but the one at Yankee Fork definitely is.)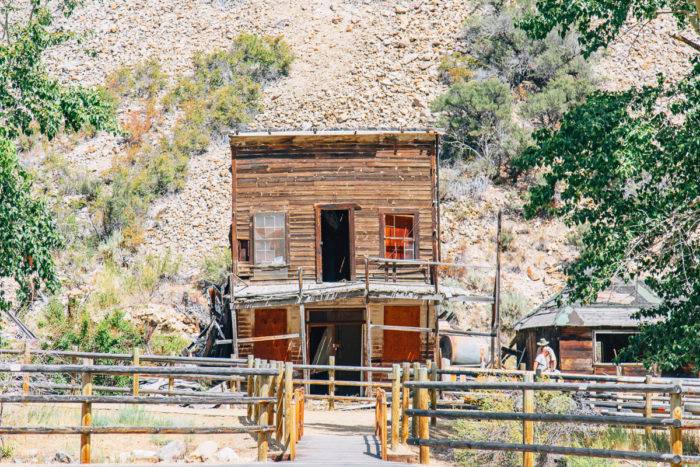 Where to Stay:
Sunny Gulch Campground – While there is traditional lodging to be found in Stanley, there is also an abundant amount of camping. Sunny Gulch is located to the south of town, but offers spectacular views of the Sawtooths at dawn. (Try to get campsite #5 and you'll be rewarded with a fantastic view of sunrise on the Sawtooths with your morning coffee.)
Where to Eat:
Stanley Baking Company & Cafe – A charming breakfast and lunch spot with legendary baked goods and a friendly atmosphere. Order coffee and baked goods to go or sit down on the front porch and enjoy a full country breakfast. (Recommendation: their sourdough pancakes!)
From Stanley to Salmon, take State Highway 75 north to US 93 and continue north.
Salmon
Nestled in the Bitterroot Mountains of central Idaho, Salmon is a small rural community with some serious small town vibes. Located along the Salmon River – otherwise known as "The River of No Return" – this town balloons in size during the annual steelhead run.
What to Do:
Fly Fishing the Salmon River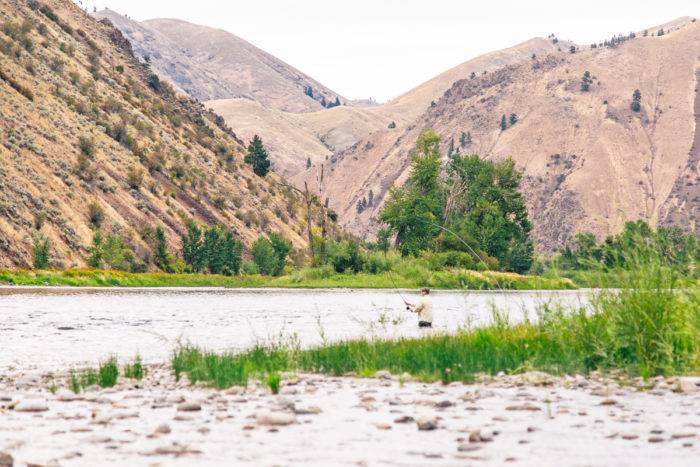 Idaho has some of the best fly fishing in the entire country and has serious anglers planning their vacations to Salmon during peak times of the year. Whether you're a seasoned fisherman or just looking to get into the sport, stop by The Flybox – the only full service fly fishing shop in the area. (Note: Try to speak with the owner Steve. He's a very humble, down to earth guy and an absolute wealth of knowledge.)
Goldbug Hot Springs – Widely considered to be one of the most "epic" hot springs in the entire country, Goldbug has a combination of attributes that make it a truly incredible experience. Its remote location and steep two miles hike tends to deter some but its terraced pools offer both seclusion and stunning views while the water is crystal clear. The bottom is stony gravel and there's a hot water waterfall. It pretty much doesn't get any better than that.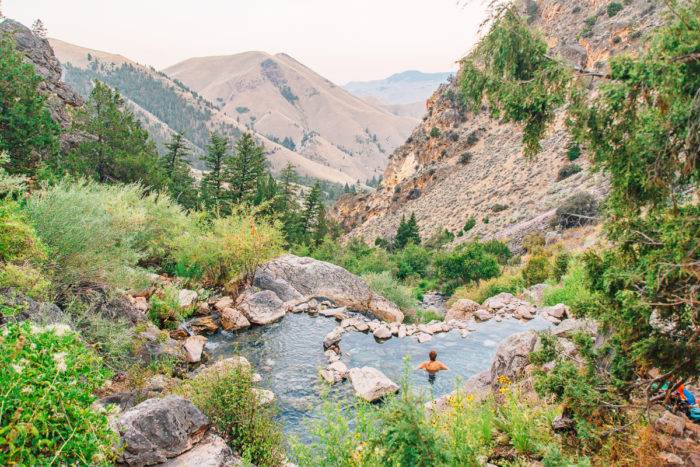 Where to stay:
Stagecoach Inn – A classic roadside motel right in downtown Salmon. Enjoy views of the Salmon River that runs directly behind the property or take a short walk into town.
Where to Eat:
Rise and Shine Espresso – Small funky coffee shop with an eclectic breakfast & lunch menu. Eat in or stop by their drive-thru window for an order to go.
Oddfellows Bakery – A must stop destination for anyone visiting Salmon. Great coffee, nice atmosphere, and out of this world bread!
Junkyard Bistro – A funky small town bistro and bar with a surprising amount of vegetarian and gluten free options.
All photos, including feature image, are credited to Fresh Off the Grid.
Fresh Off the Grid is an outdoor travel blog and camp cooking resource written by Michael van Vliet & Megan McDuffie, where they share stories of their adventures and the food that fuels them.

Published on September 22, 2016