Rolling Van Creative worked in partnership with Visit Idaho to create this Travel Tip.
You've seen photographs of captivating hot springs, mountain ranges, and sand dunes across various platforms. An educated guess would have you assume these destinations are in Oregon..or maybe even Colorado. Nope. The location – Idaho. Really? Quit the second-guessing. Idaho is a hidden paradise and makes for a pretty thrilling American road trip. It's time to pack your bags and follow this guide for an adventurous 168 hours in Idaho.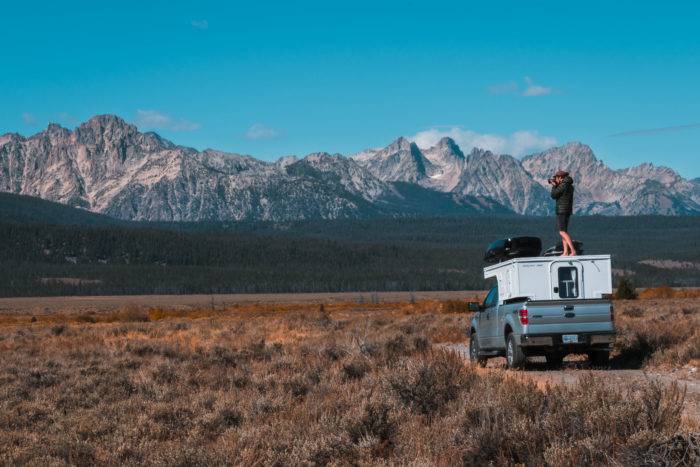 Day 1: Boise
Let's start in Boise, Idaho. If you're flying, this will likely be the most convenient destination to fly into. Driving? A great starting point nonetheless. Idaho's capital has been named by Forbes as one of the fastest-growing cities. Boise is an adventure basecamp filled with hip coffee shops, buzzing breweries, distilleries and creative spaces. Since we recommend going the camper van/camping route, now is your chance to splurge on lodging. We stayed at The Modern Hotel & Bar (an old motel converted into a chic boutique inn). The Modern Hotel & Bar provides guests with free bike rentals (great for touring the city), free breakfast and has a hopping happy hour at the in-house bar (even recommended by the locals). Following breakfast, it's the perfect time to explore Boise by bike. Cruise along the 25-mile Greenbelt following the Boise River, visit Form & Function for coffee to fight off that jet lag, stop at Barbarian Brewery for some mighty fine brews, and Tin Roof Tacos for a budget-friendly, delicious meal. Day 2 is a big day. You be the judge to call it early or not.
Day 2: Blue Heart Springs and Bruneau Dunes State Park
Day 2 is a dose of driving mixed with plenty of adventure. Drive about an hour to Bruneau Dunes State Park (home to the tallest single structured sand dune in North America). Spend time wandering the sandy peaks or even rent some sandboards and go sandboarding..because, why not? Sunset is epic here. Either decide to keep the wheels moving to Blue Heart Springs, or spend the night at the Bruneau Sand Dunes campground. Ready to take a dip at Blue Heart Springs? You'll need to drive about an hour to Banbury Hot Springs. You can rent kayaks here for the paddle or launch your own kayak/canoe from the dock. We recommend packing a lunch for the trip, as you'll want to spend some time admiring those Caribbean blue waters. Once you reach the springs, the colour (spelling: we're Canadian!) of the water is hypnotizing. You may easily think you're in Mexico. The total paddle time to Blue Heart Springs give or take is around two hours.
Day 3: Sun Valley
It's time to head north for "North America's First Destination Ski Resort", Sun Valley (approximately a two-hour drive from Blue Heart Springs in Hagermen). If that doesn't pull you in, let's try this: Ernest Hemingway was enamored with the beauty of Sun Valley and established a permanent residence here before he passed. Are you sold yet? This can be your rest day. Explore the shops of the charming downtown, soak in the nearby Frenchman's Bend Hot Springs, and grab burgers and schooners at the local watering hole, Grumpy's.
Day 4: Stanley
Wake up early. It's time to experience the striking Sawtooth Mountain Range. We recommend fasting a little until you arrive in Stanley (approximately an hour from the Sun Valley area). Upon arrival, immediately find the legendary Stanley Baking Company (try the Migas breakfast and take some of their pastries to go!). This local joint is always bustling, with good reason. Next stop: The Visitor's Center for a resourceful place to find exactly what adventures Stanley offers. Mountain Biking? It's here. A paddle on a beautiful lake? That too. Some easy-going trails? Absolutely. We recommend relaxing in town before you head on to Day 5's overnight hike into the backcountry. Explore the quirky town of Stanley and drive to Redfish Lake or Stanley Lake (also an option to camp here) at sunset for some breathtaking views. Rest up, you're hiking tomorrow!
Day 5: Overnight Hike to Saddleback Lakes
It's time for a beautiful morning drive (start early!) to Redfish Lake. From the lodge, you'll ride on a shuttle boat to the end of Redfish Lake to commence the Saddleback Lakes trail. You do have an option to avoid the shuttle fees, but it's an added 5-mile hike to an already moderate/strenuous hike. We'll admit, the trail is not the easiest to identify (not an official Forest Service Trail), so read up on some details prior to your departure. Saddleback Lakes is a short, but steep trail that leads you to the base of Elephant's Perch (a world-class rock climbing destination). Once you reach the lake, we recommend venturing a little further for the most picturesque camping spots. Pack a swimsuit. We dare you to take a plunge in the frigid waters. Remember to pack out what you brought in!
Day 6: Pine Flats Hot Springs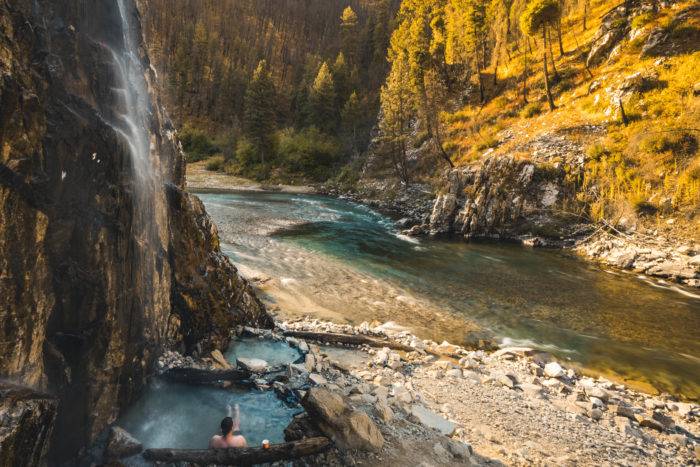 Alright, we figured we may have tired you out from your overnight hike. We've got you set with the perfect campground and hot spring combo to soothe those sore muscles. From Stanley, Pine Flats Campground is about a 1 hour, 10 minute drive. Pitch your tent or set up your camper in the campground and enjoy the series of hot springs along the nearby rushing Payette River. There are many places to soak with varying temperatures. Did we mention a couple of the hot pools have waterfalls pouring into them'?
Day 7: Back in Boise
It's time for your drive back to Boise to catch your flight back home or continue on to other exciting Idaho adventures.
We'll tell you now: it'll be difficult to leave Idaho behind. The plus side: you've equipped yourself with the most epic travel tales and a hunger to explore more of this underrated state. We're sure you'll already be looking forward to your next visit.
Matt and Aaron are a duo of professional videographers and photographers seeking to push the boundaries of visual storytelling. These Canadians have been working remotely and traveling North America for the past two years in their camper van. Check out some of their work: @therollingvan.
Feature Image Credited to Rolling Van Creative.

Published on August 1, 2019