Finding a way to safely travel in the wintertime is no easy task. In Idaho, you'll find more than enough bucket-list-worthy activities to last all winter, allowing you to explore both rural and urban areas without sacrificing safety.
Here's an easy guide to the places you can seek out for a few outdoor-friendly winter activities.
Boise
Starting in Boise, there are many activities that set this capital city apart from any other. For one, the artwork around Boise is a great way to admire the artistry of the city in the great outdoors.
See the City's Murals
No visit to Boise is complete without taking a tour of the murals that decorate the city. If you decide to check out all the cool art Boise has to offer, Freak Alley is a must-see while on your walking tour. The alley is one of the largest outdoor galleries in the Northwest and is a collection of work from hundreds of artists. You could spend hours combing over every detail of the murals here, which are replaced every couple of years.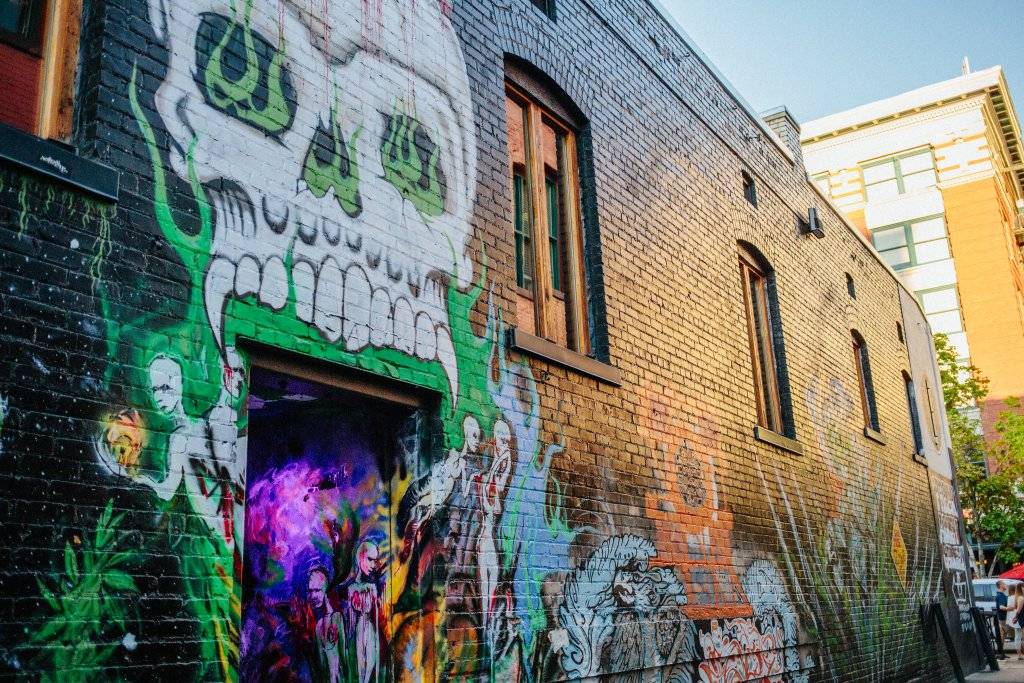 Explore Bogus Basin
You don't have to go far outside of Boise's city center to find the Bogus Basin ski area. Just 45-minutes from downtown Boise, Bogus Basin features 1,800 vertical feet of skiing, night skiing, and 80+ runs that range from easy to expert difficulty. There are also snowshoe-only trails if you're looking for something slower-paced.
Stanley
After seeing what Boise has to offer, head 130 miles northeast and you'll get to Stanley. This mountain town has some of the most pristine wilderness the state has to offer. While the summertime is full of people fly fishing, kayaking, hiking, and camping, there are just as many fun adventures to be had while snow is on the ground.
Snowmobiling
The town is nestled against the Sawtooth Mountains and the remoteness of the town makes it a popular snowmobile destination. To learn more, click here for a map of the trails in Stanley and the surrounding area.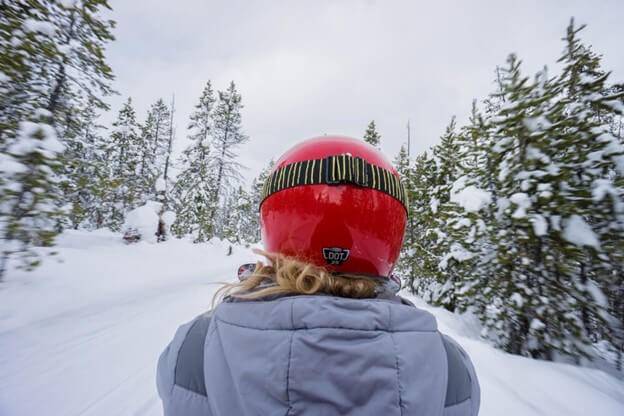 Here are a few of the popular spots to check out if you decide to visit:
Kelly Creek Loop: This trail is along Kelly Creek, which is about 10 miles north of Stanley's center. During the summertime, Kelly Creek is a fly fishing and hiking destination. But when it snows, trails around the creek become perfect for snowmobile activity—especially if you want a speedy excursion!
Smiley Creek: Head about 30 miles south of Stanley and you can plow through the groomed trails at Smiley Creek. Smiley Creek is among the most traveled destinations for snowmobilers, so come here if you're looking for a machine or a guide. One of the most well-known routes travels from Smiley Creek to Stanley, offering an overall view of the region.
Redfish Lake: Redfish Lake is a snowmobile area in between Kelly Creek and Smiley Creek, as it's around 10 miles south of Stanley. The groomed trails here offer amazing views of the Sawtooth mountains and give you access to more remote parts.
Soak
Hot springs aren't just found in Stanley (there are over 100+ hot springs spread throughout the state), but the ones here have some unbeatable views. Learn more about Idaho's ideal soaking spots with this Perfect Idaho Hot Springs Itinerary.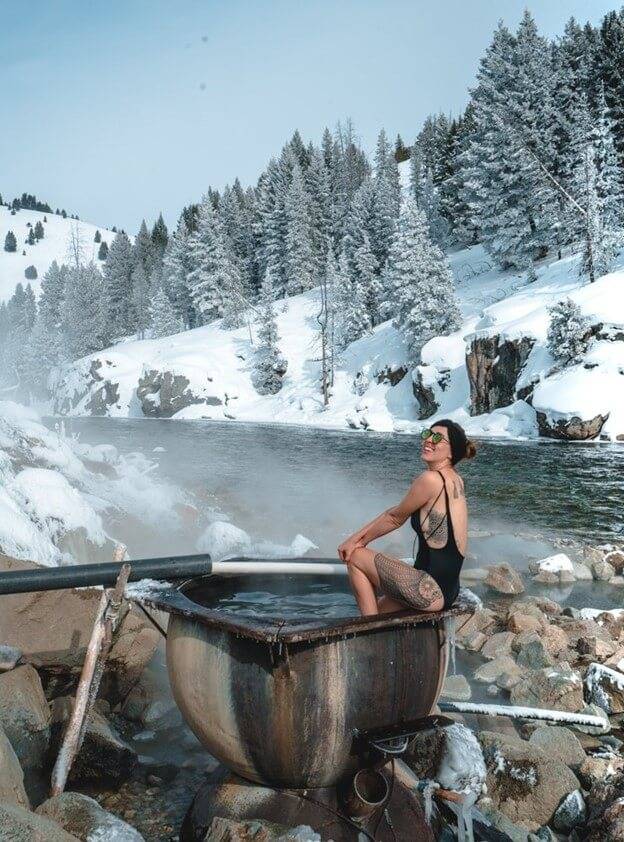 Fat Tire Biking
After a soak in the hot springs, nothing wakes you up like an adrenaline-pumping ride on a fat tire bike. If you're unfamiliar with the activity, fat tire biking is basically what the name implies: you ride special bikes (with tires that are usually at least four inches wide), which allow you to travel over snow-packed trails. There are fat bike trails all throughout Stanley, but there are trails also beyond the area––like in Sun Valley!
Sun Valley
Drive about 60 miles southeast of Stanley and you'll get to Sun Valley. As a resort town in the center of the state, Sun Valley is famous for its mountainous terrain and beautiful surrounding landscapes. This makes it a vacation destination all year long.
Skiing
You can't think of skiing in Idaho without thinking of Sun Valley. There are two mountains for skiers to enjoy here. Bald Mountain, which is Sun Valley's main ski area, stands at an elevation of more than 9,000 feet. Because of the mountain's high summit and intense vertical drop, this mountain is for the more experienced skier.
Meanwhile, Dollar Mountain is the perfect destination for beginning skiers. This mountain was the first of the two to open as a ski destination and consists of gradual slopes and easier runs.
Snowshoeing at Galena Lodge
If you want to spend your time roaming Idaho's winter wonderland, snowshoeing is an easy way to enjoy the day. Gear up with your own supplies, or rent a set from Galena Lodge. Click here for a map of the snowshoe trails around Galena. Learn more about the experience here.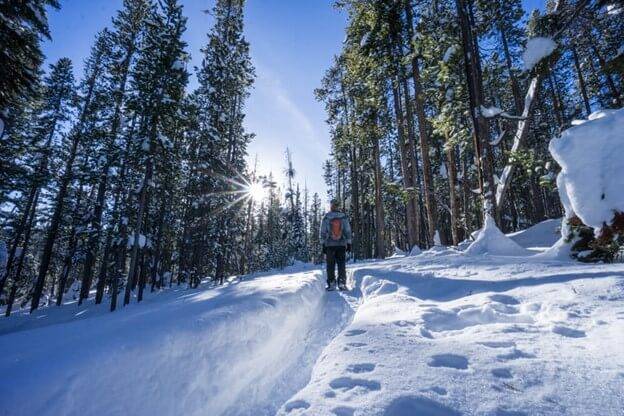 Craters of the Moon National Monument
For a look at one of Idaho's more unique landscapes, head 70 miles southeast of Sun Valley to the Craters of the Moon National Monument and Preserve. Here you can see the remnants of volcanic activity spread over a thousand square miles. As such, the preserve's stretch makes it an ideal place to roam without worries of breaking social distancing guidelines.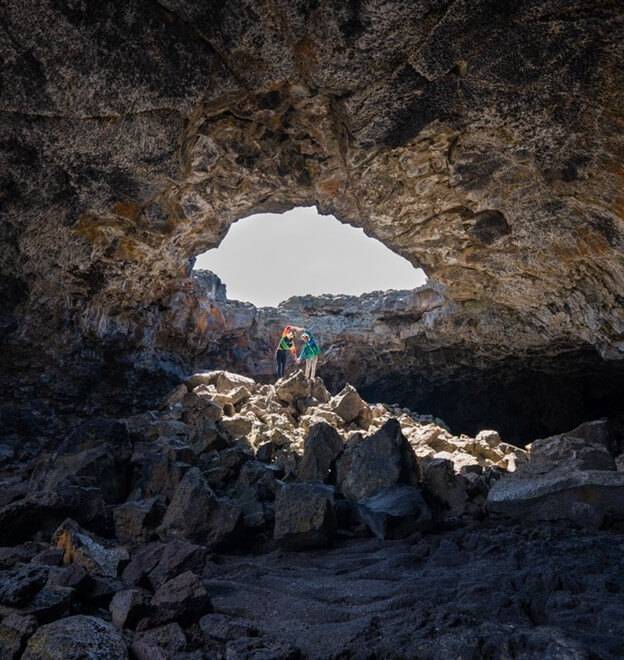 As you can see, there are plenty of fun ways to explore Idaho in a safe manner. As long as you take proper precautions, the state is full of adventure opportunities. So if you're looking for a fun road trip or your next winter getaway, don't count out Idaho!
What winter activity do you want to try in Idaho?
Feature image credited to Kristin Addis.
Kristin Addis is a solo female travel expert behind the top women's travel blog, bemytravelmuse.com with over 5 million annual readers. Kristin has solo traveled the world for over 8 years, covering every continent (except for Antarctica, but it's on her list). There's almost nothing she won't try and almost nowhere she won't explore. You can find more of her musings on YouTube or on Instagram.

Published on March 11, 2021