Y Travel worked in partnership with Visit Idaho to create this Travel Tip.
Trip Details: Salmon River Scenic Byway​​​​​​​
• LOCATION: From the Montana state line south on U.S. 93 to Challis and then west to Stanley on Idaho 75.
• STOPS: Boise -> Stanley -> Salmon -> Sun Valley -> Boise
• DISTANCE: 161.7 miles.
• TIME RECOMMENDED: At least one week
• BEST TIME TO VISIT: April to November
Steaming natural hot springs beside the rushing river, craggy mountain peaks, sparkling glacial lakes, and endless starry skies are just part of the reason to make this road trip.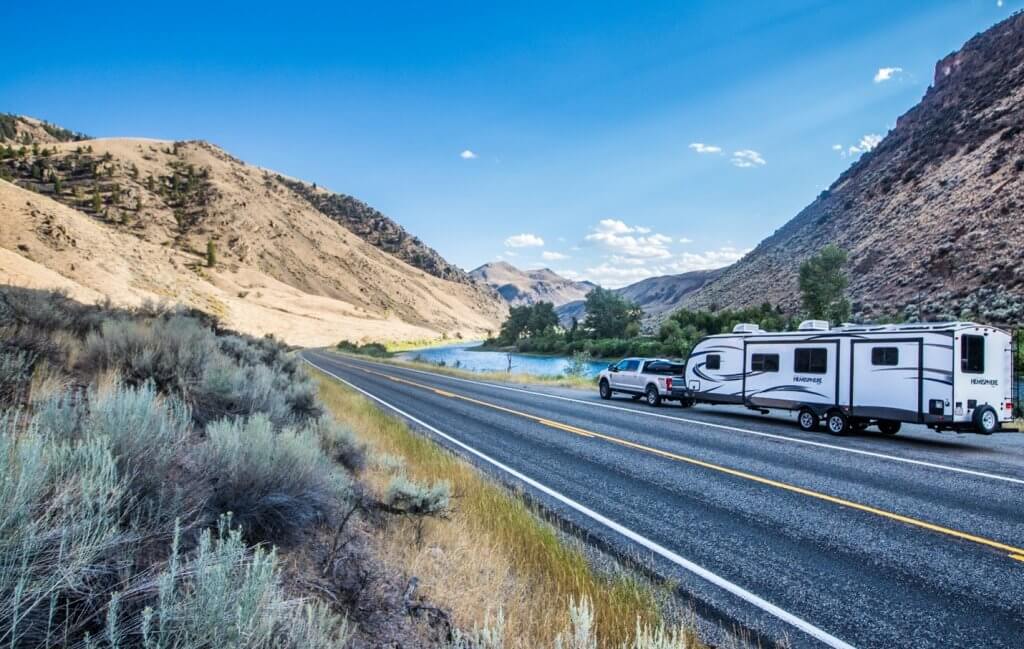 It's your dream outdoor adventure experience on one 167-mile stretch of road in a wilderness region defined by an endless list of superlatives.
Running through Central Idaho, the Salmon River Scenic Byway follows a section of the 425-mile Salmon River, protected by Congress as one of America's first Wild and Scenic Rivers.
You're surrounded by spectacular views at every turn and have endless opportunities for hiking, biking, river activities, wildlife viewing, and exploring the ghost towns of the Land of the Yankee Fork Historic Area.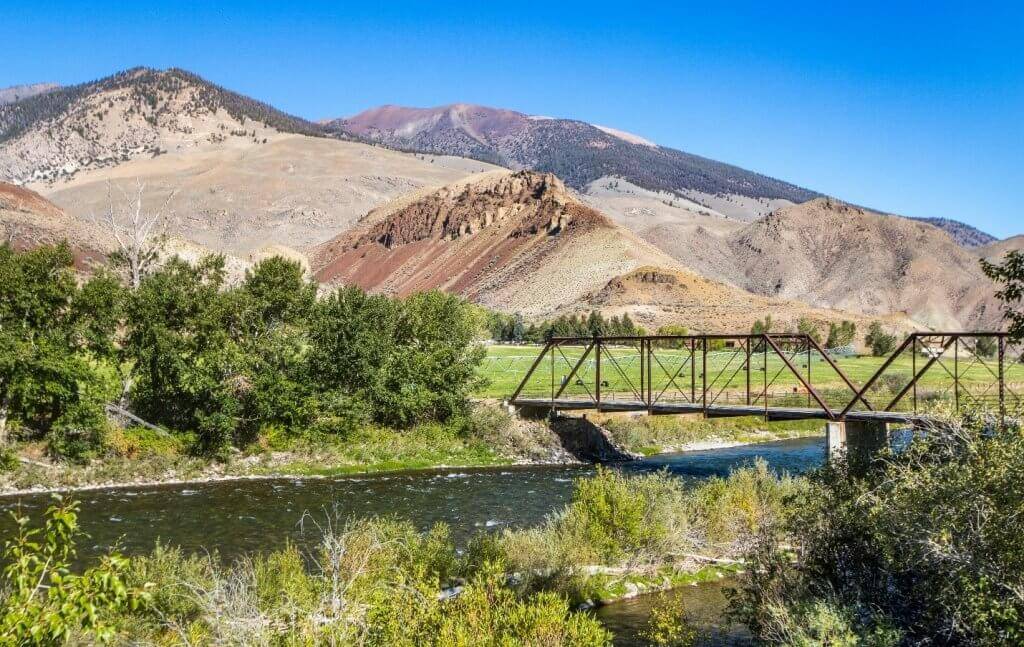 It's the perfect region to explore on a road trip, especially with kids, and at times you'll feel you have this pristine wilderness all to yourself. The Salmon River Scenic Byway is one of three designated National Scenic Byways that lead into Stanley (The only place in the U.S. where this happens).
Here are our highlights on what is one of our favorite scenic road trips in the USA.
Sacajawea Interpretive, Cultural & Educational Center, Salmon​​​​​​​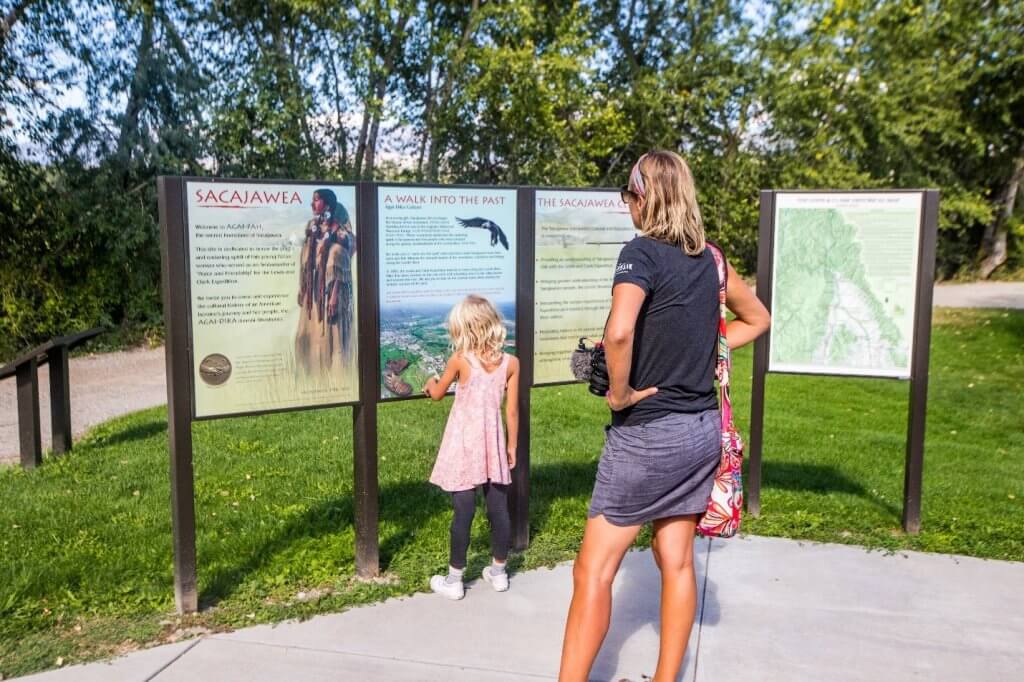 Located two miles east of Salmon is the Sacajawea Interpretive, Cultural and Educational Center, which tells the story about the cultural and natural history of the Salmon and Lemhi River country and the legendary Sacajawea, who was Lewis and Clark's guide. Her role was vital to much of their success during their historic expedition in the early 1800s. The interpretative center gives you an educational insight into Sacajawea's life and her integral contribution to the success of the Lewis And Clark Corps of Discovery expedition, which passed through the area, the land of her birth. It also offers the perspective of her people, the Agaidika Shoshone-Bannock tribes.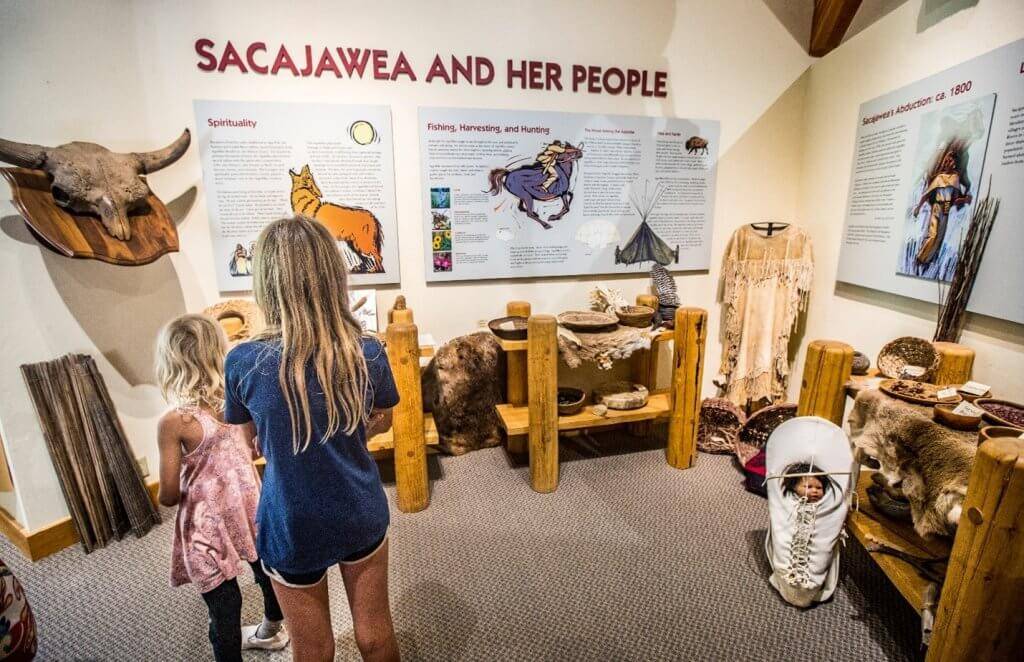 I thoroughly enjoyed learning about Sacajawea's importance and strength; before visiting I knew of her by name only. The center is on a beautiful 71-acre park. Its scenic trails have interpretive signs and artifacts and take you on a short walk along the river. We saw a bobcat – a first for us!
Goldbug Hot Springs
This is the off-the-beaten-path adventure you've been dreaming of. All the best memories start with a 2-mile hike up 1,359ft. Take your time and appreciate the views. Soon enough you'll be soaking those aching muscles in a natural hot spring that's fed by a creek and spills down into waterfalls below. You'll have exquisite Idaho mountain views from your cliffside perch.
Goldbug Hot Springs is located near Elk Bend about-30 miles south of Salmon. The turnoff is near mile marker 282 on Highway 93. You can camp in this area, however, you must be at least 500-feet from the hot springs. Imagine the bliss of soaking in hot water on a brisk night under a blanket sky of a billion stars. Please remember to practice Leave No Trace Principles to keep this and many other wild places special and accessible.
Whitewater Raft the Salmon River
Adventure lovers take note, Salmon River is for you.
​​​​​​​The ​​​​​​​Salmon River offers a diverse selection of whitewater experiences as it weaves through 425 miles of Central Idaho. You'll find iconic multi-day trips, like the Middle Fork of Salmon, which National Geographic ranks as one of the top three whitewater river trips in the world, and easier half-or-full day trips based out of Stanley that feature rowdy rapids and scenic views. A trip on the Salmon is on our Idaho Bucket List for our next trip.
Land of the Yankee Fork State Park
Located near Challis along the Salmon River Scenic Byway, the Land of Yankee Fork State Park tells the fascinating story of Idaho's rich mining history. A scenic 98-mile loop drive will take you to the various attractions and historic sites.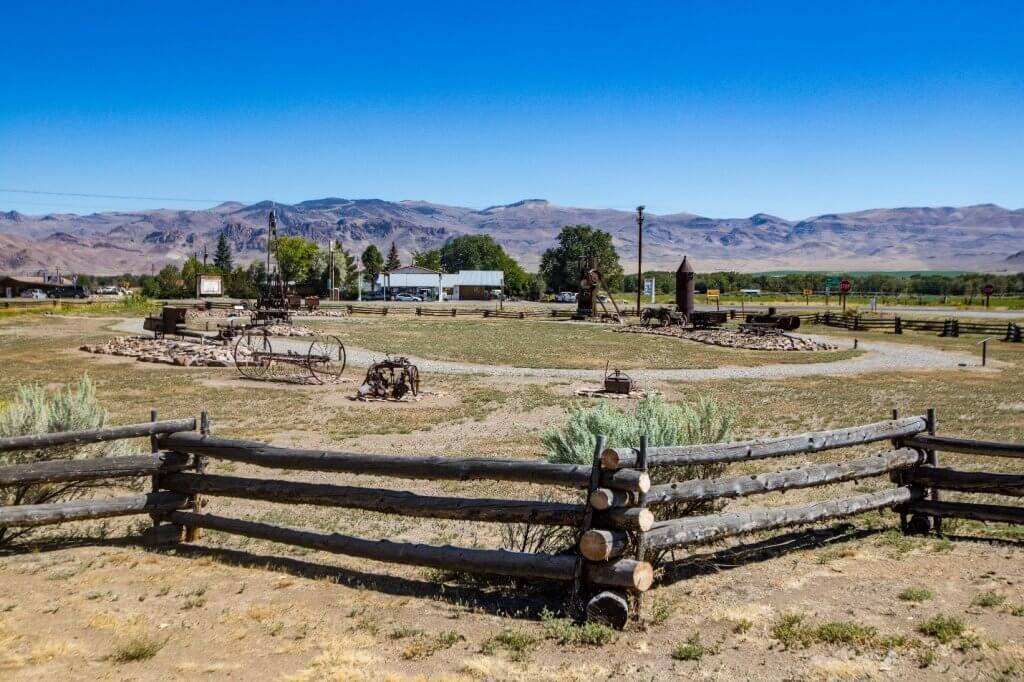 Begin exploring at the visitor center, where you can watch an informative video of the mining history and the now, ghost towns. The interpretive museum showcases artifacts from the time and has an engaging scavenger hunt for the kids. Then it's time to explore the unique Central Idaho landscape and the ghost towns.
The once-thriving ghost towns of Bonanza, Bayhorse, and Custer, were established to support the surrounding mines from 1877 to 1911. Bonanza was destroyed by fire in the 1890s and a few buildings can still be seen. Bayhorse is well preserved with stone buildings and a large stamp mill. A short self-guided tour will tell you more about life in this silver town.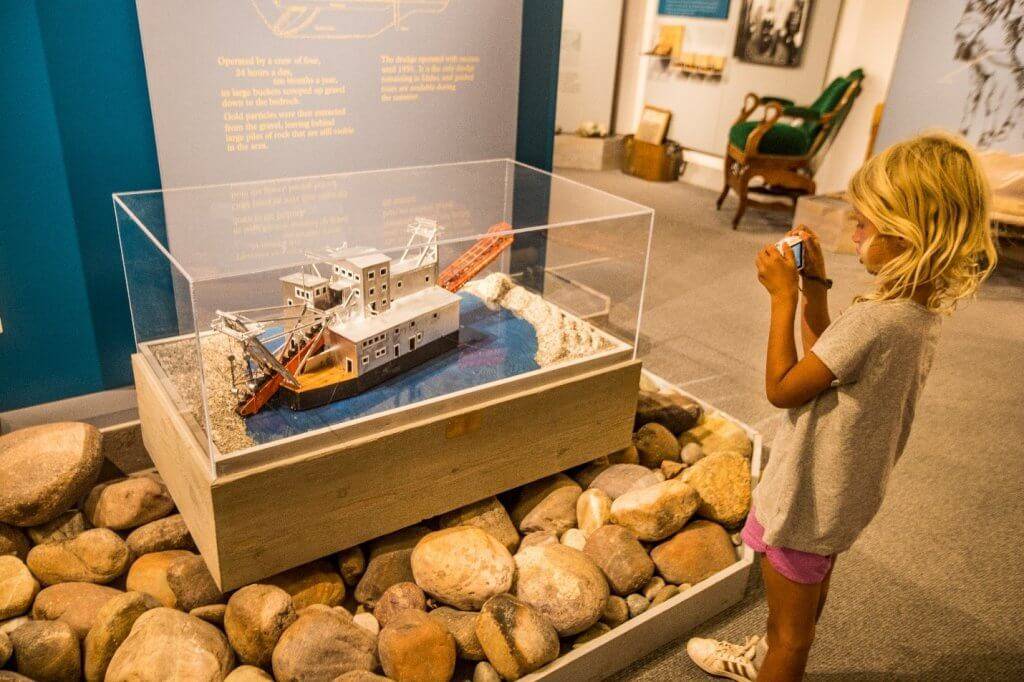 Self-guided walking tours in Custer tell the story of Idaho's mining history along its mile-long Main Street. Stop at the Empire Saloon for a scoop of handmade ice cream. You can also take a tour of the Yankee Fork Gold Dredge, the largest dredge in Idaho used to help take the gold out of the Yankee River. In this Idaho state park, you will also find hiking, mountain biking, and ATVing trails.
Salmon River Hot Springs
Idaho has a fault line running under it and is a land that, in part, has been created by volcanoes. This means it's a state rich with hot springs, and you'll find many beside the Salmon River right off the byway. Many are located between Challis and Stanley. Look for a small pool bordered by river rocks and the steam rising from the side of the rushing cold river. Many will be absent of people!
Here are two to consider:
Sunbeam Hot Springs: These popular thermal hot springs sit on the bank of the Salmon River below the highway where a thermal spring cascades from the hillside to the river. Look for the steam. There was a wide range of temperatures here from too hot to get in, to just right, to a little too much chilly river water wafting in! If you go to the north of the change rooms, you'll find a small pool there that is not as busy as the others.
Boat Box: Popular on Instagram feeds, Boat Box is a unique spring that flows into what looks like a witch's cauldron. There is only room for a couple of people (and a couple of cars at the pullout).
Stanley
Picturesque Stanley, nestled in the crook of the Salmon River with the backdrop of the striking Sawtooth Mountains, is one of the most scenic small towns in the USA.
It's a fantastic base to explore the Sawtooth National Recreation Area, with its 756,000 acres of mountainous scenery, 40 peaks rising over 10,000 feet, 300 high-mountain lakes, and 700 miles of trails.
Fun Fact: Stanley often sees some of the coldest temperatures in the Continental USA. Wow. I'll see you in the summer!
Redfish Lake
Redfish Lake skyrocketed to the top of my best lakes in the U.S. list at first glance. Its sparkling clear glacial waters framed by the dramatic jagged Sawtooth mountain range and surrounded by pine tree forested banks will leave you in awe.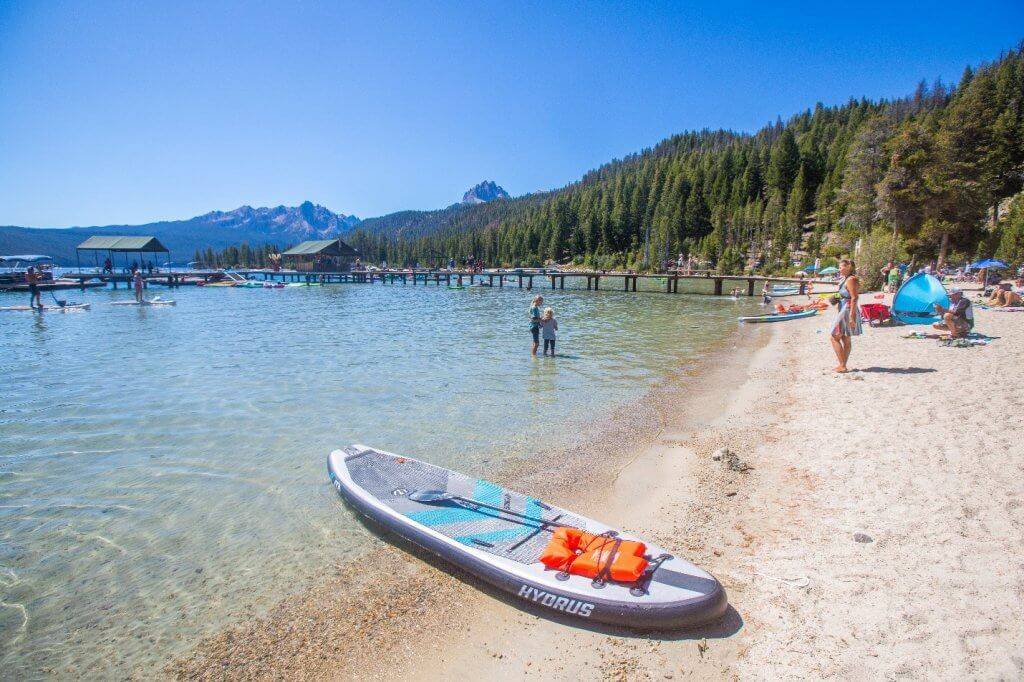 Located just outside of Stanley at an elevation of 6,500-feet this lake is comprised almost entirely of snowmelt. You would think this would make it too chilly for swimming, but when we visited, it was like we were at a tropical Caribbean island destination.
Take your pick of things to do at Redfish: relax on the white sandy shores, swim, hike, paddleboard, and eat and drink at Redfish Lodge, which has an outdoor burger bar with killer views.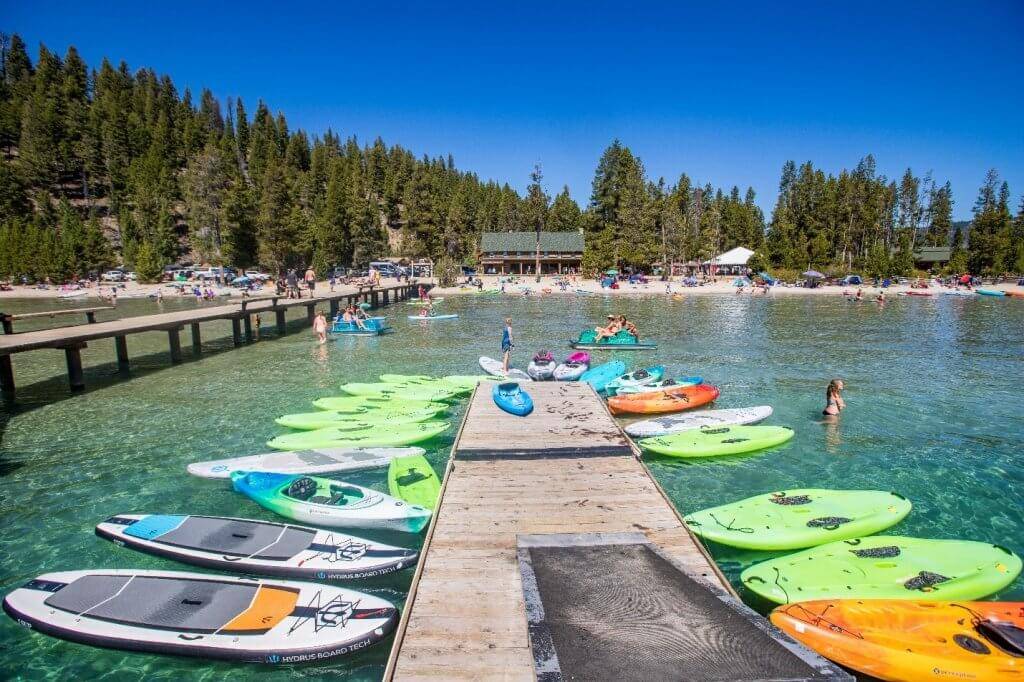 Adventure lovers will embrace the 17.5-mile loop trail around the lake, or for those who just want a taste, you can hike five miles down to the other end of Redfish Lake (which is not accessible by car) and then catch the shuttle boat back.
Want to appreciate the beauty of the lake without the adventure? Take a guided cruise arranged by Redfish Lake Lodge. Kick back and enjoy the views as you learn about the unique geography of the lake and the return of the Sockeye Salmon, from which the lake gets its name.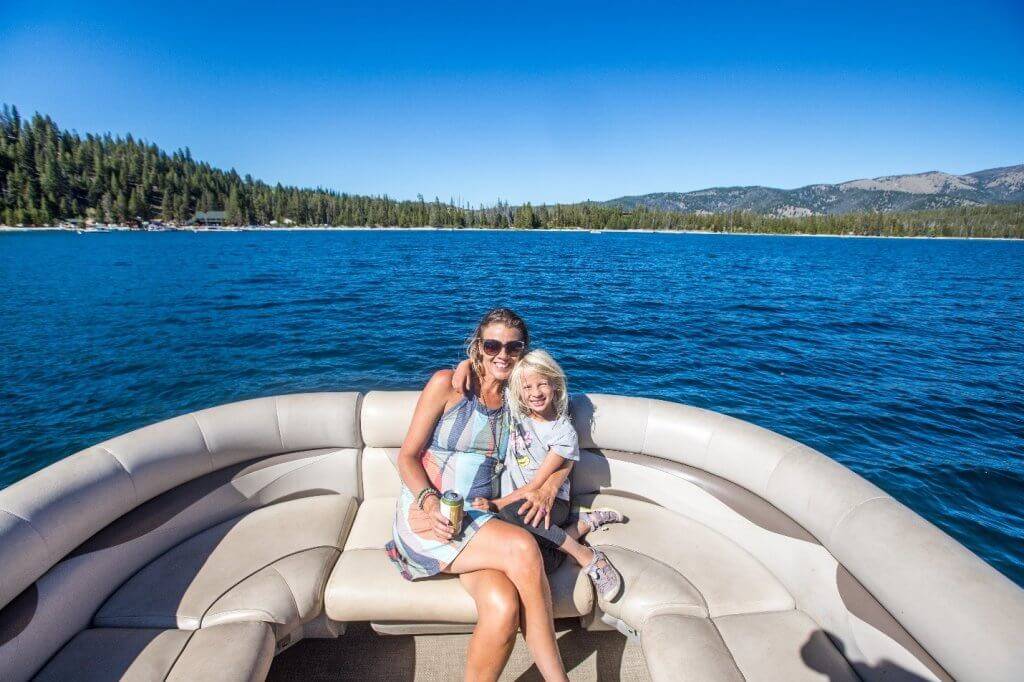 Top Tip: Reserve a seat on the sunset wine and appetizer cruise. What a way to end a spectacular Salmon River Scenic Byway day!
Horseback Ride in the Sawtooths
The Stanley region is certainly making strides in the land of superlatives. A horseback ride through the Sawtooth wilderness has been one the most beautiful experiences we've had so far – anywhere around the world.
We rode through Ponderosa forests beside sparkling lakes, gaining 200-feet in elevation we emerged from the forest to striking views of the jagged Sawtooth range. The expansive view opened to include the sparkling Redfish and Little Redfish lakes. It was all kinds of WOW!
Redfish Lake Corrals, operated by Mystic Saddle Ranch, has been offering family-friendly guided horseback rides through the breathtaking Sawtooth Wilderness since 1969. Horseback trail rides range from one-hour to all-day rides and start at around $52 per person.
Snake Pit Hot Spring
Snake Pit Hot Spring, right on the edge of Stanley, was the most ridiculously beautiful hot spring we encountered on the Salmon River Scenic Byway. And we had it all to ourselves.​​​​​​​
It has spectacular views of the valley and the Sawtooth Mountain range. A herd of deer even sauntered on past us! Idaho, you are something special.
Where to Stay along the Salmon River Scenic Byway
This really depends on your length of time for this road trip, where you are driving in from, and what you plan to see and do along the way.
You could base yourself in Salmon for two to three nights to experience the nearby attractions and then spend the remainder of your time in and around Stanley.
Alternatively, if you want a secluded and quiet camping experience, you may want to check out the May Family Ranch B&B located in Challis. It's located 86 miles south of Salmon and 30 miles from Stanley, so provides easy access to both regions and it's where we stayed for a portion of our trip. You will love the warm hospitality, serenity, and pristine views.
Now it's time for you to enjoy a road trip of your own. What stops will you visit?
Feature image credited to Y Travel Blog. ​​​​​​​
Caroline Makepeace has been living and traveling around the world since 1997. She co-founded the award-winning family travel blog, ytravelblog.com with her husband in 2010 to help people travel more and create better memories. For the past 7 years, they have been traveling full time with their two daughters. They were recently granted a Green Card for their extraordinary ability in the art of travel blogging. Their current adventures are focused on U.S. travel, with Europe next on the horizon. You can follow them on Instagram and YouTube.

Published on May 25, 2021