Come for the sheep, stay for the trails in Sun Valley.
I was in Sun Valley in early October to experience the Trailing of the Sheep Festival. This family-friendly festival focused on food, fiber, culture, and sheep ranching history with the entertaining bonus of watching hundreds of woolies parade through Hailey's downtown on their way to winter pastures. It's definitely a sight to see.
Sun Valley is beautiful in the fall, but the stunning landscape reveals a wide variety of outdoor recreation opportunities year-round. The Ride Sun Valley Bike Festival is a must. This four-day bike extravaganza held in late June features free guided rides, bike demos and races, bike prom, live music, and a head-to-head elimination race where bikers tow flaming logs as fast as possible until a victor is crowned.
Ride Sun Valley is also the second stop of the Scott Enduro Cup, a mountain bike race series that challengers riders on the area's best single-track, downhill trails.
In honor of these events, we've found the best trails for hikers, bikers, and campers in Sun Valley inspired by the sheep's seasonal trek up.
Camping
Wood River Campground, part of the Sawtooth National Forest, is composed of 30 campsites in a densely wooded area near the Big Wood River with self-guided nature trails nearby. Fishing is allowed in the Big Wood River. Visit recreation.gov for more info.
Boundary Campground is located along Trail Creek with nine campsites, nestled in a canopy of cottonwood and aspen trees with beautiful views of Bald Mountain Ski area to the west. Amenities include hand-pump drinking water, two vault toilets, a fire ring, grill stand, and picnic tables at each site. Reservations are not required and camping fees may be made at the payment box on site. Visit fs.usda.gov for more information.
Galena Lodge, located 23 miles northeast of Ketchum on Highway 75, offers yurts for rental during the summer (and winter) months, if you don't want to tent camp. The yurts are rustic adaptations of ancient shelters that resemble tee-pee structures (no electricity, no laptops, no cell phones) and are situated on the ridge above the lodge, easily accessible by a short hike from the building. The Senate View Yurt is located closest to the lodge and sleeps eight people; the Honeymoon Yurt, located farthest from the lodge and situated in a dense forest of trees, sleeps four people on two double futons. The yurts must be reserved in advance. Contact Galena Lodge at 208-726-4010 or at info@galenalodge.com.
Multi-use Trails for Hiking, Biking, Running
A popular trail for hikers, runners, and mountain bikers is the White Clouds Loop Trail across from the Sun Valley Lodge. It's a quick, gently-graded four-mile circuit with an elevation gain of 265 feet around Sun Valley's scenic, nine-hole White Cloud Golf Course, offering up spectacular views of Bald Mountain, Griffin Butte and the skyline of downtown Ketchum below.
Most of the trail is single-track and wide with variable trail tread along the route to keep things interesting for bikers. A great starting point is Carol's Trailhead across from Trail Creek Road and Sun Valley Lodge. Sunrise Loop, a short, easy, mile-and-a-half course, can be added on to White Clouds trail for more mileage.
For a more challenging workout, check out Bald Mountain Trail, a five-mile trail with long traverses and great views of the Wood River Valley in the distance. Small aspen groves mix with mature evergreens to provide plenty of shade throughout the trail with patches of seasonal wildflowers. The trail surface is made of packed dirt and small gravel with sections of looser rock; elevation gain is 3,300 feet. Uphill bike traffic only; ride the ski lift back down to River Run Plaza on the Christmas Lift during hours of lift operation.
Mountain Bikes Only
Bald Mountain Perimeter Trail is a strenuous 20-mile, full-loop trail for experienced mountain bikers featuring an elevation gain of 2,400 feet and stunning views of surrounding Smoky and Pioneer Mountains. Start at River Run Plaza and go south on the bike path to Cold Springs Road. From there, go up Cold Springs Trail, down Warm Springs Trail, and take the bike path back to Ketchum and River Run Plaza. Not recommended for hikers or runners.
Hikers/Runners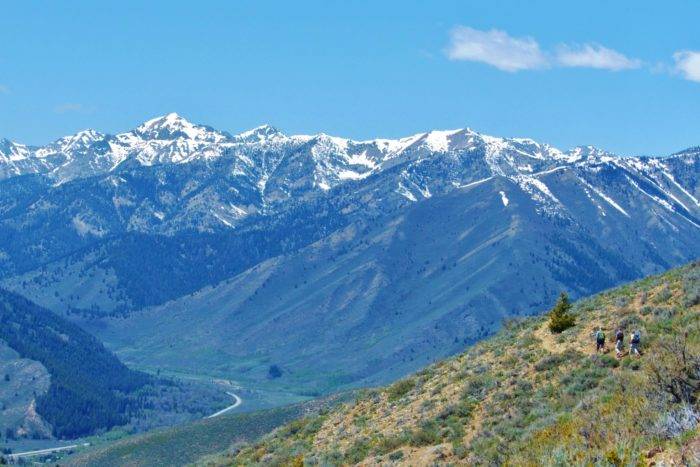 If you're looking for a moderate-to-strenuous, "Best of Sun Valley" hike, Proctor Mountain Trail is a popular five-miler with a vertical climb of 1,600 feet. The path starts off near the Hemingway Memorial and offers stunning views of Bald Mountain and the valley below, rambling through sagebrush and aspens with switchbacks throughout. Keep your eyes peeled: the trail passes by the remains of the world's first chair lift.
Gayle J. McCarthy is a freelance writer specializing in outdoor adventure travel. Her work has appeared in many print and online publications including Northwest Travel Magazine, Hipstertravelguide, and Global Writes. Follow her on twitter @gaylejmccarthy.
Ms. McCarthy enjoyed complimentary lodging and services during her visit to Idaho.
Portions of this article first appeared in SportsGuideMagazine.com on June 16, 2015.

Published on October 8, 2015