This is a sponsored post.
Idaho's rich geologic history means a big bonus for adventure seekers: an abundance of hot springs scattered throughout the state. From wild and rustic to more developed options, Idaho offers up a wealth of hot springs for those in seek of a good soak.
I was craving a trip to enjoy these soothing amenities and decided to craft a road trip to several hot springs in Idaho's mountains. To make the adventure easier, I picked up my Wandervans camper van to give me some flexibility to play in the Idaho winter for a week and a half while on the road. With a full tank of gas and a rough hot springs route in hand, I set out to explore this winter playground.
Mundo Hot Springs, Cambridge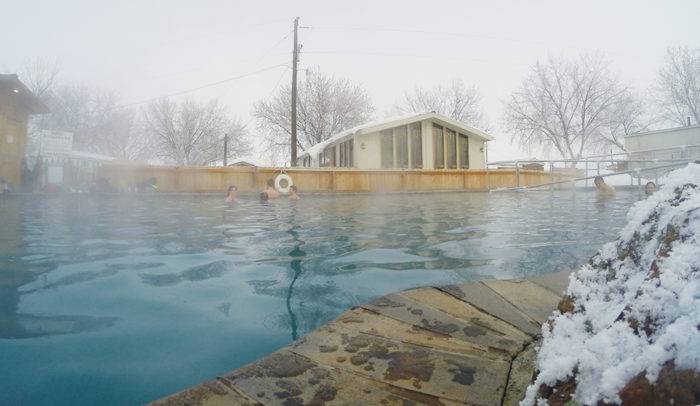 My journey began on the western edge of the state, heading up the Weiser River basin toward Hells Canyon. I arrived in the town of Cambridge and followed the road along the Weiser River to Mundo Hot Springs. This stop offered a gorgeous hot pool and warm hospitality. The pool had remarkably clear water with plenty of room to stay and play. Onsite accommodations ranged from a private guesthouse to a hostel with dorm-style beds. The adjacent bistro offered true home style cooking at a reasonable price: my $4 potato chowder provided plenty of fuel after a long, hot soak.
To Get Here:
From I-84 West, take exit 3 toward Fruitland and Payette. Follow Highway 95 until you get to the town of Cambridge. On the far side of town, you'll find the junction with Highway 71 toward Hells Canyon. Go straight through this junction to end up on Mill Road. Follow Mill Road until you cross the Weiser River and see a large sign for Mundo Hot Springs.
Trail Creek Hot Springs, 19 Miles East of Cascade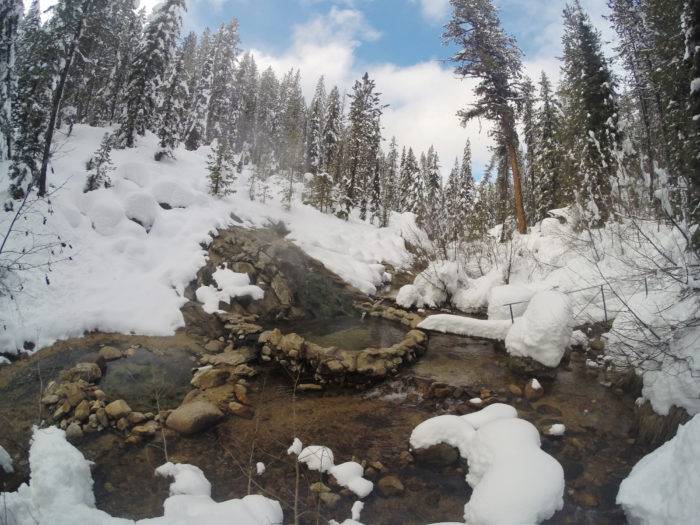 Trail Creek Hot Springs is one of those spots that takes your breath away as you watch the hot water trickle down a rocky slope into a naturally formed pool. You'll find this gem just about 10 miles off of Warm Lake Road near Cascade. Finding this spot can be a bit a tricky, but it is well worth the hunt. You might spot another vehicle at the turnout, but you might not, so you'll want to keep your eyes peeled.
To Get Here:
Turn east on Warm Lake Road just north of Cascade off Highway 55. Around 19 miles in, look for a wide pullout on a left-hand corner. If you see a sign to Yellow Pine you've gone just a bit too far; turn around and the first pullout you come to is where you'll need to stop. The steep trail heads down the embankment toward the spring adjacent to the creek.
Goldbug Hot Springs, Between Challis and Salmon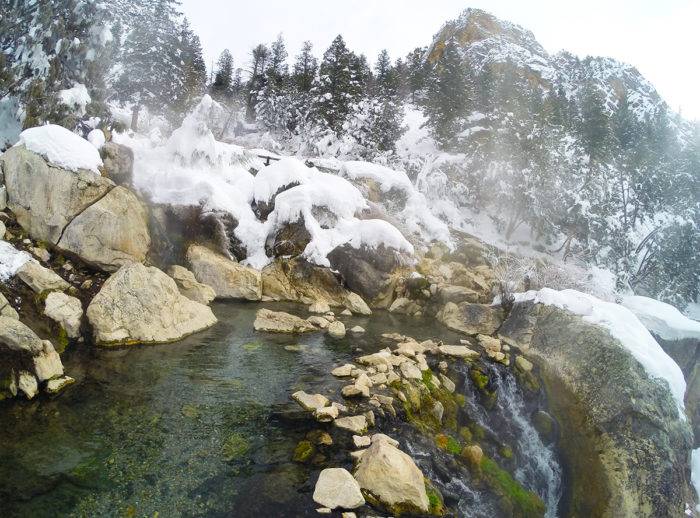 My adventure continued along Highway 21 towards the Stanley/Challis area. As a planning note, you'll find countless hot springs in this area, so it's a great place to stop and explore. In my case, I drove on in search of Goldbug Hot Springs, a legendary Idaho hot springs spot with a hike in that is nothing short of magical.
The hike begins with a steep climb for about 200 yards. If you struggle here take comfort in knowing that it is the most difficult part of the hike, so it's good to get it out of the way. However, if you find this too hard, you may want to save this trek for another time or another season. As the trail takes you into the heart of the mountain, you'll spot signs of the nearby hot spring. Before long the series of natural pools and waterfalls will come into view.
If you are someone who prefers solitude over a crowd, timing will be everything in planning a trip here. The parking lot at the trailhead to the spring will give you a good indication of how crowded the pools are, and from what I heard along the journey, I was lucky that there was nobody else there on a weekend. But even if there are several other parties, the size and variety of pools allow for plenty of room for everybody.
To Get Here:
When driving north on Highway 93, the turnoff will be just after mile marker 282 on the right-hand side. If you get to the hamlet of Elk Bend you have gone too far. The road stretches only a few hundred yards before it dead ends at a parking lot with trailhead information. The trail to the spring can take up to an hour, and plan on even longer if there is deep snow. There are sudden elevation changes along the way so if you are not comfortable hiking in steep terrain you might want to choose another destination, but if you are comfortable hiking in varied terrain you will find the ultimate reward for your efforts.
Mountain Village Resort, Stanley
After Goldbug, I doubled back towards Stanley looking for a place to rest up a bit after my adventures. By this time, I'd been in the van for nearly a week and craved a warm bed, hot shower, and cold beer. So I checked into the Mountain Village Resort at the junction of Highway 21 and 75 in Stanley. It was sheer luck that I discovered this local lodging spot also had its own private hot spring available for its guests. Finding this gem was a clear sign that I was in the right place at the right time.
The hot springs site is about a quarter-mile walk from the lodge, which in three feet of fresh snow was no easy task in boots – if you have snowshoes handy, they will be worth wearing. But I wasn't alone on this walk as a herd of elk was moseying around the property likely getting sustenance from the algae that grows on the heated rocks. The spring was protected by a log cabin with barn doors that opened up to a stunning view of the valley. With a portable speaker and a sore body, the perfect situation seemed to find me when I needed it most.
To Get Here:
Mountain Village Resort sits at the intersection of Highways 21 and 75. It consists of several buildings including the town's gas station and grocery store. The lodge is on the north side of Highway 21. Check in with one of the friendly front desk staff to make a reservation for the hot pool.
Frenchman's Bend Hot Springs, Ketchum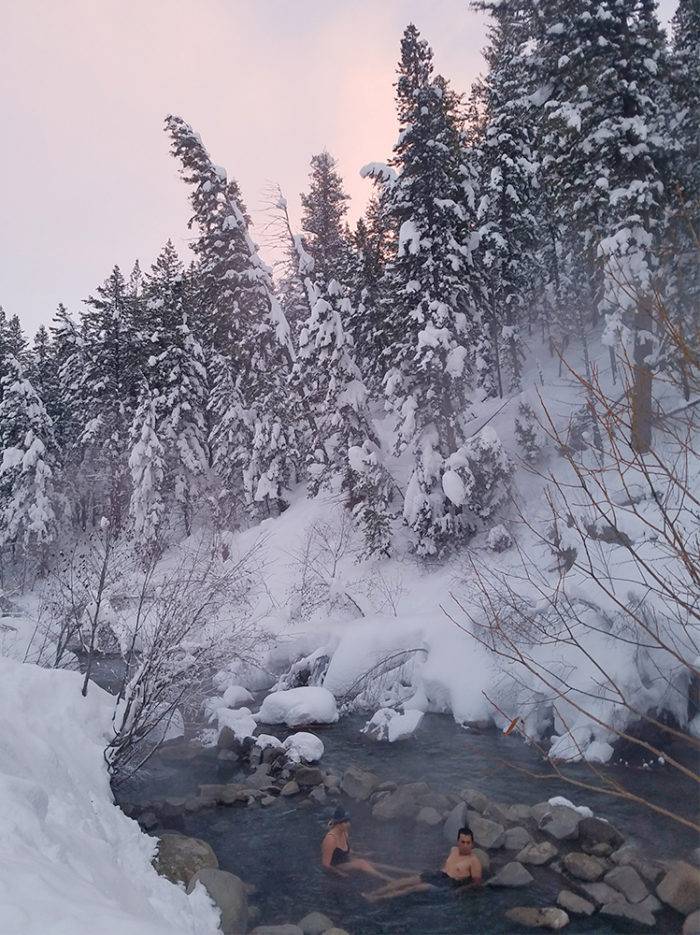 My next stop took me to the pinnacle of touristy decadence in Idaho: Sun Valley and Ketchum. Just a small jaunt out of town you can find a peaceful spring that makes you forget about all shops and restaurants just down the road.
The secret has been out on Frenchman's Bend for a while, but that doesn't mean that it's any less special. In fact, one could argue that it's even more special now that people from all around the world have added it to their bucket list. I was able to chat with people who grew up in the area, as well as people like myself who were discovering it for the first time.
To Get Here:
Frenchman's Bend is about 10 miles west of Ketchum alongside Warm Springs Road. Set your odometer and once you hit the 10-mile mark, look for an aluminum bridge. Immediately after you cross the bridge, there is a pullout for parking and you can walk a few hundred feet to the springs next to the creek.
Miracle Hot Springs, Buhl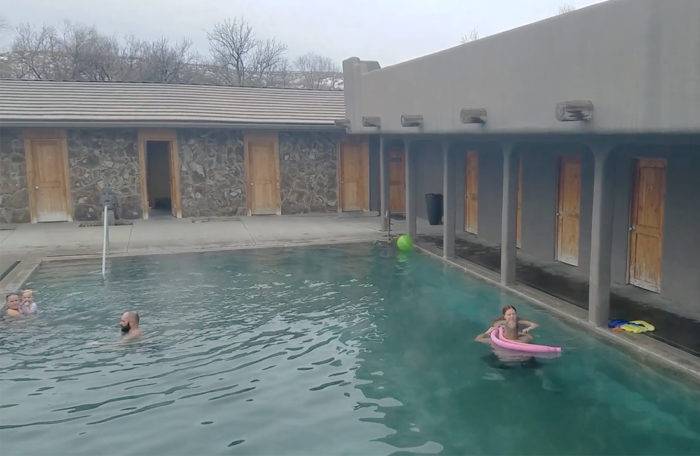 After Sun Valley, I pointed the van south toward Hagerman for my final destination along the Thousand Springs Scenic Byway. I decided to stop at Miracle Hot Springs and found a gem of a resource for a perfect winter's afternoon soak. There are several large public pools onsite, but the real treat here was the private areas. For a few extra bucks, you can book your own private soaking area that drain fills fresh for each party or nab a VIP room for added space and the ability to control the temperature. If you're looking to stay and play, there are camping and lodging domes on the property to help you zen out to the fullest.
The private soak was the final stop before returning to Boise. The journey was one of great relaxation, stimulating exploration, and just enough adventure to keep things interesting.
To Get Here:
Make your way to Hagerman off I-84. After Hagerman it's roughly 6 miles past town on the right-hand side.
All photos, including the feature image, are credited to Steven Andrews.
Steven Andrews uses multiple mediums to share stories, whether through written or spoken word, or visual imagery. Steve enjoys exploring the world while interacting with nature and exploring diverse lands. He loves Idaho for its world-class outdoor activities, friendly people, and easy-going lifestyle. You can find more of his tales at whererusteve.com or on Instagram@whererusteve.

Published on March 9, 2017