Christina McEvoy worked in partnership with Visit Idaho to create this Travel Tip.
When you see pictures of the Sawtooth Mountains in Idaho, your eye is automatically drawn to the rugged, jagged peaks and the jewel-colored alpine lakes that make up this mountain range. The Sawtooth National Forest, located in Central Idaho, is not as well known as you may think. But compared to other more notable mountain ranges nearby such as the Tetons, it is nonetheless just as stunning and dramatic. Some have even called it, "Idaho's best-kept secret" because it doesn't take much to discover an enchanting hiking trail, a quiet lake, or solace in the backcountry.
As a family who has been coming to the Sawtooths every summer for the last decade, these mountains are our own heaven on earth. We venture here to escape the crowds that often flock to other parts of the state, to recharge our batteries and to search for the serenity that can only be found in the wilderness.
There are so many backpacking routes in the Sawtooth Mountain Range that it would probably take a lifetime to complete. One route will always stand out as our favorite though–not only for its "wow" factor but because it can be done on a quick weekend getaway. It may be doable with older kids who are experienced hikers (not recommended for little kids) or for the infrequent backpacker who is intimidated by a multi-day trip. And that is Goat Lake.
Don't get us wrong, there are some incredibly scenic trails to backpack in the Sawtooths–Sawtooth Lake, Alice-Toxaway Loop, Twin Lakes or Saddleback Lake to name a few. However, Goat Lake in our opinion is in a class of its own. Not only is this lake remarkably breathtaking, but it is also an adventure just in getting there. This is due to parts of the trail being unmarked, making it less popular than the previous hikes mentioned (see directions below so you don't get lost!).
You can complete this hike in a day if you're short on time (the trail is only 8 miles round trip), but we wouldn't recommend that. This isn't an easy hike, it's rated moderate-to-hard. And trust us on this–when you first lay eyes on Goat Lake, you'll want to stay. The crystal clear, blue waters combined with sheer rock cliffs and remnants of ice caps leftover from winter, lined with lodgepole pine make this lake well worth staying a night. Hiking reminder: it is important to recognize that this trail is not well marked or clearly identified and may be best suited for experienced backcountry hikers.
Directions to Goat Lake:
Make sure to follow the below directions to Goat Lake because the trail isn't well marked the last mile or so. We ended up getting lost and taking the longer, harder route to the top of Goat Lake the first time, so to avoid that, follow these exact directions:
Park at the Iron Creek trailhead just outside Stanley, Idaho (use Google Maps to get there). This is a popular trailhead for many day/overnight hikes.
Make sure to fill out an overnight (free) permit at the trailhead.
Follow the Alpine Way trail for an easy, relatively flat 1.1 miles (this part of the trail can be busier).
The hike continues to be an easy walk along the stream, but soon after you see a sign, take a left. Your first creek crossing comes just after this sign. To cross the stream, you will need to balance on some logs. This is a good spot to filter and refill your water since you won't get another chance until you nearly reach Goat Lake.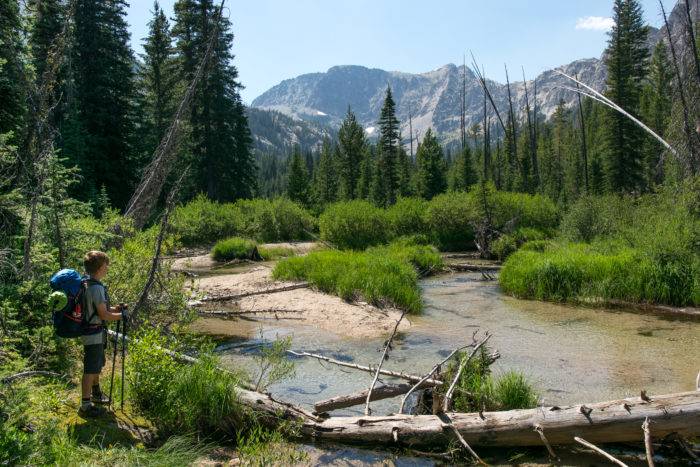 Once you cross the stream, continue over a small bridge (around 1.5 miles) and the first climb begins. There are some steep switchbacks here, but make sure to check out the views behind you overlooking the forest. After ascending the switchbacks, continue through dense forest to another junction at 2.9 miles.
At the fork, make sure to take a right. Walk through a wildflower-covered hillside until the trail nearly disappears (around 3.3 miles), directly north of Goat Falls. For the best view of the falls, descend about 100 feet on a small footpath.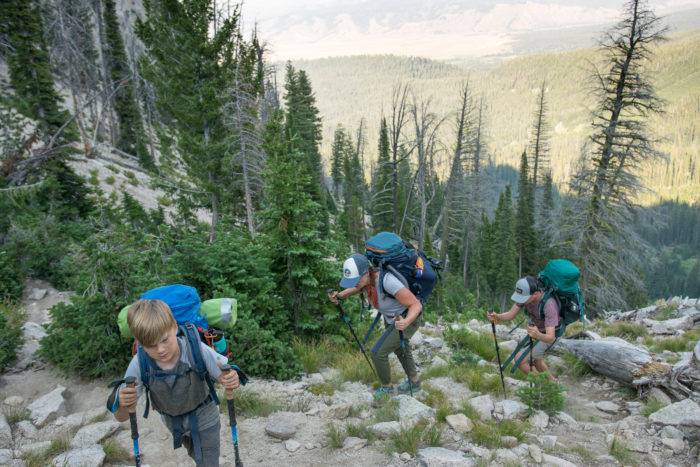 To continue onto Goat Lake, look to the south for an angled slab of granite rock covered with slick scree. This part of the trail is quite precarious, so use caution by shimmying up the slab and loose gravel.
Once you reach the top of the scree, you will see a giant boulder field. DO NOT CROSS this boulder field. This is where most people go wrong and get lost. Even though you can get to Goat Lake by crossing the boulder field, it makes for a much longer, harder hike. There is an easier and shorter route.
At the top of the scree field, you'll be above the top of the falls. Look to your left for a beaver dam. This beaver dam is where you will cross on the left side of the creek. Make your way through a wooded area (not easily marked) to cross the beaver dam and creek, at which point you will easily see a trail that leads the rest of the way to Goat Lake.
Here are some tips on backpacking to Goat Lake:
Go later in the summer/early fall if possible. Because the elevation of Goat Lake sits at over 8,000 feet, there is usually snowmelt and a frozen lake until mid-July. End of July and August is the ideal time to go. Early fall is good too, but if you want to see a spectacular display of wildflowers, late summer is better.
Pack warm, but lightweight layers for the night. It can dip into the low 30's at night.
Bring a hammock. There are some trees to hang a hammock right on the edge of the lake, making it perfect for relaxing and enjoying the views. If it's warm enough and you have the right gear, you could skip the tent altogether and just hammock camp.
No campfires are allowed in the backcountry, but you can cook with a backpacking stove (we love these lightweight options like Jet Boil and MSR).
Wear comfortable, sturdy hiking shoes or boots with good traction. There are several sections of trail that are steep or have loose gravel making it particularly slick.
We wouldn't suggest bringing super young children on this trail (we would recommend 8 and older). There are a couple of difficult parts to navigate and some uphill sections that can be dangerous if you're not careful.
If you enjoy fishing, bring a lightweight fishing pole, waders, and an Idaho fishing license. There are trout in this lake!
Start on the trail early in the day so you can get to Goat Lake by early afternoon and claim a prime camping spot right on the lake. Or if you want, you can hike up farther and camp right on the cliff looking down on the lake.
Bring a swimsuit! If you're hiking in the heat of the summer, you will want to jump in and cool off, even though the water is icy cold! It feels good after a hot day of hiking.
If you have time, you can venture up to Upper Goat Lake on the same day. To get there, venture around the lake on the east side where you will see a smaller lake. This is Upper Goat Lake.
If you choose, you can combine this into a multi-day trip and continue south to the pristine valley between Merritt and Williams Peak to the Thompson-Williams saddle. From there, you can summit Thompson Peak and descend the path east to intercept with the Alpine Way trail south of Marshall Lake and then loop back to Iron Creek.
When visiting Idaho, please practice the Leave No Trace principles. To learn more about these seven principles, click here.
Feature image credited to Christina McEvoy.
Eric and Christina McEvoy are photographers, writers and outdoor travel bloggers at
Adventure Together
and can also be found on
Instagram
where they document their family's outdoor adventures and travels and inspire others to do the same. She and her family are from Boise, Idaho, but are currently traveling the world full-time in search of the most epic outdoor adventures.

Published on May 9, 2019