Pocatello is home to Idaho State University and is also a city with rich Native American history, trails for outdoor recreation, and day trip possibilities to nearby attractions and towns. Whether you already have tickets to a Bengals game or if you're just starting to plan, here are some things to do while you're in town.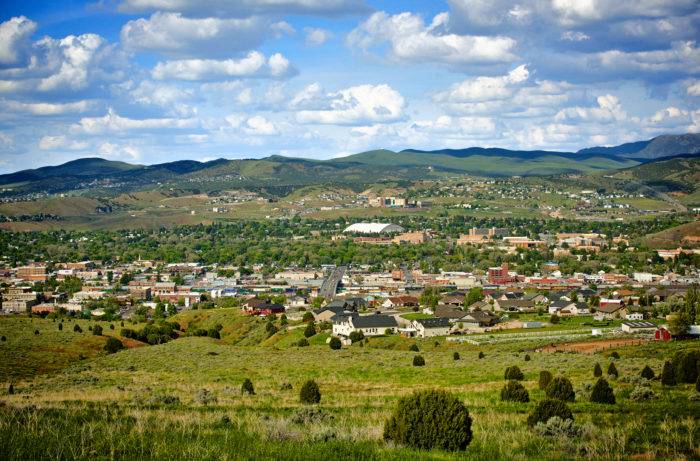 Go Bengals!
If you're still in the planning phase, be sure to check the latest athletic schedules for upcoming home games and meets or plan your visit around university events or performances. You can find tickets here. Restaurants and breweries serve up local fare and craft brews and Old Town Pocatello offers shopping and dining of all sorts. Take a historical walk through town with a self-guided historic walking in the heart of the historic district. Here are a few suggestions for what to see in the area.
Culture, History & Entertainment
Shoshone-Bannock Tribal Museum
About 15 minutes north of Pocatello in Fort Hall, you will find the Shoshone-Bannock Tribal Museum. The museum shares the history of the Shoshone and Bannock tribes, with exhibits displaying traditional dress, crafts, old photographs, and other artifacts from the old Fort Hall. For more information on hours of operation and admission click here.
Bannock County Historical Museum
The Bannock County Historical Museum houses exhibits, objects, and records relating to Bannock County and Pocatello's history. Explore displays on railroad history, the Oregon Trail, and local archaeological artifacts. If visiting May through September, make time to check out the Fort Hall Replica just a short distance from the museum which showcases the 19th-century world of explorers, trappers, traders, and pioneers.
Idaho Museum of Natural History
Explore the Idaho Museum of Natural History located on ISU's campus. Experience hands-on science in the Discovery Room, check out the weird and wacky exhibit on "Buzzsaw Sharks of Idaho" or, if the weather allows, explore outdoor exhibits that include a Tree Walk and a Natural History Garden. For information, hours, and admissions click here.
Shoshone – Bannock Casino Hotel
The Casino Hotel offers a variety of restaurants, a full-service spa and more than 85,000 feet of gaming space for your enjoyment. Check out the entertainment lineup to make time for a comedy show or concert.
Hike & Bike
Portneuf Greenway
Explore the Pocatello area on a collection of paved trails known as the Portneuf Greenway. Walk or bike these paths that follow sections of the beautiful Portneuf River while keeping your eyes open for wildlife. For more information and an interactive map of the trail system click here.
City Creek Management Area Trail System
For a mountain bike experience or healthful hike, the City Creek Management Area Trail System contains approximately 50 miles of exceptional riding trails within the Pocatello city limits. The main City Creek Trail gains almost 1,000 feet in elevation from the Grant Street parking lot so plan on a workout. Though rated with the "average" hiker or rider in mind, beginners should use caution since even the "easy" trails require some skill and fitness. To plan your hike or ride, click here for more information.
Snow Adventures
Pebble Creek Ski Area
Just a short 30-minute drive from Pocatello, Pebble Creek Ski Area sits atop Mt. Bonneville in the Portneuf Mountain Range. This ski hill offers exciting experiences for both novice and expert skiers and boarders with 54 named runs on 1,100 skiable acres, two terrain parks, and a beginner area at the base. For ticket information and seasonal hours of operation click here.
Looking for winter fun other than alpine skiing? Check out the nordic trails near Pocatello to explore the area's pristine winter landscape on snowshoes.
Nearby
Feeling the need to see what's just outside of town? Here are a few more day-trip destinations.
Lava Hot Springs
Lava Hot Springs is a popular family-friendly resort town located in the mountainous valley of the Portneuf River southeast of Pocatello and the hot pools in this town are a year-round attraction. Featuring five pools of varying temperatures with no sulphuric smell, it's easy to soak away the day. If you're looking to up the adventure level, check out the speed slides and outdoor pool at the Olympic Swimming Complex at the other end of this quaint town.
During the summer months, rent an inner tube and float down the Portneuf River that runs through town. The short float features some bouncy rapids and can be done over and over again during the course of the day. Several shops in town rent inner tubes and life jackets.
Looking for more in the Lava Hot Springs area? Feel the thrill with Lava Zipline Adventures, which is open year-round on weekends and daily in the summer. In the summer, enjoy a wagon ride and dinner with western entertainment with Baker Ranch Wagon Rides. Soda Springs, just to the east of Lava Hot Springs, is home to the only captive geyser in the world today. See it erupt, shooting gallons of sparkling water over 100 feet into the air every hour, on the hour.
Head underground to check out the caverns of Minnetonka Cave. Take part in a guided 90-minute, half-mile walk in this cave with nine rooms with stalactites, stalagmites, and banded travertine. Be prepared for the 400 steps up and down in the cave and bring a jacket, since the cave is cool at about 40 degrees year-round. The cave is typically open from mid-June to Labor Day depending on the weather. Visit the website for hours, entry fees and safety information.
Ready to explore more of Idaho? Order or download your FREE copy of the Official Idaho Travel Guide to find more adventure inspiration.

Published on May 28, 2021