Road Map to Idaho's Fall Foliage
As the cool fall weather settles in, rustling tree leaves and prompting us to grab a jacket, we start receiving calls asking for the best places to see fall colors in Idaho. This colorful seasonal display is legendary as Idaho's trees, native vegetation, wildflowers, rushing rivers and mountains masterfully weave together one legendary backdrop. The key to enjoying the vibrant golds, oranges and scarlets is knowing just where to go.
While we'd like to say there is an exact date for these fall changes to kick in, there unfortunately isn't and we have to hang on while Mother Nature makes up her mind. However, you can plan on this: the fall foliage general starts popping in early October in northern, central and eastern Idaho, by mid-October the colors are developing farther south.
Now get ready to set your GPS for breathtaking views and memories that will last a lifetime. Here are some of our favorite fall color locations that we've collected over the years. But if you're more of a choose your own adventure type, cruising Idaho's scenic byways and traversing Idaho's State Parks will not disappoint.
Northern Idaho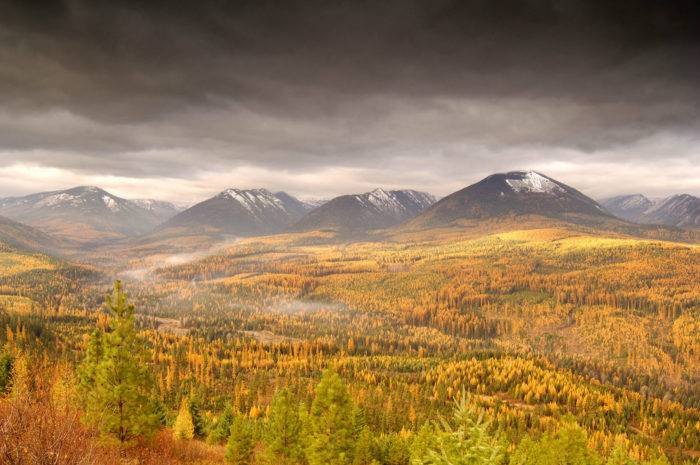 Northern Idaho's segment of the Selkirk Loop runs from Priest River, through Sandpoint and Bonners Ferry, to the border town of Porthill. This is an amazing drive any time of year, but it is particularly grand in the fall. Just up close and personal with the color at the Kootenai National Wildlife Refuge that sits at the base of the Selkirk Mountain Range. An adventure in the Selkirk, Cabinet or Purcell Mountain Ranges will also offer spectacular views.
You'll find a kaleidoscope of colors for your viewing pleasures when traveling the St. Joe River Scenic Byway and there's plenty to see on this 89-mile route.
Don't forget to add Moscow to your list of stops while in Northern Idaho. The town is surrounded by wheat fields that glisten in the fall sun and the town overflows with gorgeous golds. Take a stroll through the University of Idaho campus and its arboretums to really take full advantage of the color.
Central Idaho

The Salmon River Scenic Byway will dazzle you! The closer you get to the Idaho/Montana border, the more vibrant the landscape becomes. As you climb in elevation you'll notice the fall colors climb in intensity. Wildlife is plentiful in the area so keep a close eye on who else might be sharing the road.
The areas around Stanley and the Ponderosa Pine Scenic Byway are always beautiful. The Boulder Mountain Range to the east is framed with the orange, gold and red. If you're looking for a hike to experience this color experience, head for Redfish Lake and its surrounding trails. The Sun Valley/Ketchum area also has some beautiful views this time of year.
Southwest Idaho

Boise, nicknamed "The City of Trees", is a hot spot for deciduous, non-native trees. Oaks, maples, and ash add variegated pops of color to the downtown area, local parks and the North End neighborhood. The Boise riverbanks and adjoining parks are luminous with mature trees adding brilliant oranges and deep reds to the landscape. Cottonwoods and aspens add gold to the palette, with native low-growing plants and shrubs adding shades of red. Slow down your fall foliage tour on the Boise Greenbelt with a walk or bike ride. The 25-mile path follows the picturesque Boise River and will put you in the heart of this multicolored cocktail.
Explore Eagle Island State Park near Boise and Three Island Crossing State Park in Glenns Ferry on a day trip. These parks have plenty of mature trees and native shrubs that beg to show up on Instagram or in your next family photo.
Traveling north from Boise on Highway 55, the Payette River Scenic Byway and the Wildlife Canyon Scenic Byway to its east promise riverside color including reds and golds. Traveling Highway 55 through Cascade, Donnelly and McCall, means you'll see splashy pockets of color in the surrounding mountains with red bursts along the roadside and rivers. The Rainbow Bridge overlook is a great stop to get the big picture.
Eastern Idaho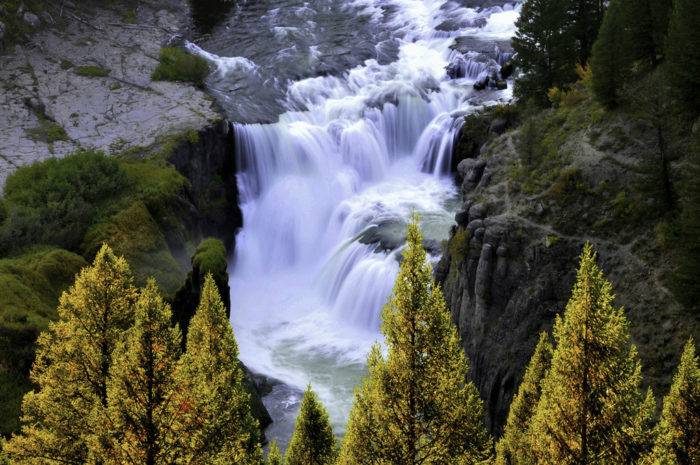 The Mesa Falls Scenic Byway is absolute gold for a fall foliage adventure. Stop at the Mesa Falls Visitor Center and walk down to the viewing platforms for a spectacular view of the falls. At 110 feet and 85 feet, respectively, the Upper and Lower Mesa Falls offer equally spectacular views in a fall forest setting (some even say this spot is like something right out of a fairy tale).
Continue to the Island Park area and up to Henry's Lake to extend your trip. Being close to the mountains means plenty of water for a wide variety of plants and trees, which are host to a magnificent palette of colors. River corridors and mountains promise blazing golds and oranges sprinkled amongst the evergreens and along the riverbanks. There is also a strong likelihood you'll see wildlife when traveling the area's four scenic byways.
Idaho is a beautiful state year round, but the fall season is a standout with its dramatic color scheme stretching across the state. Whether you're looking for a quick color-filled trip or a multi-day adventure, you'll find Idaho destinations near and far to satisfy your color quest. Don't forget to share your favorite fall foliage finds with @VisitIdaho.
The U.S. Forest Service also has a hotline and website offering suggested Idaho viewing locations and foliage webcams.
Steve Stuebner suggests some Idaho City area trails that offer plenty of leaf peeping. Read his blog here.
Feature Photo Credit: James Bourret – Visit Sun Valley