This is a sponsored post.
When we moved to Idaho almost 10 years ago, we thought we would only be here for a few short years. After all, what did Idaho really have to offer? At the time, our only perception or view of Idaho was the long stretch of highway between southeastern and southwestern Idaho. Boy, were we wrong! We've since learned that you have to get off the highway to see the best parts of this state. Idaho has surprised us in all the best ways and captured our hearts forever!
Since we put roots down here in the great Gem State, we've been on a mission to explore as much of this beautiful state as possible. Our family loves the outdoors in every season, but by far, summer is our favorite time of year to explore. Each summer we create a "bucket list" of things we want to do and see in Idaho. You would think after 10 summers of living here that we would've covered it all, but we still feel like we've barely scratched the surface! With that being said though, we also feel like we have a pretty good grasp of some the best adventures in Idaho during the summer. That's why we created our Idaho Summer Bucket List. For those looking for epic outdoor adventures and unforgettable memories that the whole family will enjoy, look no further than this list.
10. Explore Idaho's Natural Hot Springs
You may already know that Idaho is FULL of hot springs. Awesome hot springs. We've been to many of them, but every summer we try to explore a new one. We especially love soaking in hot springs after a long, hard hike or after a fun-filled day whitewater rafting on the river.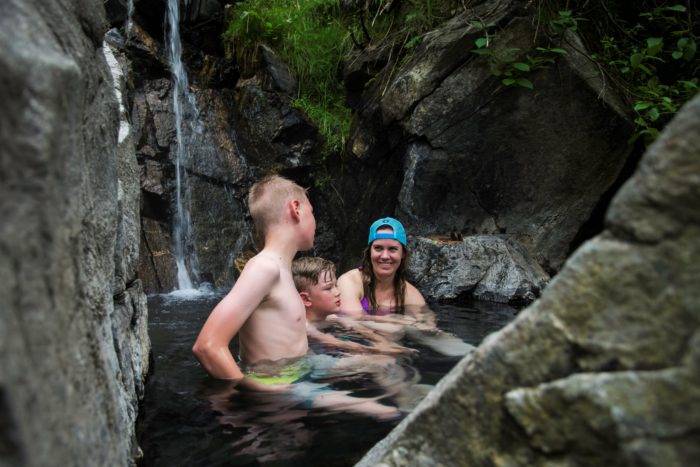 So far these hot springs have been our favorites: Kirkham and Pine Flats hot springs near Lowman, Trail Creek hot springs near Warm Lake in Cascade, and Last Chance (otherwise known as Krigbaum) hot springs near Brundage in McCall. Goldbug hot springs is next on our list, as these hot springs are named some of the most sought after in the country! The best part of all these hot springs? They are free.
Tips for visiting:
Bring a swimsuit and towel.
Go early or later in the day to avoid crowds.
Bathroom facilities may be scarce or non-existent (except for Kirkham).
Pack it in, pack it out.
9. Swim at Fall Creek Falls
If you are a waterfall enthusiast, you won't want to miss Fall Creek Falls. We recently made a trip to Fall Creek Falls, located near Swan Valley, Idaho, off the South Fork of the Snake River and were blown away! Once you park at the gravel pullout, there is a short dirt trail to the top of the falls. If you want to reach the bottom of the falls, there are two ways to get there. The first option is to access the area by crossing the marshy stream at the top of the falls, then making your way to the far side of the falls where you can hike down what looks like a "staircase" of rocks. The rocks can be slick though, so be careful. We wouldn't recommend doing this if the water is high and fast (or with young children!).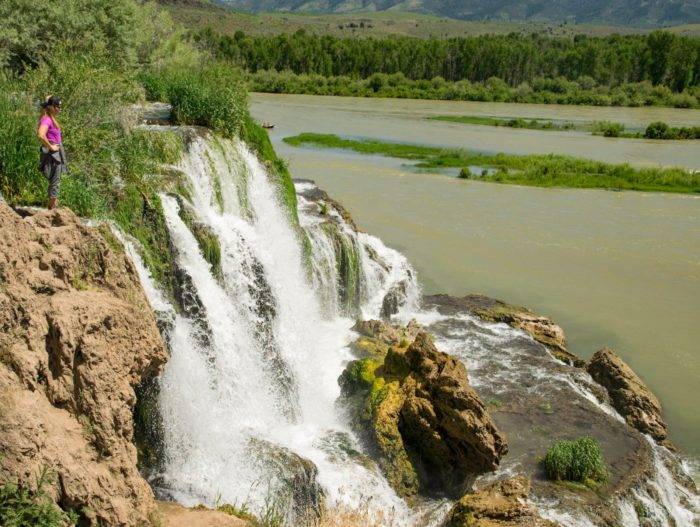 The second way to access the bottom of the falls is by boat. You can rent a drift boat nearby or bring your own canoe, kayak or inflatable raft. There are several places to "put in" along the Snake River. Once you reach the falls and tie off your boat, you can climb up the bottom of the falls fairly safely. Make sure to grab a square ice cream cone at the Rainey Creek Store in Swan Valley when you're done.
Tips for visiting:
Falls Creek Campground is located nearby if you want to camp near the falls.
Go at sunrise for the best photos and light.
Wear water shoes with good traction.
Bring a waterproof camera (or case) if you plan to hike down the falls.
Bring floaties or rafts and life jackets for the kids.
8. Hike in the Sawtooth Mountains
We are obsessed with the Sawtooth Mountain range! Located in central Idaho just outside Stanley and about an hour's drive from Sun Valley, are over 40 rugged mountain peaks with more than 300 pristine alpine lakes sprinkled throughout.The Sawtooths are truly an outdoor lover's paradise with everything from camping, backpacking and hiking, fishing, whitewater rafting, mountain biking and boating available.
One of the best ways to experience the Sawtooth wilderness is to get on the trail and go for a hike. We've explored many trails in this valley and have yet to meet one we didn't love! Our favorite day hikes with kids include Fishook Creek, Redfish Lake Inlet, Bench Lakes, Saddleback Lakes, and Lady Face & Bridal Veil Falls. In our opinion, the best time to go is early to mid-July while the wildflowers are in full bloom. You won't be disappointed!
Tips for visiting:
Bring plenty of water (and a filter in case you run out of water).
Wear sturdy hiking shoes, a hat, and sunscreen.
Start early if you want to avoid the heat or if the hike is longer.
Some hikes require users to take the Redfish Lake Lodge boat shuttle to the trailhead which has a small fee.
Plan extra time with children for lots of rest and snack breaks.
Camp at one of the several campgrounds in the area (our favorite is Stanley Lake!).
7. Go Fly Fishing
You can't come to Idaho without going fly fishing. Idaho is known for its world-class fishing (salmon, trout, steelhead, bass and more) and if you've never tried it before, Idaho is definitely the place. We recently hired a guide with Sawtooth Adventure Company in Stanley and spent several hours on the Salmon River catching trout!
Some of the best places to go fly fishing in Idaho are the South Fork of the Snake River, Henry's Fork, the Salmon River, the South Fork of the Boise River, and the Teton Valley River. You can get more information about where to go and what outfitters/guides to use here.
6. Try Sandboarding
There are some great sand dunes in Idaho, Bruneau Dunes State Park (home to the tallest free standing dune in North America) and St. Anthony's Sand Dunes being the most popular, and sandboarding is a fun way to experience them as a family! Last summer we rented sandboards at Bruneau and spent a whole day sliding (and sometimes falling) our way down! If you have snowboards, you can use those too.
In the summer months, avoid going in the middle of the day when temperatures reach over 100 degrees because the sand will be hot! Once it's dark, you can enjoy stargazing at the Bruneau Dunes State Park Observatory and spot the constellations.
Tips for visiting:
Be prepared to pay an entrance fee.
Rent sandboards at the Bruneau Dunes Visitors Center.
Bring goggles or sunglasses and a handkerchief to cover your mouth, eyes and nose if you want to avoid "eating" sand.
Check the schedule for stargazing programs.
5. Paddle Board at Redfish Lake
Paddleboarding is one of the fastest growing activities in the country. The great thing about paddleboarding is you can do it anywhere there is a body of water. We might not have the ocean here in Idaho, but we have plenty of lakes and rivers to paddle on. If you don't have your own paddleboard, don't worry, there are plenty of places to rent them around the state.
Our favorite place to paddle board in Idaho is Redfish Lake. You can't beat the clear, blue water and the jagged peaks of the Sawtooths as your background! The great thing about Redfish Lake is all the shallow, sandy beaches to play at and paddle around (and floating docks!), and you can rent paddle boards from the marina at Redfish Lake Lodge. It's truly one of the most idyllic places to spend a few days in the summer!
Tips for visiting:
Don't forget hats, rashguards and sunscreen. With the higher altitude and water reflection, it's easy to get sunburnt while on the lake.
Make sure your children have life jackets on while paddleboarding.
There are several campgrounds around Redfish Lake (make sure to reserve 6 months in advance though) or in the surrounding area of Stanley. There are also lodging options at Redfish Lake Lodge, or in the town of Stanley, less than 10 minutes away.
4. Go Horseback Riding
Horseback riding is a great family activity for almost every age and a fun way to change up the scenery. Seriously, if your kids get bored from hiking, try horseback riding! Idaho has many great trails and places to go horseback riding, even for beginners. You can pick from short, one or two hour trips or half to whole day adventures. Your guides will always make sure you are safe, having fun, and enjoying the experience!
We recently went horseback riding with Linn Canyon Ranch and cannot say enough good things about our experience. Our guide was so patient with our kids, taught us the ins and outs of how to ride a horse, and lead us through groves of aspen trees on beautiful trails overlooking the Teton Valley. If you are looking for an adventure like this one, make sure to check out all the great outfitters all over the state. Your kids will talk about this adventure for years to come!
3. Spend a Day Whitewater Rafting
It's a pretty well-known fact that Idaho has some of the best whitewater rafting in the WORLD and ranks #1 in the USA! In fact, people from all over come here to experience our rapids and rivers. And let me tell you, these waters do not disappoint! Every time we take our kids whitewater rafting, they tell us it was the best day ever. One of our favorite raft trips was with The River Company. We were super impressed with their professional and fun guides, the food (one of the best lunches we've had!), and the rapids were just right for our kids. One of our kids even said it was better than a day at Disneyland!
Many people think that whitewater rafting is for families with older kids only, but that is simply not true. You can find guides all over the state that offer trips that cater to younger children, generally ages 4 and up. You can find some of those trips in areas like the Main Payette, Lower and Main Salmon, Hells Canyon, and the Snake River. Most outfitters offer a variety of day trips (half day to full day), but if you're looking for a multi-day trip, there are plenty of options for those too. Check out more family-friendly raft trips.
Tips for going:
Always check the age limitations before booking.
Wear clothing over swimwear that can dry quickly (or if going in the early season, ask the outfitter for a wetsuit) and water shoes.
Bring a GoPro or other waterproof camera or ask the guide if they have dry bags to put your camera equipment in.
2. Bike the Route of the Hiawatha
Biking the Route of the Hiawatha has to be one of the most family fun activities we've ever done! Located on the border of Idaho and Montana near Wallace, Idaho (which is also an old mining town) is one of the most scenic rail-to-trail rides in the country. You ride 15 miles down a relatively flat trail through 10 tunnels (the longest tunnel being over a mile) and pass over seven high trestle bridges through the forest of the Bitterroot Mountains.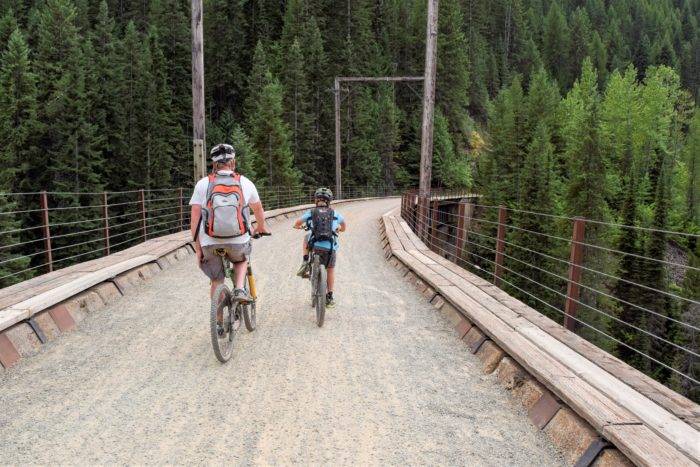 You can bring your own bikes or rent bikes for the whole family (even a bike trailer for little ones!) and get a trail pass from Lookout Pass Ski and Recreation Area. Shuttle bus options are available so you can park your car at the top of the trail, ride down and catch a shuttle back up to your car (the best option with kids). Pack a lunch and start early in the morning since it can get quite hot in the summer. Enjoy scenic views, wildlife (we saw eagles and deer) and the exhilarating experience of riding through cold, dark train tunnels together (headlamps required!) and across tall, old bridges.
Tips for visiting:
In addition to a required headlamp, you are also required to have a strong (300 lumen) light attached to each bike. You can rent these if you don't have one.
Bring patch kits and a bike pump in case of flat tires (we had two flat tires!).
Make sure you are equipped with plenty of water and snacks for the trail.
While biking through the tunnels, it's not suggested to bike on the outside edges of the tunnel as there are gutters. Stick closer to the middle.
Watch the time and know what the bus shuttle schedule is so you can plan appropriately.
You can find lodging options in Wallace or stay in nearby Coeur d'Alene.
1. Kayak or Paddle Board to Shoshone Falls
To top off our summer bucket list, we had to include one of the most epic adventures to date–paddling to Shoshone Falls! When we saw photos of people paddle boarding and kayaking to these 212-foot tall falls (known as the "Niagara of the West"), we just had to do it! This is definitely an all-day adventure as the trek up the Snake River is 4 miles to Shoshone Falls (making that 8 miles round trip and close to six hours), but do-able with kids if you plan accordingly and have the proper equipment.
You can bring your own gear (along with life jackets) or rent it from AWOL Adventure Sports, which is located on the Snake River at Centennial Park. Paddle under the famous Perrine Bridge (watch for BASE jumpers!) and continue to Pillar Falls (about 2 miles up or half way) where you can get out, have lunch and swim around. Most people just go to Pillar Falls and back (and perhaps if you have really young kids you might want to make this your destination), but if you decide to go all the way to Shoshone Falls, you will need to take your paddle boards and kayaks out and walk them around Pillar Falls (about 200 feet) before getting back into the river and continuing on. Once you reach Shoshone Falls, there are places you can get on some large rocks.
Tips for visiting:
Call AWOL ahead of time or reserve online since they fill up, especially on the weekends.
Bring a dry bag or two (you can buy them at AWOL if you don't have one), to put your water, food and camera in.
Make sure to bring sunscreen since you are on the water and exposed to the sun all day.
Plan for extra time to stop along the way and let the kids swim. The water feels good on a hot summer day and it makes it more fun for them!
And that wraps up our Idaho summer bucket list! If you can squeeze a few of these adventures into your summer plans with your family, you will make some unforgettable memories with your kids while experiencing some of the best of what Idaho has to offer!
All images, including feature image, are credited to Christina McEvoy.
Christina McEvoy is an outdoor travel blogger and content creator at Adventure Together and can also be found on Instagram where she documents her family's outdoor adventures and travels. She and her family live in Boise, Idaho.

Published on August 8, 2017